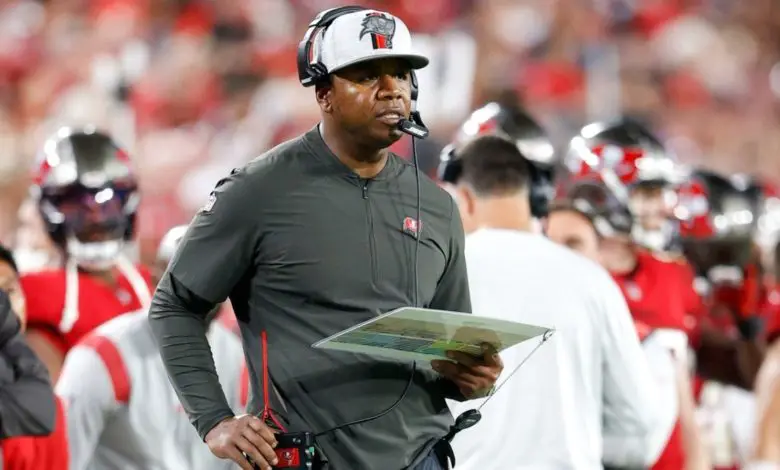 List of Potential Head Coaches Extensive
Now that the Bears have parted ways with head coach Matt Nagy, it's time to look at potential replacements. The list is extensive as it is exhausting. Brad Biggs of the Chicago Tribune named 27 candidates who may draw interest from Chicago's front office, and each comes with positives and negatives. Let's get into it.
Current NFL Coordinators
Chicago now has requested HC interviews with both of Buffalo's coordinators, DC Leslie Frazier and OC Brian Daboll. The Bears are the only team that so far has submitted an interview request on Daboll, though others are likely to follow. https://t.co/2wSWrKX5y0

— Adam Schefter (@AdamSchefter) January 11, 2022
Current College Coaches
Okay, @AdamHoge sold us on Jim Harbaugh pic.twitter.com/AR4s5zR5uv

— Bears Talk (@NBCSBears) January 11, 2022
Matt Campbell, Iowa State – Annually earning a mention when NFL coaching jobs become available, Campbell continues to reiterate his commitment to Iowa State. The 42-year-old declined when more prestigious gigs at Oklahoma and LSU became available. Last year he resisted overtures from the Lions. Is Campbell waiting for the right opportunity or is he married to the Cyclones? I'd go with the latter.
Ryan Day, Ohio State – Day gets mentioned because he coached Fields at Ohio State. Why not add the rookie's high school coach to the list, too. I'd say Day is the longest of shots to coach the Bears. It's worth noting that Day earns $7.6 million per year at OSU, which is a perfect segue into the next candidate…
Jim Harbaugh, University of Michigan – I am of the belief that Harbaugh is truly interested in returning to the NFL and coaching the Bears, but everything feels like a ploy to squeeze Michigan for a new contract. And why not? The former Bears quarterback earns $4 million annually with $100,000-plus increases each year and bonuses for Big Ten titles, College Football Playoff appearances, and national titles. Brian Kelly just signed a 10-year $95 million contract to coach LSU. Yeah, I'm positive this feels like a leverage play.
David Shaw, Stanford – The 49-year-old has been linked to the Raiders for what seems like forever. In fact, it's probably the one job that could actually lure Shaw from Stanford, where he leads an elite collegiate program. There's no chance he would come to the Bears. Before going to Stanford, Shaw spent nine seasons in the NFL as an assistant coach, including a four-year run with the Raiders.
Former NFL Coaches
Doug Pederson, Eagles – Oh dear God, please no. Wait… maybe. According to NFL Network's Tom Pelissero, the Bears are expected to interview the former Philadelphia head coach very soon. Pederson won Super Bowl LII in 2017 when current Bears backup QB Nick Foles outdueled Tom Brady in a wild, 41-33 victory over the Patriots in Minneapolis. He wouldn't necessarily be a bad choice and carries a 42-37-1 career record in five seasons. You can't discount the downward trajectory of Carson Wentz under his stead, however. At least that championship game inspired one of the better SNL skits in recent memory and made Foles one of the highest-paid second-stringers in NFL history.