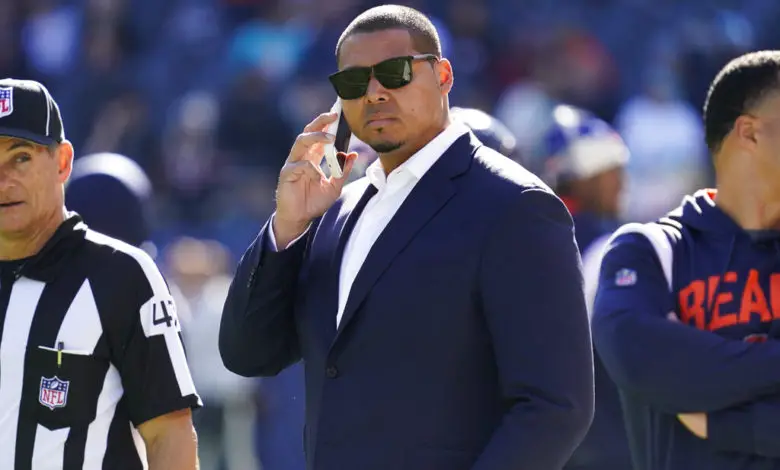 What is the No. 1 Pick in This Year's Draft Really Worth?
The Chicago Bears are on the clock, and this year's number one pick is officially for sale.
"It just depends how far back," Poles said when asked if trading back is the ideal scenario. "But yeah, we need a lot, and that gives us more opportunity to bring in more players."
The going-on-year-two GM wasn't kidding when he said his team needs a lot. The Bears need to rebuild their entire front four, and their offensive line needs a stud or two, too. Justin Fields needs a No. 1 wide receiver, and Chicago could use help at linebacker. If Poles doesn't re-sign David Montgomery, he'll need another running back as well. Accumulating picks and making a sizeable dent in free agency top his offseason honey-do list.
The teams most interested in the top pick are said to be the Texans, Colts, Raiders, and Panthers. Here's what the pick is worth according to Pro Football Focus:
From the Texans: No. 2, No. 33, and No. 104. Houston doesn't have to trade up unless they are targeting a specific QB and are afraid the Bears may deal the pick elsewhere.
From the Colts: No. 4, No. 35, No. 79, plus first and third-round picks in 2024. This seemed like a bit of an overpay but Indianapolis reportedly wants their choice of quarterback. It may take more than that now.
From the Raiders: No. 7, No. 38, and No. 70, plus first and second-round picks in 2024. Las Vegas is in the same position as the Colts but has a little more impetus because the top three signal-callers will be gone if they stand pat.
From the Panthers: Nos. 9 and 61, plus first-round picks in 2024 and '25. It's very light, and if Poles did this, he would signal to the fanbase and to the rest of the league that his rebuild is a longtail proposition.
In the link above, NFL Insider Adam Schefter said the cost to move to number one will be a bit more expensive. That's especially true if the Colts want to leapfrog the Texans.
"To go from 1 to 4, it's a minimum of two first-round picks and then some, and then some. It's a lot. This is an unbelievable windfall for [the Bears]."
That means Houston will have to ante up if they intend to pick off Indianapolis. At No. 2. the Bears can still get the player they want because Poles isn't going to draft a quarterback in the first round. Picking up additional first and second-round picks could allow Poles to get an offensive lineman and a wide receiver. Jaxon Smith-Njigba is a favorite of Fields, and though he's not a guy I'm high on, he did have a spectacular workout at the NFL Combine.
https://twitter.com/andrew_radic/status/1632431856003186688
The Bears won't take Smith-Njigba at No. 1, but if they own the Nos. 2 and 12 picks (from Houston), he should be available when the Bears make that latter selection. Peter Skoronski, who I think is the best non-quarterback offensive player in this draft, might also be available at No. 12. Though I tend to shrug off such scenarios, Chicago could flip No. 2 to Indianapolis, but only if the Cardinals trade the third pick. There is a reason why Poles talks about trading Fields and scouting all of the available quarterbacks. Wouldn't it be nice if he could scare the Colts into trading up when they might not have to?
That type of tease probably won't work because all of the league GMs know that Poles is unlikely to trade his rising star signal-caller. Then again, the Cardinals won't make a trade until the second selection is made. They'll be in discussions, though, and if the Colts feel the cost is too prohibitive, they could contact the Bears. It's difficult not to get wrapped up in all of the potential scenarios.
Poles can't drop down too far, however. His draft board is already set, with slight changes coming based on the combine. He won't risk losing his top pick by trading down too far. That probably leaves the Raiders and Panthers on the outside looking in unless they make Chicago's front office an offer they can't refuse. Poles also has to navigate free agency, not just for his roster, but to monitor everybody else. Needs tend to change drastically once free agency ends. We should know who needs what in about 10-12 days. The NFL signing period starts March 15.
Njigba wasn't the only draft-eligible player who had a good combine workout. Three of the top four quarterbacks impressed the scouts. Bryant Young didn't participate, but C.J. Stroud, Anthony Richardson, and Will Levis all drew high praise from those in attendance. That should make the top two picks even more valuable if Poles can complete a deal with the Texans. Ron Rapoport thinks so, anyway.
"There's a lot of interest in some high, high-profile quarterbacks," said Rapoport. "Moreso than we've seen in previous years, so you do have teams scrambling to get up to No. 1. I would expect those [trade talks] to really heat up over the next couple of weeks, here. Ryan Poles is going to have options. It seems I would say, more likely than not that he ends up dealing that No. 1 pick and has a chance to really set the foundation for the Chicago Bears as they rebuild everything."
Here are the starting quarterbacks that will be available in free agency, ranked best to worst:
Aaron Rodgers could be available, too, unless he opts to stay with the Packers or retire. You have to believe that teams would prefer one of Bryant, Stroud, Richardson, or Levis above any of the unrestricted quarterbacks. As I see it, Stroud and Bryant will go one and two unless the Bears still have one of those picks. The Raiders would love to sign Jackson or trade for Rodgers, and Carr could end up with the Panthers.
Las Vegas might be a little gunshy to get a franchise quarterback through the draft. They selected JaMarcus Russell No. 1 in 2007, and that might be the worst top pick in the history of the event.
Poles holds all the cards right now and is legitimately the king of the draft at the most opportune time in franchise history. He'll make or break his career based on what he does in the next two months. The GM knows Bears fans are salivating at the possibilities. It's going to be exciting to see it all play out.