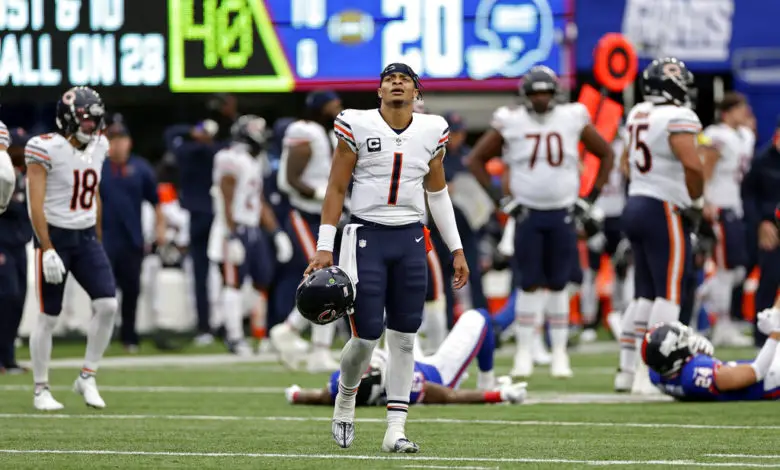 Here's Why You Shouldn't Dismiss Those Justin Fields Trade Rumors
I want to start by saying I do not think that GM Ryan Poles will trade quarterback Justin Fields. That said, I'd be a fool to ignore that the possibility exists. The common perception is that Poles is not married to Fields because he didn't draft the Ohio State quarterback, and I'll get to that a little later. But let me start at Ground Zero of the rumor mill.
Bears fans are among the most passionate in football, and Fields is a polarizing player. That's enough to ignite the speculation in and of itself. Then there is the fact that Poles owns the number one pick in the draft, and many analysts believe Bryce Young is the second coming of Patrick Mahomes. Maybe, maybe not. Finally, there are a ridiculous number of unsubstantiated rumors and poorly thought-out mock drafts all over the net. Writers see that stuff and know they'll garner a crap ton of clicks from less knowledgeable fans. The Bears are THE story of the NFL offseason. It would be silly not to take advantage of that fact.
#Bears
Hearing there is a lot of smoke a #Texans deal imminent- #Bears are given an offer they can't refuse. 2,12,33 and '24 first

— #Bears jim on da ns (@optiongladiator) February 24, 2023
I don't mean to pick on Northside Jim, but he didn't reference said rumor with a verifiable source nor did he provide a reputable link. He also doesn't have much of a following, so I doubt any deal is "imminent." I actually believe he is basing his immediacy on his own mock draft, which you will see if you follow the thread.
The craziest mock drafts I've seen have the Bears trading the top pick to the Colts for eight – yes eight – draft choices, or trading number one to Houston, then number two to Indianapolis, number four to Las Vegas, and then the seventh pick to Carolina. That results in Chicago completely owning the first rounds of the next two drafts. It's just not going to happen. Bears fans look like dullards, delusional at best, and brainless at worst. If I was a writer with a huge following I'd pen nothing but speculative trade rumors involving Fields. We call that job security in this industry.
We shouldn't dismiss the possibility of a trade, however, because the Bears are rebuilding. Have they already torn it down to the studs, or is there still a ways to go? Poles is more likely to deal the No. 1 pick than his starting quarterback, and he could net a decent bounty in doing so. Here is the consensus return for that pick:
From the Texans: No. 2, No. 33, and No. 104. Houston doesn't have to trade up unless they are targeting a specific QB and are afraid the Bears may deal the pick elsewhere. There is a big difference between Young and C.J. Stroud, Will Levis, or Anthony Richardson, so this is certainly plausible.
From the Colts: No. 4, No. 35, No. 79, plus first and third-round picks in 2024. This is a bit of an overpay but Indianapolis reportedly loves Young.
From the Raiders: No. 7, No. 38, and No. 70, plus first and second-round picks in 2024. Las Vegas is in the same position as the Colts but has a little more impetus because the top three signal-callers will be gone if they stand pat. They may get their quarterback in free agency anyway. I'm sure they want a veteran to pair with WR Davante Adams.
From the Panthers: Nos. 9 and 61, plus first-round picks in 2024 and '25. It's a little light, and if Poles did this, he would signal to the fanbase and to the rest of the league that his rebuild is a longtail proposition.
All of those teams need quarterbacks, so the question you have to ask yourself is could Poles get a similar package for Fields? If the answer is yes, things become a little more intriguing. If Chicago dealt Fields to Houston he'd be out of the NFC and Poles could select Young plus one of Will Anderson or Jalen Carter with the second pick. In fact, all of the teams that are angling for the No. 1 pick except Carolina are in the AFC.
We also know for a fact that Poles has been heavily scouting every quarterback with a top-10 pedigree. He'd be a fool not to, and besides, that's his job. The NFL Scouting Combine is a week away. I can guarantee Poles will interview at least four of the top QBs. If he believes his team has a better future with Fields instead of any of those prospects, he'll keep his third-year starter. On the other hand, he could be a big believer in Young, and trading Fields would give him additional ammo to finish his rebuild a lot more quickly.
Let's take a look at Young's scouting report over at The Draft Network, and I'll bullet point the highlights.
Accuracy and ball placement
High football IQ
Ability to improvise
Poise in pressure moments
Bryce Young's performance in the pocket is 💯

📺: 2023 #NFLCombine begins March 2nd on @nflnetwork pic.twitter.com/10NaFUTFAp

— NFL (@NFL) February 25, 2023
Young is very similar to Fields and Mahomes, though there is a big gap in talent between the two pros. That means it's safe to say that Young's potential falls somewhere between both, with Fields as his floor, and Mahomes as his ceiling. Young could bust out, too. That's always a possibility and a risk with taking a quarterback so high. Therefore, it is also important to understand that Fields comes with a number of guarantees, including his high floor and ceiling, but with fewer risks.
Do we believe Poles is actively pursuing a Fields trade?
Probably not, and he won't do anything until teams navigate free agency anyway. The new season opens for business on March 15, and this year's crop of free agents is very deep at quarterback. If rival front offices are loath to surrender draft picks, they could pivot to Lamar Jackson, Geno Smith, Derek Carr, Daniel Jones, or Jimmy Garoppolo. I suppose Poles could do the same because he's flush with cap space, but that runs counter to his vision for rebuilding his roster.
Is Fields untouchable?
He is not and shouldn't be. If Poles believes trading his third-year starter will make his club better, he should be listening to and considering all offers. It's just hard to believe those offers exist right now. Let's say the Texans have their sights on Jackson, Smith, or Carr in free agency. If they whiff on all three, they could seek a trade for Fields, but why would they? They are guaranteed to get one of the top two quarterbacks in the draft. You could say the same about the Colts and Panthers, though I believe Jackson will end up with the Raiders by trade or in the open market.
Speaking of trades, Aaron Rodgers could be available, too. That complicates the market a little, though he is more likely to sign with a contender. Rodgers was supposed to declare his 2023 intentions after exiting his darkness retreat but has so far left the Packers in the, um, dark.
Is Poles married to Fields?
If he was the honeymoon period has ended. If you remember, one of the goals in hiring a GM and head coach last year was that the McCaskeys and Ted Phillips wanted someone who could build an offense around the promising quarterback. Poles and Matt Eberflus pursued those openings because they wanted a chance to do that. I doubt they've given up on Fields after one season.
In fact, Chicago's offense was nearly elite once Eberflus took the reins off of his starting quarterback. The Bears averaged 28.2 points during a five-week stretch before Fields got hurt. Chicago lost eight games in which they were one score away from tying or winning. That includes a three-point loss to the Dolphins, a five-point loss to the Eagles, a seven-point loss to the Vikings, and an eight-point loss to the Giants. All four teams made the playoffs. It wasn't offense that cost Chicago wins in those games,either. Their defense was atrocious, especially after trading Robert Quinn and Roquan Smith.
Are the Bears better off moving on from Fields?
That's a tough question. I highly doubt Poles considers 2022 a punt year. Fields has a great grasp of Chicago's offense, works well with Luke Getsy, and is perceived as a team leader. Offensive and defensive players sing his praises. If the third-year quarterback had a decent offensive line and competent receivers he could be an All-Pro candidate.
Justin Fields Mini Movie ᴴᴰ – "SUPERHERO"pic.twitter.com/lzdJAkCwOX

— DaWindyCity Productions (@dwcprodz) January 31, 2023
That means keeping Fields and trading down from No. 1 is an ideal scenario and one Poles is likely to pursue. The trade speculation will continue up until draft day, so we just have to try to separate the buzz from the clatter. We'll have a better idea once free agency starts. Don't forget, the Bears have over $100 million in cap space. The front office can plug a lot of holes before modifying their draft board. Poles will be aggressive in improving both lines and his wide receiver room. He also needs help at linebacker and may need a running back. My gut tells me David Montgomery will stay in Chicago, however. I'm sure a cornerback to pair with Kyler Gordon is on the team's wishlist, too.
With that many holes, trading Fields would run counter to competing in the near term. Additionally, another year of improvement from Fields might make him a better trade candidate next season. There is a new quarterback carousel every year. Keeping Fields for at least one more year, therefore, makes the most sense, especially because Poles will have to start thinking about Fields' next contract after the 2023-24 season.