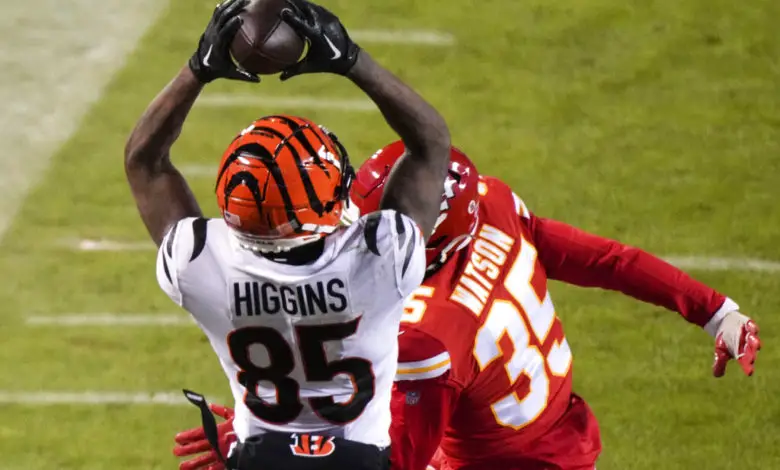 Watch: NFL Insider Peter King Addresses Bears Trade Rumors, Including Tee Higgins
NBC Sports NFL Insider, Peter King, recently sat down with NBC Sports Chicago's Bears Insider Josh Schrock. King shared his thoughts on the 2023 Bears season and Justin Fields' development. Later, King talks about why he thinks the Bengals will have to trade Tee Higgins. Finally, King talks about which teams he thinks will be interested in the Bears' No. 1 pick.
King mentioned that the Seahawks and Panthers could be very aggressive in their attempts to move up to No. 1 overall. Chicago GM Ryan Poles won't want to drop down to the ninth pick without a huge overpay by Carolina. He did not mention the Colts, Raiders, or Texans. That, of course, does not mean those teams wouldn't want to move up.
King is very high on Fields and thinks it would be a mistake for the Bears to give up on the young quarterback so early in his career.
"The road is littered with so many NFL teams that gave up on quarterbacks [too] early."
"I've seen enough out of Fields to know that I want him to be my quarterback for the next couple of years."
"I definitely wouldn't consider trading Fields this year. I don't think this is a bust year for Fields, either."
"I don't think he wants to rush for 1,100 yards. I do think he wants to [work with] Darnell Mooney, Chase Claypool, and [at least] two new young receivers."
King also mentioned that Higgins could be a target. The NBC analyst doesn't think Cincinnati wants to trade Higgins, but the Bengals may not have a choice. Joe Burrow is going to need a contract extension. King doesn't believe Cincinnati can extend Higgins and then pay Burrow what he's worth.
He did say he prefers Higgins over DeAndre Hopkins because Hopkins only has a year or two of elite production left.
King also mentioned Poles and roster construction. He believes the rookie GM will focus on the offensive and defensive lines first. King also said the Bears are not deep enough to draft the best available player. All things being equal, Poles has to think about filling needs first. Poles is also expected to aggressively pursue offensive linemen and wide receivers.
As far as the offense is concerned, the team's goal is still to surround Fields with talented playmakers.