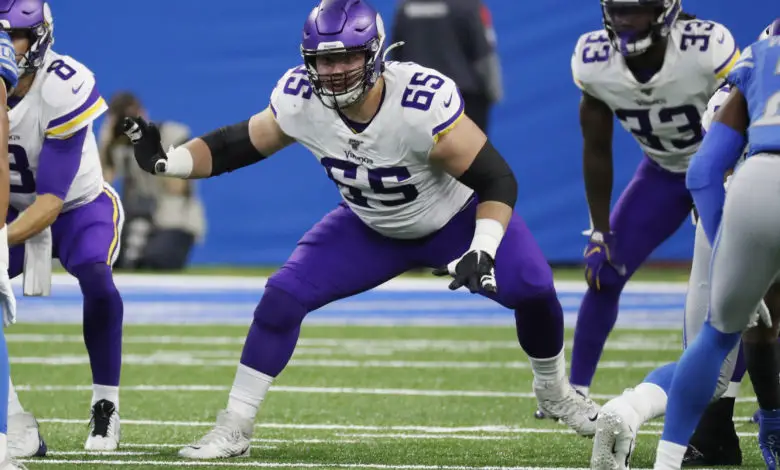 Former Vikings G Pat Elflein Would Be Upgrade for Bears' O-Line, Just Not Against Pass Rush
Among the Bears' myriad shortcomings this season, the offensive line has been the most obvious and (in)consistent. Nowhere near an elite unit from the start, injuries and illness have forced them to mix and match while dipping into their practice squad ranks just to have some big uglies attempting to protect Nick Foles.
That's on GM Ryan Pace as much as anyone, since he knew damn well the line would be an issue and he did next to nothing to address it. But now he may have a chance to turn things around, even if just a little bit, following the news that the Vikings have released guard Pat Elflein. Out since Week 1 with an injured thumb, the 26-year-old former third-round draft pick out of Ohio State is now off the IR and can slide into a spot with a new team.
Source: The #Vikings have released G Pat Elflein. The veteran now goes on waivers. Just off IR, he's healthy now and this gives him the opportunity to get some real playing time elsewhere.

— Ian Rapoport (@RapSheet) November 14, 2020
Here's the thing, though: We're not talking about an elite lineman, particularly when it comes to pass blocking. Pro Football Focus graded Elflein as the 38th best guard in the NFL last season with a score of 64.7, which is just slightly less than the 65.8 James Daniels scored before tearing his pectoral. Germain Ifedi is at 63.8 this season, Rashaad Coward is at 49.4 (102nd overall), and Arlington Hambright is at 47.5 (110).
From that angle, Elflein looks like a massive improvement. Trouble is, his grade was bolstered by a 67.6 in run blocking that had him ranked 24th in that aspect. His pass blocking, on the other hand, left a whole lot to be desired. Or maybe it's best to say he just left a hole. Elflein was ranked 95th among 122 qualified guards last season after allowing 32 pressures (8th worst) and six sacks (2nd worst) while collecting eight penalties (4th worst).
That's not exactly a great fit when you're trying to protect a pocket passer who can't really escape pressure, but the Bears aren't in much of a position to be choosy at this point. Elflein would be a big upgrade for them at a position of need and could help to elevate a run game that has been mostly stagnant to this point. And hey, maybe having Bill Lazor calling plays will mean getting a little sharper in that area and playing more to the offense's limited strengths.
At this point, even small improvements could make a big difference.