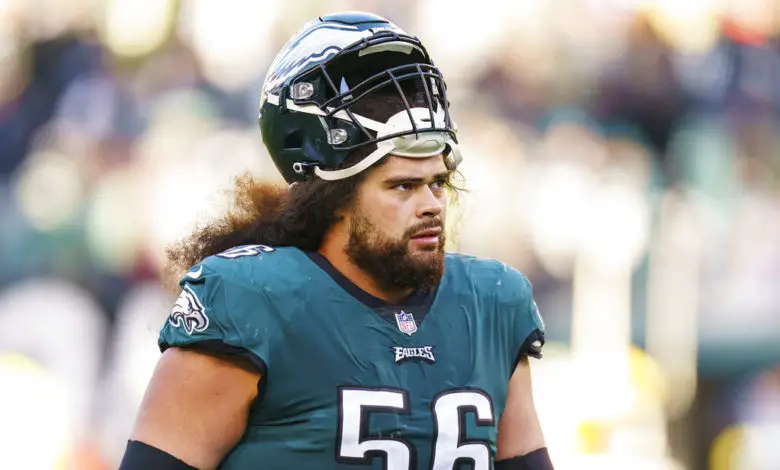 Two Bears Free Agent Targets: G Isaac Seumalo and DE Yannick Ngakoue
It's puzzling to me that Isaac Seumalo and Yannick Ngakoue are still free agents. I'm not privy to the machinations of the NFL's open market, but both players would be great fits for the Bears. According to Over the Cap, Chicago still has roughly $43 million in available cap space. Pro Football Focus projected Seumalo should get a three-year $33 million deal with $22 million guaranteed. Ngaouke should get 3/$27 million with $17.5 million guaranteed based on PFF's projections. Both are certainly affordable.
Signing Seumalo would allow the Bears to move Teven Jenkins back to right tackle. Jenkins is arguably Chicago's best lineman, and with Cody Whitehair moving back to center, the team would have a very solid offensive line. In fact, Jenkins is already listed at right tackle on Chicago's most recent depth chart. Seumalo could be a foundational piece.
Adding both players would also give GM Ryan Poles more Draft Day options. He could trade down from No. 9, something I believe he is likely to do, and accumulate picks in the 20-50 range.
Making a Case for Seumalo
#73 Isaac Seumalo, Eagles OL (2016-23)

– Drafted in 2016 (Round 3: Pick 79)
– 2017 Super Bowl Champ
– 81 Games

— Philly Sports Best By Number (@philly_number) March 16, 2023
This is all I need to know: Seumalo's pass blocking from Week 11 on — protecting two very different quarterbacks in Jalen Hurts and Gardner Minshew — was nothing short of spectacular, earning a 90.4 PFF mark with zero quarterback hits and pressure allowed on just 1.8% of pass-block snaps. He's also the highest-rated lineman that is still available. Seamulo would additionally give the left side of the Bears' offensive line a huge upgrade over Lucas Patrick, Larry Borom, and Ja'Tyre Carter.
I'm sure the Eagles would love to retain Seamulo, but Philadelphia is in a bit of a cap crunch right now. During his seven years in Philadelphia, the 6-foot-4, 303-pound lineman went from third-round pick to Pro Bowl alternate, all while juggling the expertise of five positions without ever complaining. How could Poles not love a guy like that? He's been the top target on my board since free agency started, higher than Orlando Brown Jr., Mike McGlinchey, or Kaleb McGary.
In addition to being a stellar pass blocker, Seamulo is rarely dominated in the run game. He's not a powerful, dominant run blocker, however, which is why I assume he's still available. The Bears tend to look for violent players on both sides of the line. But if Seamulo can keep Justin Fields upright, protect his blindside, and play efficiently as a run-blocker, what's not to like? Signing the seven-year veteran seems like a no-brainer to me. If the front office drafts Peter Skoronksi, Paris Johnson Jr., or Broderick Jones, the coaching staff could ease any of them into the lineup.
Making a Case for Ngakoue
Yannick Ngakoue goes speed to power & walks a blocker that outweighs him by 50+ lbs back to QB depth for the sack. @YannickNgakoue had 9.5 sacks for the Colts last season. Has the cross chop to go along with his speed/power! pic.twitter.com/dJd44koIC4

— DLineVids (@dlinevids1) March 15, 2023
The Bears did a great job of improving their defense earlier this week. They signed linebacker T.J. Edwards and then created quite a stir when they added the top available linebacker, Tremain Edmunds. Chicago has one of the best linebacking corps in the NFC once you add Jack Sanborn to that pair. Poles also addressed the line when he signed DT Andrew Billings and DE DeMarcus Walker. The front seven is still the team's weakest link, however. The front four look like this right now: Trevis Gipson, Billings, Justin Jones, and Walker.
Gipson was Chicago's most-improved player in 2021 but struggled last season. He finished the season with three sacks and 31 tackles and is probably better suited to be a rotational piece. The Bears could use an upgrade, and Ngakoue would strengthen the line. And, when we speak about draft options, Chicago could take a chance on Jalen Carter, who could fall to No. 9, or Poles could trade down if he likes Lukas Van Ness or Nolan Smith. Having veterans in place would give Matt Eberflus a better shot at stopping opposing offenses.
Ngakoue had 9.5 sacks last season, benefitting a great deal from being in the right place at the right time. His pass-win and pressure rates were just a little above average. But he's averaged eight sacks per season since entering the league in 2016, and the Bears could use that type of consistency. He could also rotate with Gipson, which would be very advantageous for Chicago's defense.
Ngakoue is talented, but he's a situation and scheme-dependent player. He's not a guy who should be on the field for 650 snaps per season. Likewise, Gipson is at his best when he can move around and use his athleticism to his advantage. Ngakoue is a professional pass rusher, a mercenary if you will. Teaming him with Gipson would give Chicago's front four a big upgrade. Gipson thrived in a similar role while Robert Quinn was still with the Bears. Once Quinn was traded to the Eagles, Gipson's production dropped quite a bit.