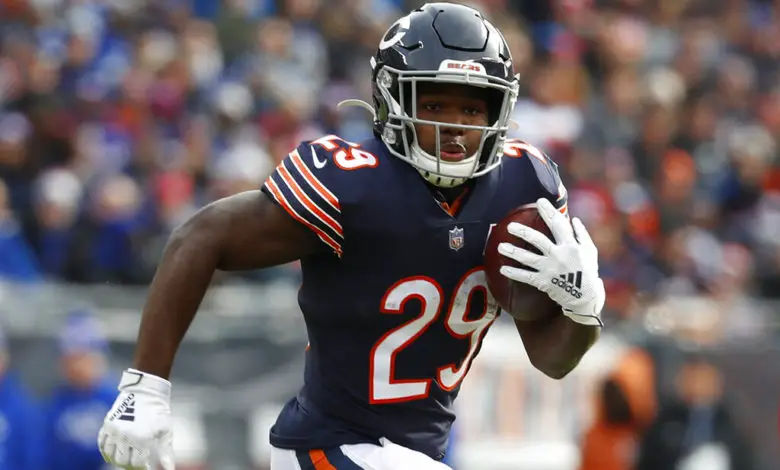 Tarik Cohen Bares All in Self-Penned Letter to 17-Year-Old Self for Players' Tribune
Tarik Cohen was electric. He had speed, agility, undeniable talent, and a one-of-a-kind underdog story. Standing 5'6″ and weighing just shy of 180, no one would believe that Cohen would make it as a running back in the NFL. After being selected in the 4th round of the 2017 draft by Bears GM Ryan Pace, and finding great success under Matt Nagy in his second season, dreams were starting to come true for Cohen. He was an All-Pro and Pro-Bowler in 2018.
😲🏈💪 Chicago Bears 4th round pick Tarik Cohen with the double flip catch (via @_Twenty8_) pic.twitter.com/CwY4DnqsRI

— Fanatics View (@fanaticsview) May 10, 2017
"The Human Joystick" took a step back in 2019 but still gained 971 all-purpose yards. The culmination of his efforts was a three-year $17.25 million contract extension starting in 2020. Sadly, he was injured after signing that deal and never returned to the team before being released. His ACL tear was accompanied by an MCL tear and a fractured Tibial Plateau. What a blow.
From Cinderella Story to cinder blocks, Tarik was basically non-operational after the injuries. Through all of his trials on the field, it was his off-field life that may have taken the greatest toll on the all-purpose back. Congruent to his on-field setbacks, Cohen suffered through some of the hardest personal trials of his entire life. He finally shared them in the self-penned "A Letter to My Younger Self" that was published on Tuesday by the Players' Tribune.
Cohen's post was framed in an autobiographical context as a letter to his 17-year-old self when he was set to enter his final year of high school.
"Look, nothing I can write in this letter could possibly prepare you for everything that is about to happen," Cohen wrote in starting the letter. "I don't even know where to start, to be honest with you. There's just so much. Looking back on it all, it almost doesn't seem real."
"There will be a big bag of crack cocaine."
"There'll be a gun … right there in your hand, ready to shoot, to help you get revenge."
"There will be death. In the family. Unimaginable loss."
"And that's only for starters."
The former Bears' running back wrote about his brothers Dante and twin Tyrell. He wrote about death and loss and not having enough money to take care of his family. He indicated that as familial problems grew worse he started to withdraw from the Bears organization and his teammates. That isolation affected his ability to rehab from a devastating knee injury and may have cost him a chance to play for Chicago's new head coach and front office.
Dante was paralyzed from the shooting just before the 2019 season, which was Cohen's worst of his career. Tyrell died after being electrocuted at an electric substation. Tarik was suddenly thrust into the role of father and caretaker of his twin brothers' daughters.
More, from Cohen's post:
"Later that day, you're going to have to tell Tyrell's two little girls that their daddy isn't coming home."
"You'll take it upon yourself to be the one to do that. You'll volunteer. You'll know that it needs to be you. But, man…."
"Doing that will completely break you. Going over to the house and looking a six-year-old and a four-year-old in the eyes and trying to make sense of that? Seeing the looks on their faces when they hear that their daddy is gone forever? Just all that sorrow."
"That moment will be rock bottom. It's the hardest thing you'll ever have to do in your life."
Often, we do not know the private lives of our favorite athletes. Money does not always buy security and as Cohen wrote, it can't buy love, and it certainly can't change unfortunate happenstance. In the end, the star football player walked away from the game with a bum knee, an uncertain future, and two little girls that now need a father figure.
He admitted he hopes to return to the NFL next season after a full year of uninterrupted rehabilitation, but even that is no guarantee. As Kierkegaard once wrote, "Life can only be understood backward; but it must be lived forward." Cohen's self-penned letter demonstrates the full weight of those words.
(Ed. Note) – Collaborative post with input from Michael Canter in editing. To read Rick's full analysis of Tarik Cohen's heartbreaking piece, look for it at his personal Word Press website.