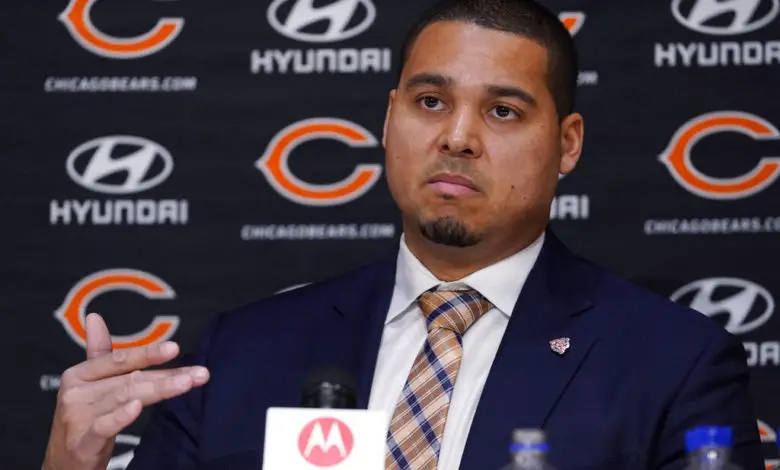 Ryan Poles Discusses Smith and Claypool Trades
Ryan Poles met with the media Tuesday afternoon to discuss separate trades that sent Roquan Smith to the Ravens and brought Chase Claypool to the Bears. Poles said he was "bummed" about the Smith outcome, but said trading the linebacker was a result of the two sides being unable to reach an agreement on a contract extension.
"We came up short and couldn't find common ground," he said Tuesday afternoon.
Poles admitted that Smith not having an agent made negotiations more difficult for the Bears. The All-Pro linebacker was traded to the Ravens for second and fifth-round selections in the 2023 draft.
The first-year GM said that he and Smith exchanged final offers on a long-term contract before the season started. "That's just where we couldn't find common ground. … I felt like we had to move forward (with a trade).".
Poles also said it felt "highly unlikely" that the Bears were eventually going to find that common ground with Smith. He mentioned that negotiations were tougher because Smith does not have an agent.
"We had a difference in value," the GM added.
The Bears could have kept Smith on a franchise tag for the next two years and paid him approximately $38-$42 million in total. Poles decided against it, though.
The extra capital allowed Poles to trade his own second-round pick to the Steelers to acquire Claypool. Chicago also picked up a fourth-round pick when they traded Robert Quinn to the Eagles.
13 touchdowns for the @steelers WR.

What a rookie season for @ChaseClaypool. 🙌 pic.twitter.com/kJvju4DPrs

— NFL (@NFL) March 5, 2021
When discussing Claypool, Poles mentioned the weak 2023 free-agent class at wide receiver and indicated that the progress Justin Fields has made recently was also a factor.
"You can never have enough weapons [to] help your quarterback gain confidence," Poles said. "I like the way Justin is trending. And adding another big body, who's physical, explosive, great leaping ability, can stretch the field and is also violent with the ball in his hands as well as a blocker helps."
"You have to do a little bit of forecasting down the road [regarding free agency]," he continued. "And that's part of my job and part of my crew upstairs. I just didn't feel comfortable with [the available talent]. At the end of the day, I'm a decision-maker and a leader."
Claypool is a serious upgrade at wide receiver and gives the Bears a dimension on offense they haven't had since Allen Robinson left. He has 153 catches for 2,044 yards and 12 touchdowns over the course of his career, and he'll keep teams from double-teaming Darnell Mooney. Poles has been stacking big-bodied receivers since arriving. Claypool, Equanimeous St. Brown, and N'Keal Harry are all 6-foot-4 or taller. Mooney is a bit short to play the X. He may slide over to the slot once Claypool is acclimated with Chicago's offense.
The third-year receiver from Notre Dame is physical inside. He's also adept at making contested catches when needed. At 6'4″ and 238 pounds, he has the size/strength/speed to take advantage of single coverage on 50/50 deep balls. Claypool is also a vertical challenger on outside routes, a possession receiver as a big slot, and a tenacious run blocker. The Bears see Claypool growing into a role like the one Allen Lazard played for Luke Gesty in Green Bay. Chicago will probably try to extend their new receiver before next season.
Poles has remained true to script since the day he was hired. He even picked off the Packers with the Claypool acquisition.
Ryan Poles: "We're going to take the North and never give it back." pic.twitter.com/lS6iZK9vk9

— Chicago Bears (@ChicagoBears) January 31, 2022