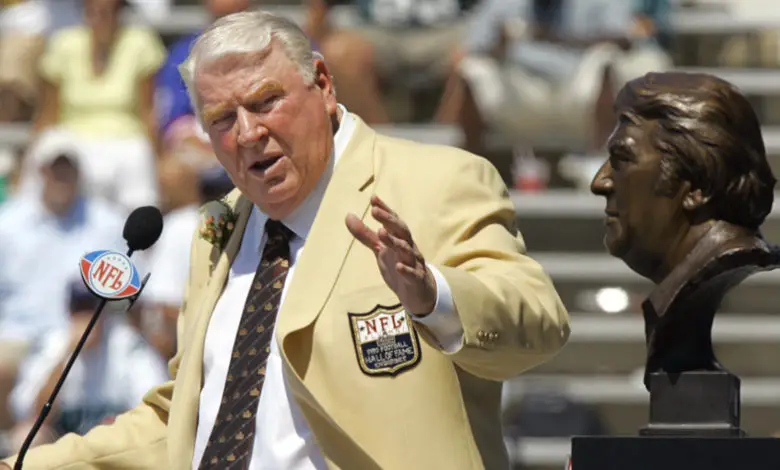 NFL Reacts to Loss of John Madden
The NFL lost a legend when John Madden suddenly and unexpectedly passed away yesterday at the age of 85. Tributes and accolades flooded social media as the league reacted to the loss of an icon.
Today we lost a legend.

Take a look back at Hall of Fame coach and broadcaster John Madden's iconic career. pic.twitter.com/P6MmCHsWnO

— NFL Network (@nflnetwork) December 29, 2021
Commissioner Roger Goodell released a statement on behalf of the league, the players and coaches, and the game's fans:
"On behalf of the entire NFL family, we extend our condolences to Virginia, Mike, Joe, and their families. We all know [Madden] as the Hall of Fame coach of the Oakland Raiders and the broadcaster who worked for every major network, but more than anything, he was a devoted husband, father, and grandfather. Nobody loved football more than Coach. He was football. He was an incredible sounding board to me and so many others. There will never be another John Madden, and we will forever be indebted to him for all he did to make football and the NFL what it is today."
Madden was the head coach of the Raiders from 1969-1978, ending his 10-season run with a record of 103-32-7. His teams made the playoffs in eight of his 10 seasons as head coach, and he never once had a losing record. Madden has more wins than any head coach in Raiders history and the best winning percentage (.759) of any coach in the modern era of professional football.
After he left coaching, the husky and demonstrative Madden joined the broadcasting booth, establishing top tandems with the likes of Pat Summerall at CBS, and Al Michaels at ABC and NBC.  Michaels said working with Madden was like "hitting the lottery."
"He was so much more than just football — a keen observer of everything around him and a man who could carry on a smart conversation about hundreds and hundreds of topics," Michaels said. "The term 'Renaissance man' is tossed around a little too loosely these days, but John was as close as you can come."
In fact, it was Madden's work after retiring from coaching that made him a global phenomenon. He pitched Miller Lite, Ace Hardware stores, and "fast-actin'" Tenactin, taught all of us the ins and outs of football with his use of the Telestrator, and entertained millions of men and women with interjections like "Boom!" and "Doink!" while describing plays. If he had one incredible gift, it was his ability to turn a journeyman player into one of the game's heroes by showing us the little things that helped teams win, things a casual fan might overlook. Heck, Madden made heroes of punters who tackled, overweight linemen, and players who recognized that they were never bigger than the game itself, even if they defied the commissioner's office in doing so.
Bears fans know of his love for William Perry, Jim McMahon, Steve McMichael, and Walter Payton during the Mike Ditka era for those very reasons. Best of all, Madden never came across as a stooge for the league or its owners.
Once he retired from broadcasting, the former coach and pitchman became the face of Madden NFL Football, one of the most successful sports video games of all time, single-handedly making EA Sports a household name. Fans and players alike often looked forward to Madden's annual player rankings.
"Today, we lost a hero. John Madden was synonymous with the sport of football for more than 50 years," EA Sports, the brand behind the Madden franchise, said in a statement after the announcement of his death. "His knowledge of the game was second only to his love for it, and his appreciation for everyone that stepped on the gridiron. A humble champion, a willing teacher, and forever a coach. Our hearts and sympathies go out to John's family, friends, and millions of fans. He will be greatly missed, always remembered, and never forgotten."
Madden was remembered by former and current players on social media, as well as several of his broadcasting contemporaries.
He represented everything that's good about our game.@Raiders #BOOM pic.twitter.com/v7reM5Z6k7

— Sean Payton (@SeanPayton) December 29, 2021
I was saddened to hear about the passing of John Madden, at age 85. One the all-time greats, he showed me the ropes during our brief football partnership. He was always kind and delightful. He can now join his former partner, Pat Summerall, in calling Super Bowls in heaven.

— Vin Scully (@TheVinScully) December 29, 2021
Cowboys' owner Jerry Jones: "I am not aware of anyone who has made a more meaningful impact on the National Football League than John Madden, and I know of no one who loved the game more." pic.twitter.com/woRffvTwox

— Adam Schefter (@AdamSchefter) December 29, 2021
Upon his retirement from coaching and the broadcast booth in 2009, Madden also served as a co-chair with Ronnie Lott of the NFL Player Safety Advisory Panel and was chair of the Coaches Subcommittee to the Competition Committee. He became a Hall of Famer with his induction at Canton, OH in 2006.
There are few figures who have been better ambassadors for any sport as Madden was for football. He was as big as NFL Films itself. As a coach, he belongs in the rarified air that includes George Halas, Vince Lombardi, and Don Shula. None of those esteemed gentlemen shared his influence on the growth of the game and its popularity with fans, however.
A 90-minute documentary that covered his coaching and broadcasting career, "All Madden," debuted on Fox on Christmas Day. The film featured extensive interviews that Madden sat for this year. His wife, Virginia, and sons, Joseph and Michael, also were interviewed for the documentary. Madden and his wife had celebrated their 62-year wedding anniversary just two days before he passed.