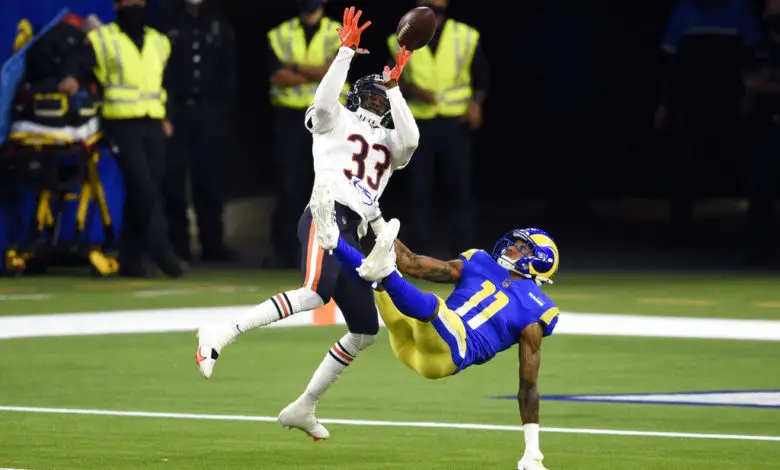 First & Long: Cornerback Battle Looms Large, Bears Sign TE Jesse James, EA Releases Madden '22 Player Rankings, League Cracks Down on Vaccine Hesitancy
The talk of the preseason will undoubtedly turn to Andy Dalton and Justin Fields on a daily basis, but the Bears have a couple of big battles looming at other positions, too. One of the more intriguing ones to watch is the fight for the left cornerback position between Desmond Trufant and Kindle Vildor.
The Bears have eight cornerbacks on their roster heading into training camp. We're breaking down each player. https://t.co/1fRQbQ5nrH

— Bears Wire (@TheBearsWire) July 18, 2021
With the departure of Kyle Fuller in free agency, Jaylon Johnson will assume the role of CB1. As a rookie in 2020, Johnson allowed 44 receptions and a completion percentage of 56.4, averaging just 15.8 yards per completion while leading all first-year cornerbacks with 15 pass breakups. The Bears are confident he's a star on the rise and Johnson could earn some Pro Bowl recognition if he progresses as expected.
At CB2, Trufant should start camp as the favorite to earn the starting job. When healthy, he's capable of being one of the better defensive backs in the NFL. The problem is, he has spent more time in the infirmary the past two seasons than he has on the field. While fighting injuries, he's also been much less than spectacular. In 2019 he allowed four touchdowns in nine games. Last year he allowed a career-high 68.8 completion percentage and three TDs in six games. Trufant does have 14 interceptions in his seven-year career.
Consecutive disastrous seasons by Trufant would seem to leave the door wide open for Vildor, however. A 5th-round draft pick last year out of Georgia Southern, Vildor saw action in all 16 games last year, though he only registered 135 snaps in the defensive backfield. Still, he could be another in a string of late-round successes for GM Ryan Pace. At the 2020 scouting combine, the rookie wowed Bears' scouts with a 4.44 time in the 40-yard dash and a 39.5-inch vertical leap.
"Kindle is becoming more vocal too," coach Matt Nagy said. "These rookies come in, last year, and they don't meet a lot of guys and they're coming in and he's coming in backing up some guys. Now? He's a little more vocal and you're seeing him let his personality show. That's a big plus for us."
Defensive coordinator Sean Desai is a believer in Vildor as well, saying earlier this summer that "Vildor proved he belongs in this league."
Artie Burns could be in the mix as well. The battles begin in 24 hours. Stay tuned.
Bears News & Notes
There's a Flag…On the Play
The Bears have a starting QB nicknamed "Red Rifle." The backup looks like a mercenary. Halas Hall is going to be lit all through August.
Justin Fields' visor game 🔥🔥🔥

(📸: simeon.kelley IG) pic.twitter.com/jTDi9sGkp5

— PFF (@PFF) July 19, 2021
Northern Exposure
Now that it appears that Aaron Rodgers will return to Green Bay for one final season, the Packers are among the favorites to reach this season's Super Bowl.
The Vikings have signed wide receiver Dede Westbrook, and to make room for him on the roster, they waived rookie defensive tackle Jaylen Twyman, who was shot four times in Washington, D.C., earlier this offseason.
USA Today predicts the Lions will win just three games this season. I pegged them for two.
NFL News & Notes
The league sent a clear message to the players regarding COVID-19 that can basically be interpreted as "you play by our rules or you don't play at all."
Some NFL players would rather throw away their careers than agree to get vaccinated against the novel coronavirus.
Just one day before the start of training camp, the Colts announced that head coach Frank Reich has tested positive for COVID-19. As a result, Reich must quarantine until being cleared.
The Texans are expecting a "massive haul" in any potential trade for DeShaun Watson. The Broncos and Eagle remain among the most interested in acquiring the veteran QB.
Watson is facing criminal complaints alleging sexual misconduct from at least 10 women, and two new women recently raised similar allegations.
A video of Tom Brady playing catch with a JUGS machine has gone viral but has been proven to be fake.
Because the Cardinals have been unable to reach an agreement on a contract extension with Chandler Jones, they are rumored to be shopping their star EDGE rusher.
Some NFL rookies were asked to guess their Madden '22 rankings and a few were a little upset they weren't ranked higher.
Three Yards and a Cloud of Dust
Nagy has established an order of succession at QB with Dalton first, Fields second, and Nick Foles third.
Dalton's teams have a .377 winning percentage over the past five seasons in games he has started.
Last year the Bears started 5-1 and then had a six-game losing streak. The same type of schedule awaits Chicago this year with a very difficult stretch starting in Week 6. They'll play the Packers, Buccaneers, 49ers, Steelers, and Ravens in succession. That section of the schedule may represent the debut of Fields as a starter.
Three and Out
Three-time MVP Rodgers is returning to Green Bay to team up with WR Davante Adams for one "last dance." Don't expect a second ring for the veteran quarterback, but it's a good bet the pair will be filmed every waking second, whether we like it or not.
It's happening… pic.twitter.com/AD8ounZWlb

— PFF (@PFF) July 26, 2021
From the Podium
"[Dalton, Fields, and Nick Foles] all know that you need to produce, you need to play well, you need to compete, you need to be the best quarterback you can be, and then it's going to be really pretty easy for us to see who that is and how that goes." – Matt Nagy
"We know what he can do physically. He can throw the ball, he can run the ball. He definitely has a great feel. Some of the throws he was making in practice, kind of confirmed what we all heard." – Jaylon Johnson
Two-Point Conversion
Happy Birthday Tarik Cohen!
These are the kinds of electric plays the #Bears are hoping to get back this year from Tarik Cohen pic.twitter.com/spiPOD8Mlk

— Best of Pro Sports (@pro_sports_best) July 26, 2021