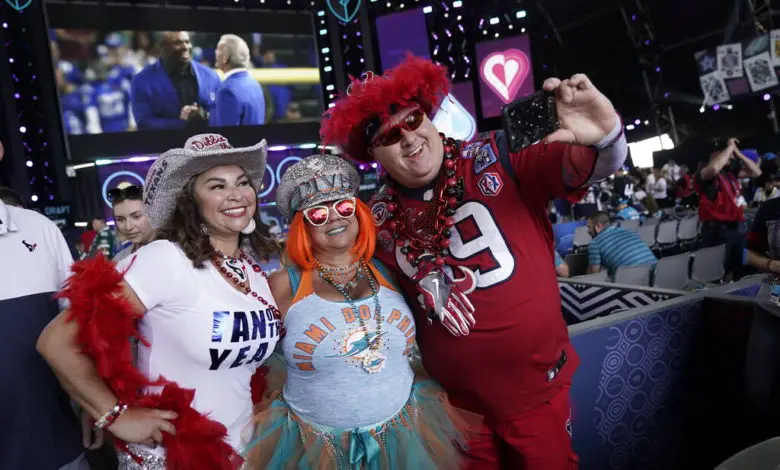 NFL Draft Day 2: Best Players Available and Live Blog
It was expected that the first round of this year's NFL Draft was going to be a crazy affair, but nobody expected the executives of all 32 teams to take crazy to a whole new level. Nine trades involving 33 picks, one pick that was traded twice (No. 23 overall), and a pair of pro wideouts (Marquise Brown and A.J. Brown) went down in a fast and furious final two hours of yesterday's festivities.
To say it was difficult to keep up is an understatement. Before the first round started yesterday I revealed my Chicago Bears final mock draft, and I'll stick to it as we head into rounds two and three. GM Ryan Poles has six selections as of right now, but with the premium that was paid for moving up yesterday, and a good chunk of first-round talent available today, it wouldn't be a shock to see Poles trade down at No. 39, No. 48, or both. Assuming he keeps all of his picks, here's how I see things unfolding:
I'll add a caveat or two, however. If LB Nakobe Dean (Georgia) or EDGE David Ojabo (Michigan) are available, Poles may have a bit of a conundrum on his hands. Both players would immediately upgrade Chicago's already stellar defense, but either would make that first selection a lot more valuable in a potential trade. The Seahawks have the Nos. 40 and 41 picks, so if Poles keeps No. 39, Seattle could reap the benefits of trading down.
The Falcons could be interested in a quarterback and might want to jump ahead of the Seahawks to grab Malik Willis of Liberty. Atlanta has the No. 43 pick, and to trade up to No. 39 they'd have to include No. 114 at a minimum. The Bears do not have a fourth-round pick this year, so that might be enticing to Poles.
I'll live blog rounds two and three, but the player bios will be limited to a sentence or two since teams have less time to make selections today than the 10 minutes they had yesterday. If Chicago keeps its top two picks, the front office make the seventh and 16th selections of the second round. Here are the top players still available, but keep in mind Poles and Matt Eberflus have already set their board, and as Poles said, he's not going to "overcook his board" to take a position of greater need. That means, his top 20 may look vastly different than those of most analysts.
UPDATE 1: I was on the money here: Poles said he's not going to "overcook his board" to take a position of greater need. That means, his top 20 may look vastly different than those of most analysts.
UPDATE 2: These are the best players available heading into the final day of this year's draft.
QB Sam Howell (North Carolina)
DT Perrion Winfrey (Oklahoma)
WR Calvin Austin III (Memphis)
CB Tariq Woolen (UT-San Antonio)
OT Daniel Faalele (Minnesota)
CB Zyon McCollum (Sam Houston)
RB Isaiah Spiller (Texas A&M)
DE Eyioma Uwazurike (Iowa State)
RB Dameon Pearce (Florida)
RB Zamir White (Georgia)
TE Daniel Bellinger (San Diego State)
CB Jalyn Armour-Davis (Alabama)
WR Khalil Shakir (Boise State)
LB JoJo Domann (Nebraska)
TE Isaiah Likely (Coastal Carolina)
CB Coby Bryant (Cincinnati)
DE Kingsley Enagbare (South Carolina)
G Darian Kinnard (Kentucky)
TE Charlie Kolar (Iowa State)
CB Josh Jobe (Alabama)
DT Neil Farrell Jr. (LSU)
OT Rasheed Walker (Penn State)
CB Verone McKinley III (Oregon)
C Donhovan West (Arizona State)
G Jamaree Salyer (Georgia)
LB Amare Barno (Virginia Tech)
LB Brandon Smith (Penn State)
OT Kellen Diesch (Arizona State)
WR Kyle Phillips (UCLA)
G Zack Tom (Wake Forest)
The Buccaneers will have the first pick today after acquiring it in a trade yesterday.
Buccaneers (acquired from the Jaguars with picks 106 and 180 for  No. 27 overall, which was used to select OLB Devin Lloyd) – DT Logan Hill | Houston – Fantastic athlete with impressive size (6-6 and close to 280 lbs) – Has elite speed – his coaches report him being faster than Payton Turner who hit out 21.5 MPH on the GPS.
Packers (acquired from the Vikings for picks 53 and 59)  Christian Watson WR North Dakota State | DOB: 05.12.1999 | 6-5 211 lbs. – Bad news, Bears fans who wanted this guy. Watson is a freaky fast, big-bodied pass-catcher who absolutely lit up the combine with a 4.36 40-yard time, a 38.5″ vertical, and a 136″ broad jump. He's a fluid athlete with explosive burst and speed to stretch the field and breeze past defenders. Has a quick first step and gets to top speed in a hurry. Watson has limited experience as a WR,  having totaled just 104 receptions in four years at NDSU, and is still very raw as a player. He also played in the FCS and as a result, may struggle to adapt to jumping what will be effectively two levels of competition.
Titans CB Roger McCreary | Auburn – One of the best man/press corners in college football – able to leave him on an island with the opposing team's best receiver and will not be beaten by double moves.
Jets (acquired from the Giants for picks 38 and 147)  RB Breece Hall | Iowa State – Well-built with a thick frame and powerful lower body which keeps his legs pumping through contact. Patient behind the line of scrimmage, allowing blocks to create openings, and looks for cutback lanes with accurate vision.
Texans S Jalen Pitre | Baylor – Pitre is an incredible athlete at the safety position who can do it all with elite speed, quickness, and great leaping ability. He can patrol laterally and regularly blows up screens with outstanding range.
Falcons (acquired from the Giants for picks 43 and 114) EDGE Arnold Ebiketie | Penn State – Ebiketie is an impressive pro prospect who has top-level athletic skills – he's explosive, has elite speed around the edge, some instinctive pass-rushing skills, and the power to drive through blockers to blow up running plays. He's only really been used as a pass rusher so far and could be looked at initially as being unable to handle being a three-down player, and therefore viewed more of a situational edge rusher at the next level.
Bears DB Kyler Gordon | Washington – Gordon has elite athletic skills combined with pro-level coverage skills and a natural feel for the game. His playing negatives are only minor and will most likely be worked out byMatt Eberflus' staff. Gordon will pair well with Jaylon Johnson to give Chicago a pair of elite corners.
Seahawks EDGE Boye Mofe | Minnesota – Made Bruce Feldman's Freaks list at No. 17 — "His weight-room numbers are impressive; now the key is to take a guy who has vertical jumped 40.5 inches, broad jumped 10-6, run the 40 in 4.57 and power cleaned 400 pounds to make a lot more plays on the field."
Seahawks RB Kenneth Walker III | Michigan State – Walker has a high motor and is an explosive back who hits the second gear in a flash. He shows a surprising burst to beat linebackers to the edge. Can plant his foot in the ground and explode, showing better straight-line speed than expected.
Vikings (acquired from the Colts for picks 53, 77, and 192) CB Andrew Booth Jr. | Clemson – Booth projects as a playmaker at the cornerback position who will likely struggle early on in his NFL career due to limited college experience. He must quickly improve his technique if he is going to compete in the NFL where corners can't survive on athleticism alone.
Giants (acquired from the Falcons with pick 114 for No. 38, which was used to draft Arnold Ebiketie) WR Wan'Dale Robinson | Kentucky – Robinson is explosive with fantastic agility, soft hands, and surprising strength – however, he is still very inexperienced as a receiver and this pick sort of feels like a reach that came a day early.
Texans (acquired from the Browns for picks 68, 108, and 124) WR John Metchie III | Alabama – Metchie is quick, runs good routes, has some obvious explosion, and has decent hands. However, some have questioned his long speed and those doubts only increased after he tore his ACL, resulting in Metchie missing the combine and Alabama's pro day.
Ravens EDGE David Ojabo | Michigan – Ojabo may have the greatest upside of any player in the 2022 NFL Draft class with a unique combination of size, strength, and speed. For all his upside, he is very raw and still learning the position.
Lions DE Josh Paschal | Kentucky – Paschal is an outstanding 3-4 defender with an impressive motor and elite strength at the point of attack. That enables the 6-3, 260 lb. end to be incredibly effective as a run defender. His skills don't stop there, however, as he has proven to be a dominating interior rusher – whether it's getting to the QB or taking down the ball carrier in the backfield.
Commanders DT Phidarian Mathis | Alabama – Mathis really broke out as a senior in 2021 when he was named one of the Crimson Tide's permanent team captains. He chalked up 49 tackles, totaled 12 tackles for loss, and nine sacks to rank second on the Tide defense. He also added 12 QB hurries and 6 QB hits. In recognition of this standout performance, he was selected as a second-team All-American honoree by the AFCA, tabbed as a Reese's Senior Bowl All-American, and earned All-SEC Second Team recognition from the conference coaches.
Bears SS Jaquan Brisker | Penn State – Brisker is a great athlete with an elite combination of speed, size, tackling, and natural coverage ability to be a pro-bowl level safety in the NFL. He has few flaws in his game,  and could quite easily become the best defensive back in this year's class.
Saints CB Alontae Taylor | Tennessee – Taylor is an impressive prospect with some excellent upside. He's displayed elite speed, length, and outstanding overall athletic skills. He also has good coverage instincts and has the potential to be an outstanding press corner at the next level.
Patriots (acquired from the Chiefs for picks 54 and 158) WR Tyquan Thornton | Baylor – The fastest WR at the combine ran a 4.28 40-yard who runs better routes than he is credited for. Thornton fits a zone system, can sift through oncoming traffic and explode through tiny creases and cutback lanes. He flashes elite, darting stop-and-go acceleration and is very dangerous in the open field.
Eagles C Cam Jurgens | Nebraska – Jurgens is a better-than-expected athlete who steadily improved in pass protection. He's stout at the point of attack and maintains a wide base. Strong finisher and doesn't quit; competitor with a positive attitude and leadership traits that coaches admire.Quick-footed with smooth movement skills to cover a large area. Rangy with above-average lateral ability. Bursts off the snap and sets up quickly with little wasted motion.
Steelers George Pickens WR Georgia | DOB: 03.04.2001 | 6-3 200 lbs. – A former surefire first-round pick who may not go until Day Two because of an injury, Pickens combines great hands, elite speed, and a tenacious ability to level defenders with downfield blocks to be a successful WR1 at the pro level. Could easily be the biggest boom-bust prospect in the 2022 NFL Draft class. He has quite possibly some of the most natural receiving talents in the draft and has shown dominating pass-catching skills. Perkins was really looking like a potential superstar before his injury.
Colts WR Alec Pierce | Cincinnati – For Bears fans, yet another receiver that got away and it's looking like any help Justin Fields gets in the draft will be a project at best. Pierce has been shooting up draft boards lately as teams have become more aware of his super-athletic talents. He's got the ideal size for an outside receiver, elite top-level speed, impressive vertical ability, and has the strength to outmuscle smaller corners.
Chiefs Skyy Moore WR Western Michigan | DOB: 09.10.2000 | 5-10 195 lbs – Moore has gone under the radar of NFL scouts for the most part of his college career, but that has changed. He has elite top speed (ran 4.41) at the combine, fantastic agility, and acceleration combined with consistent natural soft hands. He, however, hasn't been tested by a lot of top-level talent and so his likely production remains far from certain, he also doesn't have ideal size for the position.
Cardinals TE Trey McBride | Colorado State – The number one tight end in the draft, McBride exploded on the scene with an incredible 90 receptions for 1121 yards. Broke the CSU school record for career receiving yards by a tight end.
Cowboys OLB/DE Sam Williams | Ole Miss – First-round talent with elite speed but dropped due to off-field issues, Williams is a total athletic freak. He recorded a dead-lift of 750 pounds and was clocked running a 4.5-second 40-yard dash at 262 lbs at his Pro Day. Williams also put incredible numbers as a pass rusher in his final season at Ole Miss he however is still raw as a player and relies on his speed and power over technique.
Buccaneers (acquired from the Bills for picks 60 and 180) OT Luke Goedeke | Central Michigan – Goedeke is an impressive athlete who has totally transformed his body over the past few years from a relatively lanky tight end to a powerful offensive tackle. He possesses elite run blocking skills and also is a very good pass protector who has shown improved technique and strength.
Falcons LB Troy Andersen | Montana State – A former QB who converted to LB, Andersen's stock has been skyrocketing. He has an impressive set of skills – is a solid tackler, good as a pass rusher, and elite as a short area coverage player. The transition to the pros might well be a shock for him
Vikings G Ed Ingram | LSU – 2021 was Ingram's best year as he started 11 games, all at left guard, and played on 811 offensive snaps. He gave up just 2 sacks and 11 total pressures on the year and as a result, was named second-team All-SEC by the SEC Coaches.
Bengals C (acquired from the Bills for picks 63 and 209)CB Cam Taylor-Britt | Nebraska – Taylor-Britt is a good NFL prospect who really elevated his stock with an impressive combine and Senior Bowl performance. He has impressive physical traits: has good size and length, is a dominant run defender who hits like a strong safety, and has the elite speed to run with top-level wideouts deep.
49ers LB Drake Jackson | USC – Jackson is a quality prospect who possesses impressive athletic ability. He has a unique combination of speed, agility, and power, as well as some nice size for the position.
Chiefs SS Bryan Cook | Cincinnati – Cook has an NFL frame with strong hands, the ability to close quickly on underneath routes, and the size to tackle with a thump.
Bills RB James Cook | Georgia – Cook is an impressive athlete with lightning quickness, an attacking disposition, and fantastic receiving ability. He also is an impressive edge runner that can go the distance at any time.
Broncos LB Nik Bonitto | Oklahoma – Bonitto may be considered a little bit of a tweener and not able to play full-time on the line as a pass rusher due to his smaller size. He should still be a very good edge rusher in the NFL as a pass-rush specialist, but it remains to be seen if he can be an every-down player in the NFL.
Round Three (video profile links only, except for the Bears' selection)
Jaguars – C Luke Fortner | Kentucky
Vikings – LB Brian Asamoah | Oklahoma
Giants – G Joshua Ezeudu | North Carolina
Browns – CB Martin Emerson | Mississippi State
Titans – OT Nicholas Petit-Frere | Ohio State
Jaguars – LB Chad Muma | Wyoming
Bears – WR Velus Jones Jr. | Tennessee – Eberflus and Poles said the Bears wanted to draft speed and that's exactly what this pick represents. Jones is an overaged prospect (turns 25 in May) who offers help to a team as both a WR and kick returner. As a returner he is elite and will likely make an impact early, however, he is somewhat limited as a wide receiver. He'll be used as a deep threat and as a speed threat (4.31 40-yard time) in the screen game. NFL comp is Coraderrelle Patterson.
Seahawks – OT Abraham Lucas | Washington State
Colts – TE Jelani Woods | Virginia
Falcons – QB Desmond Ridder | Cincinnati
Texans – (acquired from the Broncos for picks 80 and 162) LB Christian Harris | Alabama
Ravens – DT Travis Jones | Connecticut
Colts – OT Bernhard Raimann | Central Michigan
Browns – DE Alex Wright | UAB
Chargers – FS JT Woods | Baylor
Broncos – TE Greg Dulcich | UCLA
Giants – CB CorDale Flott | LSU
Falcons – EDGE DeAngelo Malone | Western Kentucky
Eagles – LB Nakobe Dean | Georgia
Steelers – EDGE DeMarvin Leal | Texas A&M
Patriots – CB Marcus Jones | Houston
Titans – (acquired from the Raiders for picks 90 and 169) QB Malik Willis | Liberty
Cardinals – DE Cameron Thomas | San Diego State
Cowboys – WR Jalen Tolbert | South Alabama
Bills – LB Terrel Bernard | Baylor
Raiders – G Dylan Parham – Memphis
Buccaneers – RB Rachaad White | Arizona State
Packers – OT Sean Rhyan | UCLA
49ers – RB Tyrion Davis-Price LSU
Panthers – (acquired from the Patriots for a 3rd round pick next year) QB Matt Corral | Ole Miss
Bengals – DT Zachary Carter | Florida
Colts – (acquired from the Broncos for a 3rd round pick next year) SS Nick Cross | Maryland
Lions – DB Kerby Joseph | Illinois
Commodores – RB Brian Robinson Jr. | Alabama
Browns – WR David Bell | Purdue
Cardinals – EDGE Myjai Sanders | Cincinnati
Jets – TE Jeremy Ruckert | Ohio State
Dolphins – LB Channing Tindall | Georgia
Chiefs – LB Leo Chenal | Wisconsin
Rams – G Logan Bruss | Wisconsin
49ers – WR Danny Gray | SMU