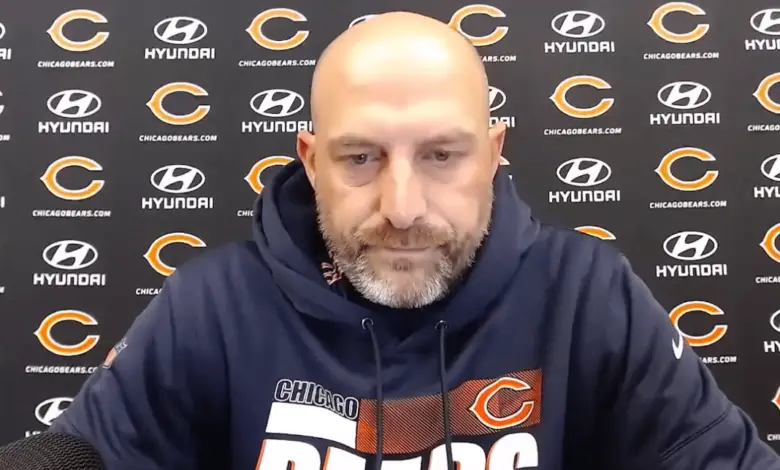 Matt Nagy Tests Positive for COVID-19
Head Coach Matt Nagy announced Monday morning that he tested positive for COVID-19 after returning home from Tampa, where the Bears were destroyed 38-3 on Sunday by the defending Super Bowl champion Buccaneers.
Bears coach Matt Nagy announced that he has tested positive for COVID-19. pic.twitter.com/BhBhiN2rx3

— SportsCenter (@SportsCenter) October 25, 2021
"This is something that for us, it's a reminder for all of us to be extremely cautious and to understand where we're at," Nagy said on a Zoom call. "We've seen it with other teams in the league and society in general, so we're working through that."
The head coach said there were no other positive tests on Monday and that he felt OK despite the diagnosis. Chicago has had several players test positive in the last week, with offensive tackle Elijah Wilkinson and linebacker Caleb Johnson being the latest to go on the list Sunday. The others on the list are tight end Jimmy Graham and outside linebacker Robert Quinn, who is second on the team with 5.5 sacks.
Special teams coordinator Chris Tabor will run all team meetings as he did briefly in the spring and as the Bears had planned in the event anything happened to Nagy. That leaves offensive coordinator Bill Lazor and defensive coordinator Sean Desai to continue in their roles calling offensive and defensive plays.
Because he is fully vaccinated, Nagy will be cleared to resume football activities with the team once he has returned two negative tests 24 hours apart, per league rules. It is still unknown if he will be able to take the sidelines when the Bears host the 49ers on Sunday.
"I feel pretty good," Nagy said on his call. "Again, you come in in the morning and it's something where every morning on Monday, you come in, you're following protocols, it's what we do.
"So when I got the call this morning from our head trainer, Andre Tucker, you try to be prepared. So as of now,  [nobody else has tested positive]. We're still working through some of the team. But that's a good sign for sure. We need to make sure that we do everything we're supposed to do here in regards to the protocols."
If Nagy misses Sunday's game, Tabor would likely handle head coaching duties.