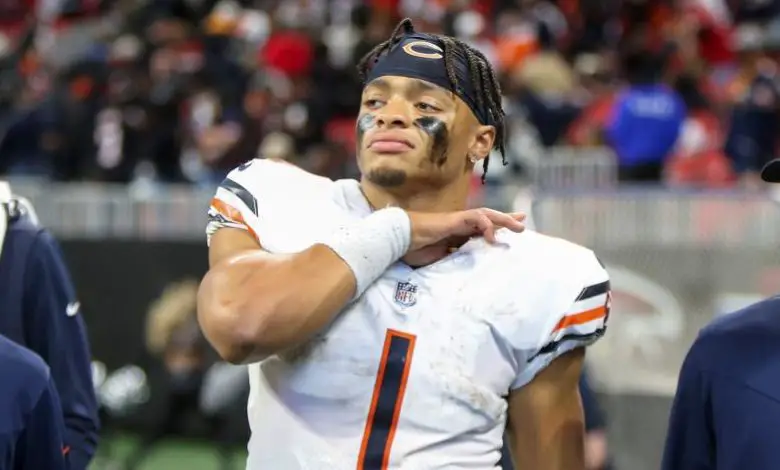 Justin Fields Diagnosed with Separated Left Shoulder with Ligament Damage May Play Sunday
After some dispute earlier in the week, the Bears revealed the exact nature of quarterback Justin Fields' injury Wednesday. Fields told reporters at the weekly team media availability he had a separated left shoulder with torn ligaments "basically an AC joint injury."
#Bears QB Justin Fields describes his left shoulder injury as a separated shoulder with torn ligaments — "basically an AC joint injury." It was described to me on Monday as a dislocation that can cause torn ligaments.

Fields far from 100% going forward, with his status TBD.

— Ian Rapoport (@RapSheet) November 23, 2022
Because the injury is to his non-throwing shoulder the Bears quarterback wants to continue to play through the pain. Head coach Matt Eberflus says his star QB is still day-to-day and will attempt to play on Sunday against the New York Jets.
Justin Fields remains day-to-day, but has been cleared to practice pic.twitter.com/DEtdGS2zM2

— Chicago Bears (@ChicagoBears) November 23, 2022
This is a decision that really doesn't make a lot of sense given the Bears current situation. With a 3-8 record, Chicago has very, very slim playoff hopes and would have to run the table to even be a factor. In fact, if they were to lose out they would be in excellent position to land the number two pick in the draft. Shutting their quarterback down to protect him from further issues would definitely help that effort.
AC joint injuries are painful but usually do not require surgery to repair. Recovery time for a grade 2 sprain, which appears to be Fields diagnosis, is 4-6 weeks. While the chances he reaggravates the injury aren't super high each big hit will be very painful. With a makeshift offensive line in front of him, more of those big shots are definitely coming.
The question is: Does GM Ryan Poles and Bears management want to subject their franchise quarterback to that kind of abuse for the rest of 2022? Justin Fields is a tough guy and he will play through the pain if his organization allows it. It's the job of the team to protect the players from themselves and it seems like there is no reason to play him in these frankly meaningless games.