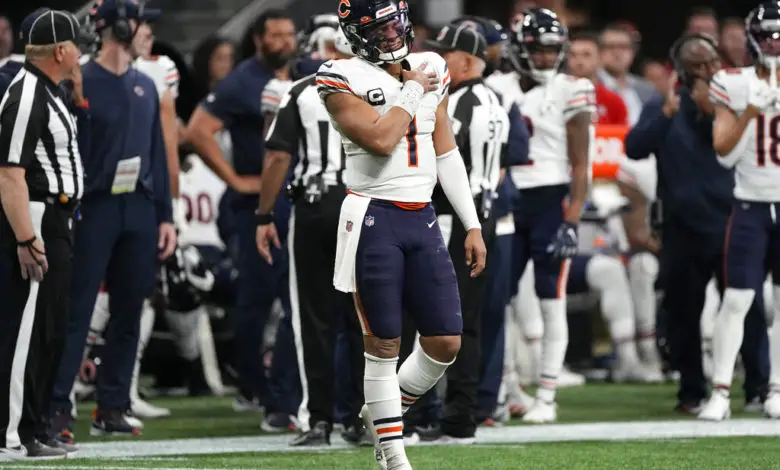 First & Long: Bears Decline to Discuss Seriousness of Fields' Injury, Defense in Urgent Need of Upgrades, Vikings Worst 8-2 Team Ever
Justin Fields is a big quarterback but he takes a lot of hits. His offensive line struggled in Sunday's loss to the Falcons, and the second-year quarterback paid a big price because of it. Fields may or may not have dislocated his shoulder, and though he's listed as day-to-day, that's only because Matt Eberflus has yet to fully address its seriousness. Fields could miss Sunday's game against the Jets, and if the Bears place him on IR, he might be done for the season.
Or, perhaps Fields injury is worse than most of us fear. Is it just a separation? Cartilage damage? A fracture?
Source says Bears QB Justin Fields did not dislocate his left shoulder. https://t.co/puUw3ZM1rM

— ProFootballTalk (@ProFootballTalk) November 22, 2022
Eberflus tends to be vague about injuries until a player's game status is known. And just because it's not a dislocation (if true) doesn't mean it's not something worse. The head coach is scheduled to discuss Fields' prognosis when he meets the media on Wednesday. Until then, nobody really knows for sure, or, nobody's saying so if they do.
The Bears are 3-8, but they're now 0-5 when they have a chance to win with two minutes or less remaining. They're not going to run the table, and even if they did, a playoff berth is unlikely. In fact, 3-14 is a lot better than 9-8 because Chicago will draft higher next year. The Bears have the same record as the Panthers and would have the No. 3 pick if the season ended today. Carolina gets the higher pick because they have a worse point differential. But, if you really feel like being an optimist, the Bears are just 72 points shy of a perfect season.
It's too bad their defense can't stop anybody. Expect Chicago to load up on defense in free agency and the draft. The Bears have eight 2023 draft picks, including five in the first four rounds. If they can get the No. 2 pick, GM Ryan Poles will be able to trade down to a team that wants QB Bryce Young of Alabama or CJ Stroud of Ohio State. We've already published our first mock. The Bears will also have about $133 million in cap space by the time the confetti is cleaned up after the Super Bowl.
The point is, there may be no point in starting Fields. He's taken the next step to becoming a franchise quarterback, and he's genuinely on the cusp. Let Trevor Siemian close out the season. At least Chicago will know if he should stick around in 2023-24. Why risk further injury to Fields?
Bears News & Notes
There's a Flag…On the Play
The advanced analytics provided by the NFL makes it much easier to understand how poorly Russell Wilson has played this season.
A graph comparing Russell Wilson's passing TD total this season and the amount of bathrooms in his house 🚽

created by @KentWeyrauch pic.twitter.com/7GpLMUHUiK

— NFL Stats (@NFL_Stats) November 22, 2022
Scout Team
Film Room
Dante Pettis – I hope you're watching.
.@GilletteStadium was going crazy 🔋#NEvsMIN 11/24 on NBC

(via @NFL)pic.twitter.com/OA5xsQCxUX

— New England Patriots (@Patriots) November 21, 2022
Northern Exposure
Minnesota: The Vikings accidentally paid tribute to pornstar Johnny Sins during a "Salute to Service" segment honoring veterans on Sunday.
Green Bay: The Packers lost to the Titans, they're now 4-7, and their offense is led by running backs Aaron Jones and AJ Dillon instead of Aaron Rodgers.
Detroit: Rookie wide receiver Jameson Williams is finally practicing with the Lions, though he still hasn't been cleared to play. The first-round pick out of Alabama suffered a torn ACL at the end of his collegiate career.
NFL News & Notes
The Jets, Giants, and Vikings are potential playoff teams, but they are also the NFL's biggest frauds.
Patrick Mahomes leads the MVP race by a wide margin over Jalen Hurts and Josh Allen.
The Chiefs are the league's top team in the latest power rankings by Bucky Brooks.
Kansas City TE Travis Kelce set a new NFL record on Sunday when he recorded the 33rd 100-yard receiving game of his career.
The "hippy-brew" made with Ayahuasca leaves that Rodgers drinks can reportedly cause mental health problems that last for months.
TE Kyle Pitts suffered a torn MCL against the Bears and has been placed on IR. He's out for the season.
The Falcons plan to stick with Mariota over rookie Desmond Ridder as long as the team remains in playoff contention.
The Commanders plan to start quarterback Travis Heinicke at quarterback for the rest of the season. Carson Wentz might be looking for a team this spring…again.
The Broncos waived veteran running back Melvin Gordon.
Three Yards & a Cloud of Dust
The Vikings are the first team in NFL history to have a negative point differential (-2) with a record of 8-2.
Patterson now has nine career kickoff returns for touchdowns, the most in NFL history.
Through Week 11, Derrick Henry of the Titans leads the NFL in rushing yards (1,010) and all-purpose yards (1,207).
From the Podium
"If that was Tom Brady, Jared Goff, or anybody like that, they throwing flags immediately. Just as you saw today. They threw a flag to Mariota, and he tripped over himself. I feel like they got to respect Justin some more and look at him as a quarterback because, obviously, there should be more flags." – Brisker
"When you're looking at an injury for any player, what are the long-term effects of that, and then where is it? Is it something that we can play through or is it something that we can have rest?" – Eberflus
"That would be a pretty easy transition. Trevor [Siemian] is obviously a very smart individual, a very good passer, and has a great grasp of the offense. He's been here since day one. High functional intelligence. So we'll be excited about that guy." – Eberflus
Running Out the Clock
I cannot imagine how beat-up Fields is after every game.