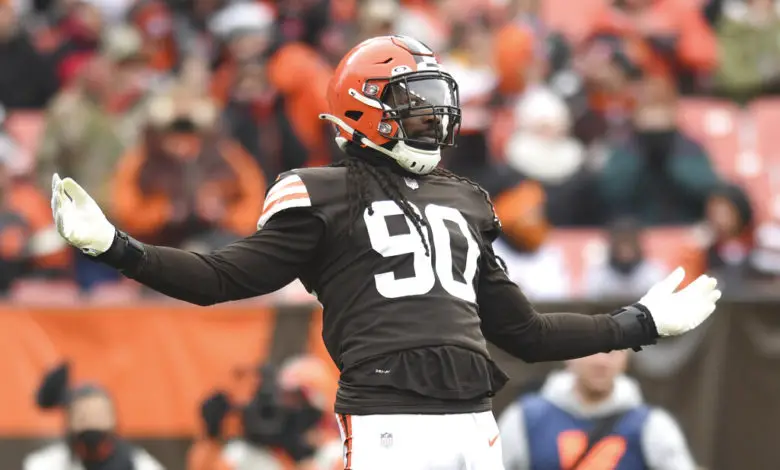 Jadeveon Clowney Could Be One Option to Potentially Replace Robert Quinn
On Friday, Jason La Canfora of CBS Sports penned an article predicting the futures of players such as Kyler Murray and Terry McLaurin, among others. In the post, La Canfora also stated that Robert Quinn wants out of Chicago. Though I agree with fellow Bears Insider writer Michael Canter that this is unfounded reporting, I can't help but think it also makes some sense. It's also kind of on-brand for first-year GM Ryan Poles based on his actions so far.
In March Poles had no problem sending six-time Pro Bowl pass rusher Khalil Mack to the Chargers for a 2nd-round pick in this year's draft, and a 6th-round pick in 2023. He also let several free agents walk. The rookie GM then spent the bulk of this offseason cutting players such as Eddie Goldman, Tarik Cohen, and Danny Trevathan to get some of the team's bad contracts off the books.
Still, what if there is legitimacy to what La Canfora reported? The Bears would turn to Al-Quadin Muhammad, Trevis Gipson, and 5th-round draft pick Dominique Robinson to try to replace Quinn's 18.5 sacks. There's solid talent there, but that's asking for an awful lot of production. Maybe defensive coordinator Alan Williams and head coach Matt Eberflus could turn to a familiar face to replace Quinn if he does get dealt.
Akiem Hicks is still a free agent, and still a fan favorite based on the uproar over his recently-deleted Instagram account. The six-year veteran pass rusher also tweeted a photo that showed him sacking Packers quarterback Aaron Rodgers seemingly teasing he might return. Unfortunately, Hicks followed it up with a second tweet apologizing for instigating the false-but-positive vibes.
It's an intriguing thought though. Hicks has relationships with a number of Bears players and was a voice of veteran leadership in 2021. Why not run him back for one more year if Poles trades Quinn?
My bad yaw. I didn't mean to get your hopes up. I was just lookin through some old pictures on the way to the gym. pic.twitter.com/VJuE0kZ4Xb

— akiem hicks (@The_Dream99) May 19, 2022
Injuries and lack of production are the top culprits. Last season, the 32-year-old was healthy enough to play in just nine games, and he didn't flash the same talent he had in the past. Hicks registered 3.5 sacks and only five tackles for loss.
If not Hicks, then who? There's plenty of talent remaining in free agency, and if Eberflus prefers someone young with projectable upside, he might consider pass rusher Takkarist McKinley. If the first-year head coach wants a veteran that can still produce at a high level, he might want to take a swing at Everson Griffen or Justin Houston.
The best bet for improvement and sustainability, however, is Jadeveon Clowney. The eight-year veteran spent his first five years in the league playing for the Texans, where he was a middle-of-the-road performer before coming into his own in his final two seasons with Houston. In 62 games (54 starts), Clowney registered 29 sacks, 67 QB hits, and 64 tackles for loss
Clowney had middling one-year stops with the Seahawks and Titans before finding success last year with the Browns. In 2021, the defensive end forced two fumbles while getting to the quarterback nine times in 14 games. He's the type of player Eberflus likes to deploy in his defense and offers the best chance to succeed in Chicago of any of the remaining free agents, including Hicks.
Poles and Eberflus have free-agent alternatives available if trading Quinn is an option the organization wants to pursue. The return that Poles might theoretically get for Chicago's Defensive Player of the Year will determine if he is traded sooner rather than later. Put another way, it might be a solid move to trade Quinn, recoup a second and third-round pick in 2023, and then sign Clowney. The only obstacle might be finding a trade partner to give up those picks.