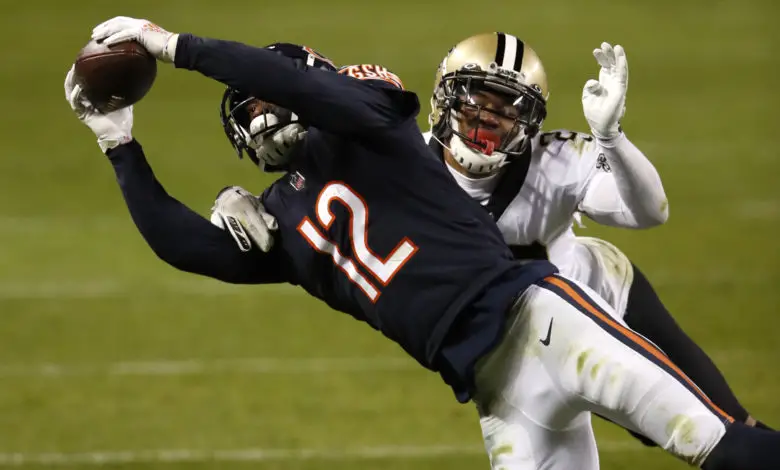 Allen Robinson Likely Casualty of NFL's Shrinking Salary Cap
Between Lack of Space and Offensive Ineptitude, Bears Probably Can't Keep Best Receiver
Remember back at the start of the season when social media was abuzz with calls to #ExtendAR? Ah, what a joy it would be to travel back to the halcyon days when the Bears were 5-1 and Allen Robinson sticking around beyond this season felt like a real possibility. But even as he continues to outperform his three-year, $42 million deal for a team clearly lacking offensive weapons, bigger external forces are conspiring against both Robinson and the Bears.
The biggest of those is a salary cap that will reportedly drop from $200 million to $175 million next season, significantly hampering the Bears' ability to keep all of their high-priced vets. Or, in Robinson's case, their very reasonably-priced vets. With only $10 million of space right now, some big cuts are going to have to be made in order to be under in 2021.
"I think after Week 2 or Week 3, I was putting that [talk] behind me," Robinson told the media, per ESPN's Jeff Dickerson. "It comes down to just playing…I'm going to try my best to help pick this thing up.
"But at the end of the day, I'm putting all that [contract talk] behind me. That'll be talked about…[but] that's none of my concern right now. So whatever that road is, when we get there, we get there."
He's not coming out and saying it, but Robinson almost certainly feels spurned by the Bears' failure to commit to him long term. That could mean he'll be unwilling to return even if the team does eventually get around to talking about a new deal and even if the market is such that he's going to have to accept a much lower offer elsewhere than he'd initially expected.
"With Allen Robinson, his market is going to get pushed down because of cap casualties at the receiver position — take someone like Philadelphia's Alshon Jeffery or aging veteran players who won't do as well," Former New York Jets GM Mike Tannenbaum told Dickerson. "A.J. Green won't get tagged again, I think that is going to hurt Robinson's market. I don't think he will get tagged because I think the Bears will have more cost-effective options this year because of that."
The projected value of a 2021 franchise tag for a wide receiver is just over $16 million, significantly less than this season's $17.865 million but still $2 million more than what Robinson is earning now. As much as the Bears' anemic offense needs all the help it can get, the front office will be in a bind when it comes to filling out a roster while trimming around $15 million in payroll.
That most likely means letting Robinson walk and then trying to find competent replacements at a lower cost from among his fellow cap casualties. And the sad truth of it is that the Bears may not be hurt all that much by such a strategy because their offensive ceiling is already set so low by mediocre quarterback play. After all, what good is having elite receivers if you don't have a passer who can get them the ball?
It's really a testament to how good Robinson is that he's been able to put up the numbers he has over the last two seasons despite playing in an offense that can generously be described as hot trash. You have to think he's looking around the league at other receivers being paired with dynamic QBs and just salivating at what could be for him in the future. Like the end of the Texans/Cardinals game when both Stefon Diggs and DeAndre Hopkins made huge TD grabs.
Robinson obviously wants to get paid, but if the Bears can't or won't get close to his number and he can make the same or more in a better situation there's no way in hell he would come back. If that ends up being the case, good for him. As for the Bears, though, it pretty much eliminates any hope that the offense will suddenly improve after over two years of blah.
But hey, maybe Bill Lazor calling plays will turn things around and we'll see the birth of a scoring machine. Yeah, that's it.