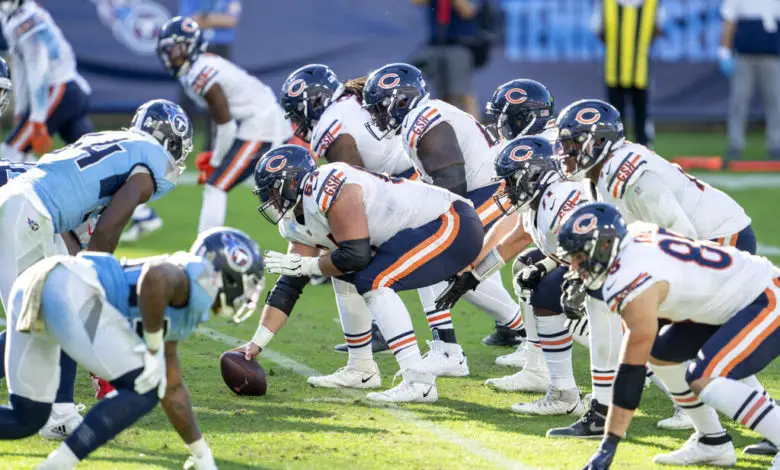 Going For It on Fourth Down Isn't Always a Great Idea When You're the Bears
The 2020 Chicago Bears have a serious problem: They don't score a lot of points. The team is currently ranked 28th in the NFL in points per game (19.8) and they're actually worse than that because a lot of those points — an NFL-leading 10.2 per game — come in the 4th quarter when they're usually down by more than one score and playing against soft prevent defenses.
So it would seem that the Bears should take every possible opportunity to put points on the board during the first three quarters. Like the 1st quarter in which they average 2.9 points per game or the 3rd quarter in which they have scored only seven total points in nine games (0.8/game).
The Bears' opening drive in Sunday's game against the Tennessee Titans was going well and had them positioned to exceed their average. Following a 24-yard completion to Jimmy Graham, the Bears were in Titans' territory and looked like a capable offense. Unable to gain the first down, the Bears were faced with a 4th and 1 on the Titans' 34-yard line.
Assuming his offense could gain a measly yard, Matt Nagy made the decision to go for it from a position that was well within range for kicker Cairo Santos. The result? A turnover on downs in a scoreless game, with precious momentum lost at a very early point in the game.
Fast forward to the 2nd quarter.
The Bears had the ball on their own 36-yard line facing 4th and 6 and trailing 3-0, still very much still in the game. Nagy called a fake punt that actually worked, getting the Bears the first down on a risky call that could have turned the tide of the game. But the Bears punted four plays later and once again ceded momentum to the home team.
The Titans ended up scoring before halftime when Ryan Tannehill connected with A.J. Brown on a 40-yard touchdown. That one play accounted for 25% of Tannehill's total passing yards on Sunday and stood as a rare mistake for a Bears defensive unit that was playing well enough to win a low-scoring game.
Trailing 10-0 to open the half, the Bears were still very much in contention. Similar to their first drive of the game, they popped a big play on their very first possession of the second half as Nick Foles connected with Anthony Miller for 34 yards to move the ball into Titans territory.
Once again, the Bears sputtered and were faced with 4th and 1 on the Titans' 31-yard line. Once again, Nagy decided to go for it. Almost as though their actions were scripted by defeatist fans, the Bears committed not one, but two false starts that pushed them back out of field goal range and forced them to punt.
This illustrates the frustration that many Bears fans have with Nagy and his play-calling. Sure, it makes sense for most teams to go for it on 4th down in short-yardage situations and plus territory. But when you have one of the lowest-scoring offenses in the league playing behind a makeshift offensive line, the calculus changes a little. You try to score points when you have the chance.
It's almost like Nagy doesn't understand the situation he's in, as if ignoring reality will somehow make his bad calls work. Sadly, it doesn't work that way and Bears fans are starting to see that losing ugly isn't any better than losing pretty.