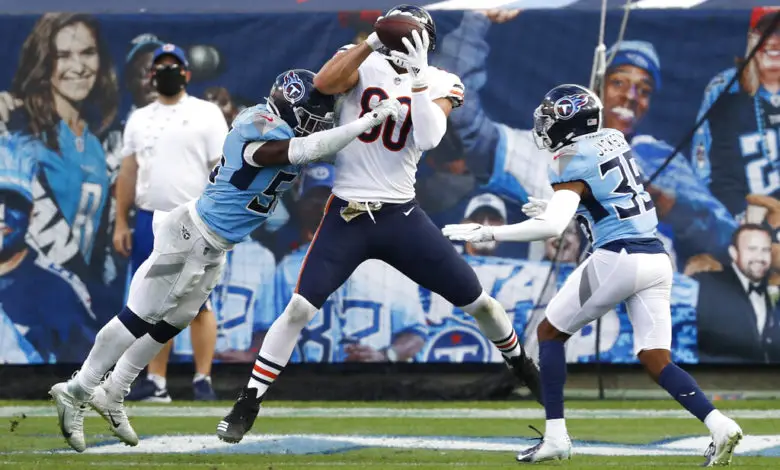 Chicago Bears Score and Recap (Week 9): Bears 17, Titans 24- Bears Make It Close In the End, Fall Short Again
If there was any question about whether the Chicago Bears offense was broken or not, that can be put to rest. Yes, the makeshift offensive line is mostly to blame. But the difficulty lies in trying to figure out a solution while the Bears try to position themselves for a wild-card playoff spot.
Why the Bears Lost
The offensive line was dominated all day long. That really impacted Nick Foles' ability to get into any type of rhythm. And the running game was absolutely non-existent.
Key Moment
The Bears moved the ball effectively on their first drive and were in field goal range on the Titans' 34-yard line. Matt Nagy chose to go for it and the Bears failed to convert. That play was an early momentum shift in this game that the Bears just could not get past.
Stats that Matter
The Bears defense played a great game holding Derrick Henry to 68 yards rushing on 21 carries. They also registered three sacks and kept the pressure on Ryan Tannehill all day.
Nick Foles was under pressure a lot but, statistically, played a good game: 36/52, 335 YDS, 2 TD, 0 INT, 99.4 Rating.
The Bears' running game was non-existent: 56 yards on 24 carries
Bottom Line
The Bears' offensive line is a mess and David Montgomery may have sustained a concussion. The good news, if there is any, is there's a bye on the horizon. Hopefully, that will give them some time to get a little bit more healthy.
Next Up
The Bears are scheduled to play the Minnesota Vikings at Soldier Field on Monday Night Football. The game starts at 7:15pm CST and will be broadcast nationally on ESPN.