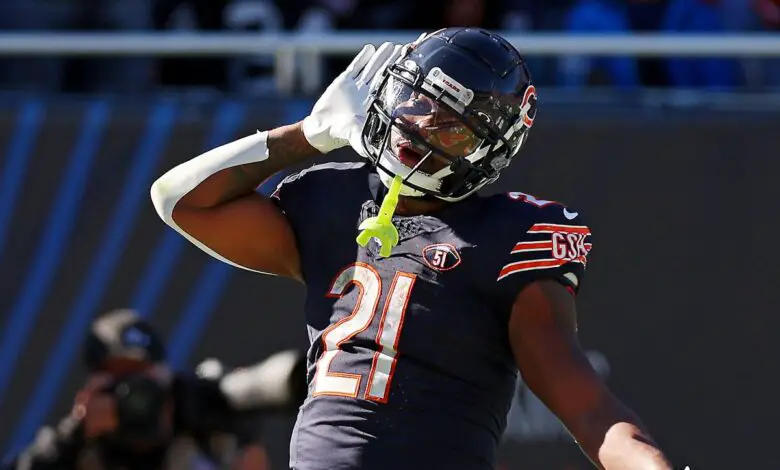 Chicago Bears Score and Recap (Week 7): Bears 30, Raiders 12 – Bears, Foreman Knock Raiders Out
The Bears put forward a surprisingly complete effort behind backup quarterback Tyson Bagent blasting the Las Vegas Raiders Sunday afternoon at Soldier Field. The real story in this game was an outstanding effort by Chicago's defense and running game which gave the young QB all the support he would need.
The Bears were able to take the lead late in the opening quarter after a methodical drive featuring running plays and short passes with a short run from D'Onta Foreman to score a touchdown. Tremaine Edmunds intercepted a short pass from Brian Hoyer in the 2nd quarter to put his team in good field position.
Foreman finished off that drive with another TD run and the home team was ahead 14-0  Las Vegas finally got on the scoreboard right before the half with a field goal but the Bears were in control at the break.
Bagent continued to be ultra-efficient using more short passes and throwing his first career touchdown to Foreman in the 3rd quarter. Both squads traded field goals and then Jaylon Johnson put the game on ice with a pick-six in the 4th quarter. The Raiders added a garbage-time touchdown but the Bears easily won 30-12. (Box score)
Why the Bears Won
The defense was outstanding, completely shutting the Raiders down and collecting three turnovers. At the same time, the offense was efficient and avoided turnovers.
Key Moment
The Bears were able to score early and build a lead taking the pressure off the young quarterback and putting it on Las Vegas.
Stats That Matter
Bagent only threw for 162 yards and one touchdown but he avoid any mistakes which is what you want from a back up quarterback.
Foreman had 90 total yards and three scores to be the offensive star on Sunday.
Johnson had two interceptions and played a great game.
Bottom Line
This was probably the first all-around good game by the Bears this season. When all aspects of the team are working well the quarterback does not need to do that much. The question is, can Matt Eberflus pull this kind of effort out of his squad again?
Next Up
The Bears head to Los Angeles on Sunday, October 29 to take on the Chargers in a game that is inexplicably the NBC Sunday night game of the week.