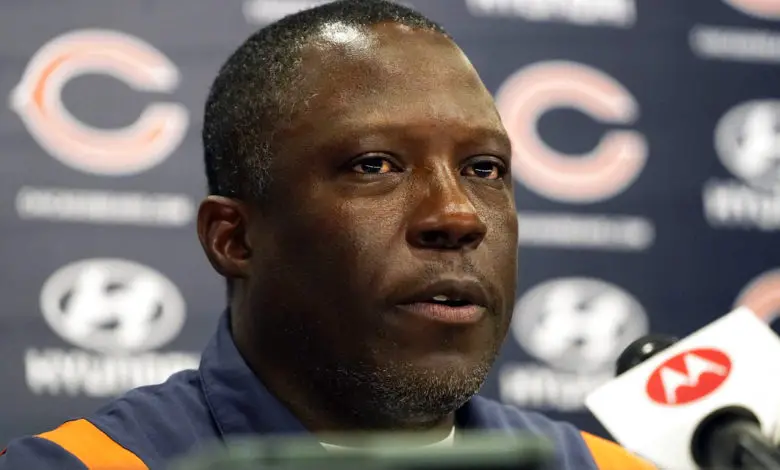 First & Long: Williams Warns Defense Not to Sleep on Rodgers, Eberflus Said to Forget Past Failures, Bakhtiari Held Out Thursday
The weather forecast has been calling for thunderstorms in Green Bay on Sunday night, but it looks like clear skies will prevail after a rainy afternoon. I was beginning to think we needed to redefine "Bear Weather" and I hijacked this photoshopped beauty to commemorate.
The forecast for Green Bay on Sunday night is still calling for showers. #BearWeather #daBears pic.twitter.com/iyLEswxWdh

— Michael Canter of Cubs Insider ✨ (@MEdwardCanter) September 15, 2022
Here's the untouched photograph.
The Packers lack the weapons to support their high-scoring offense, and question marks abound regarding their offensive line. In the meantime, Aaron Rodgers has other concerns besides football to worry about. I love the way the quarterback's helmet looks dented in the photo above. It's too bad that's really Trey Lance taking the punishing blow from Roquan Smith.
With Rodgers otherwise preoccupied and struggling to find synergy with rookie wide receivers Christian Watson and Romeo Doubs, I like Chicago's chances Sunday night. Green Bay could be down three starting offensive linemen, meaning Smith, Robert Quinn, Dominique Robinson, and Trevis Gipson could shine in the primetime, nationally televised tilt. Bears' defensive coordinator Alan Williams said the Bears shouldn't believe those who are subsequently writing the Packers off.
"Don't drink the Kool-Aid that there's doom and gloom in Green Bay," Williams said. Don't fall into that trap."
He has a point. The Packers have never lost to the Bears since hiring current head coach Matt LeFleur in 2019. The reigning NFC North champions have averaged 33.67 points per game in those six wins, outscoring Chicago 196 to 101. Rodgers has won 22 of his 27 career starts against the Bears with 61 touchdown passes in those games. The Bears have intercepted him 10 times, and have sacked Rogers just 54 times. They're going to have to do better than that to win on Sunday.
Green Bay also has running backs Aaron Jones and AJ Dillon, and both have been beasts against the Bears in previous meetings. Don't be surprised if Rodgers relies more on the run game and a short passing attack to offset Chicago's pass rush. It might not matter if Watson has the dropsies and Doubs struggles to get open if Jones and Dillon have big games.
The one thing Williams and Matt Eberflus want to avoid is breakout games by the rookie wideouts. Rodgers has the ability to make almost any receiver look like an All-Pro. He's done that with great consistency through his NFL career, and far too often against the Bears. Like all of us, Smith expects Rodgers to hit the field Sunday night with guns a-blazin'.
"The guy is obviously one of the greatest to ever play the game, and as a competitor myself, [I] love going against people like that," Smith said. "I'm sure he will be a little bit pissed off after this last game. Hey, you wouldn't want it any other way. Pissed off, get the best version of him, and then we get the 'dub' and it will be even sweeter."
Bears News & Notes
There's a Flag…On the Play
Mike Martz is taking a lot of shrapnel for remarks he allegedly made about  Fields. He was talking about Lance, however, and clarified that on Wednesday. The "original" video was distributed by The 33rd Team earlier this week and falsely edited to make it look different.
Were Mike Martz's comments on Justin Fields edited incorrectly?

"Yeah, I was talking about Trey Lance. (Trey) played so poorly, they couldn't do anything in that 1st half"

"In that game, I thought (Fields) played pretty well"

He joined @WaddleandSilvy and @TWaddle87 to discuss pic.twitter.com/E8uNVG6RrR

— ESPN 1000 (@ESPN1000) September 15, 2022
Scout Team
Film Room
Things could get really ugly for Rodgers really quickly if, in fact, Green Bay is forced to play with a makeshift offensive line.
The Packers have Yosh Nijman who is a good backup for David Bakhtiari. But if Elgton Jenkins cant go that means RG Royce Newman shifts to RT (Where he's considerably worse) & Jake Hanson comes in at RG. Two young guys the Bears can exploit just like the Vikings did in week 1 pic.twitter.com/fp1dRBJzHT

— Chicago Football Connection (@CFCBears) September 15, 2022
Northern Exposure
Green Bay: I don't mean to be an ass, but retired Packers quarterback Brett Favre has got to be the dumbest man alive. Former Mississippi governor Phil Young is running a very close second.
Minnesota: Vikings head coach Kevin O'Connell has made a big difference for a team previously known for underperforming at critical times.
Detroit: The Lions could be without three-fifths of their offensive line this weekend.
NFL News & Notes
The NFL has an early-season replay-review consistency problem.
Amazon's Jeff Bezos and NFL commissioner Roger Goodell looked pretty chummy during Thursday night's Chiefs-Chargers game.
Streaming, primetime NFL football may take some getting used to for most football fans.
Still, Amazon has Al Michaels and Kirk Herbstreit, and half a dozen other reasons that make Thursday nights a compelling NFL offering.
The Steelers have placed T.J. Watts on Injured Reserve with a torn pectoral muscle. Watts is expected to miss at least six weeks.
Retired NFL quarterback Ryan Fitzpatrick is not a fan of Tom Brady.
Favre is an example of NFL hero-worshipping gone wrong.
Wide receiver Cole Beasley is reportedly generating "serious interest" from multiple NFL teams but has opted to remain a free agent while awaiting the "right opportunity."
Three Yards and a Cloud of Dust
Minnesota quarterback Kirk Cousins had a perfect passing rating when targeting Justin Jefferson in the Week 1 victory over Green Bay.
The Jaguars lead the league in penalties with 13 after one week of play. In case you were wondering, the 49ers are second with 12 infractions.
The Colts have not won a season opener in 10 years.
From the Podium
"It's going to start with the D-line. [Rodgers] knows how to hard-count, catch some guys in substitutions. We're going to have to be clean on that, and just disciplined. No offsides, no roughing the passer, no dumb penalties. It's a rivalry game, so we're going to have to keep our poise. He's a vet; he knows how to play this game. We're just going to have to keep our poise and disrupt him as much as possible." – Gipson
"[Rodgers] is bound to make something happen. I'm not in that locker room, but I think he's going to bring everyone up to his standards. I'm sure he's a future Hall of Famer, and I'm sure he wants everyone to rise up to his level." – Quinn
"They say it's crazy [at Lambeau Field] so I'm expecting it to be super loud. Crazy hype, the fans will be all about the game and into the game and I'm just expecting it to be a wild atmosphere." – Gordon
Running Out the Clock
The weekend is here. Let's make it 2-0 with an upset win over the Packers!