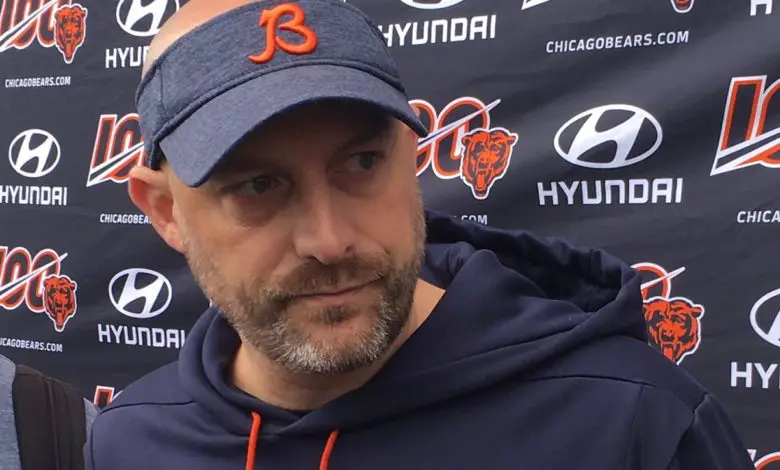 First & Long: Time to Pull Plug on Nagy, Fields Still Confident, Herbert Taking Advantage of Increased Reps, Cardinals Only Undefeated Team
Bluntly stated, Matt Nagy has no business coaching the Bears and if he continues, will do nothing but impede the development of rookie QB Justin Fields. That's not to say the blame shouldn't be spread up the ladder, but the head coach should have been fired, probably during last season's six-game losing streak, and not just because the team has been mediocre since going to the playoffs in 2018. The guy is just clueless and proved it (yet again) in yesterday's 38-3 loss to the Buccaneers.
Justin Fields gives Dee Delaney his first career INT.

Hit him right between the numbers.https://t.co/ElvRLosrhE

— Dov Kleiman (@NFL_DovKleiman) October 24, 2021
On the first INT, Justin Fields quick snapped the ball because they told him in his headset the Bucs had 12 players on the field. He thought it was a free play. Second week in a row that has happened.

— Adam Hoge (@AdamHoge) October 24, 2021
When Nagy was named the organization's 16th head coach, the consensus was that he was the right guy to head the development of Chicago's previous first-round signal-caller, Mitchell Trubisky. Though Trubisky was once thought to be the team's first franchise quarterback since Jim McMahon, he was inconsistent and stagnated to the point that the Bears let him leave in free agency after just four seasons.
Fields has shown similar inconsistency through his first five starts as a professional, and though he struggles with reading defenses and sometimes forces throws into tight coverage, those types of mistakes can be attributed to being a rookie. Still, if his coaches cannot put him in a position where he can be as successful as possible, why hasn't Ryan Pace or Ted Phillips pulled the plug on letting Fields start, or more importantly, canning Nagy?
As much as we'd all love to see the head coach exit, it does Fields and his teammates no good if Phillips doesn't allow Pace to hire an experienced replacement. Since George Halas retired for the second time after the 1967 season, Chicago has employed a long list of head coaches with little or no experience:
What's even more telling is that seven of those 10 head coaches never got another NFL head coaching job again. Only Pardee (Redskins), Ditka (Saints), and Wannstedt (Dolphins) got chances to redeem themselves with other organizations.
Nagy has guided the team since, but barring a miracle, this will probably be his last season with the Bears, if he even makes it to Game 17. He previously worked as a quality control coordinator with the Eagles, and as a quarterbacks coach and offensive coordinator with the Chiefs. Phillips and Pace need to find someone with previous success as a head coach if they truly want to maximize the potential of their rookie QB.
Bears News & Notes
There's a Flag… On the Play
Panthers QB Sam Darnold was sacked by his own player yesterday.
https://twitter.com/TheBeehiveSP/status/1452347459477377024?ref_src=twsrc%5Etfw%7Ctwcamp%5Etweetembed%7Ctwterm%5E1452347459477377024%7Ctwgr%5E%7Ctwcon%5Es1_&ref_url=https%3A%2F%2Flarrybrownsports.com%2Ffootball%2Fsam-darnold-sacked-teammate-brady-christensen%2F586015
NFL News & Notes
With a 7-0 record, the Cardinals are the NFL's lone undefeated team. Arizona beat the Texans 31-5 yesterday.
TE Zach Ertz had a banner debut for the Cardinals and drew instant praise from his teammates.
A drunk fan invaded the Ravens' radio booth pleading for another drink.
After yesterday's loss, the Chiefs are 3-4, and there is plenty of blame to go around.
New England head coach Bill Belichick did not hide his happiness as his Patriots were blowing out the Jets.
Despite a number of injuries, including a torn labrum in his throwing shoulder, the Browns are still willing to make Baker Mayfield one of the game's highest-paid players.
Mayfield said he will continue to sit out until doctors are convinced he is fully able to protect his shoulder.
Game Balls
Northern Exposure
The Packers have a short week ahead of their big game against the Cardinals, and Green Bay defensive coordinator Joe Barry will not be able to travel with the team to Arizona for Thursday's tilt due to COVD-19 restrictions.
A gutsy performance by the Lions nearly resulted in an upset win over the Rams, but in the end, red-zone struggles cost Detroit dearly in the 28-19 loss
The Vikings have traded DE Stephen Weatherly to the Broncos for two seventh-round draft picks. Minnesota has a bye this week.
Three Yards and a Cloud of Dust
Brady is the only QB in the history of the league to throw more than 600 TD passes.
Ja'Marr Chase became the 2nd-youngest player in NFL history with a 200-yd receiving game and the Bengals rookie has the most receiving yards through a player's first 7 career games in NFL history.
The Packers became the first team in NFL history to win 6 straight games following a season-opening loss by 35+ points.
Personal Foul
It's entirely possible Nagy is starting to lose the locker room.
#Bears coach Matt Nagy fined CB Jaylon Johnson for arriving late on Tuesday to Halas Hall. Nagy was unaware Johnson publicly vented about the discipline. pic.twitter.com/MYWfHnhq8a

— Brad Biggs (@BradBiggs) October 20, 2021
From the Podium
"Let's make this count as one loss, not four losses." – Nagy
"I'm confident that our coaches and our players can get better. We know any time you're not scoring — we're not running from that — we understand it. We know that we want to be better and it's all of us included." – Nagy
"Times like this, times when you get blown out, you got two choices — you can either say '[expletive] it, I'm gonna stop, I'm gonna stop working, I'm going to stop playing.' Or you can go the other route and say, 'I'm gonna keep working.' And I know me, myself, no matter how many picks I throw, no matter how many L's we take, I'm gonna keep going." – Fields