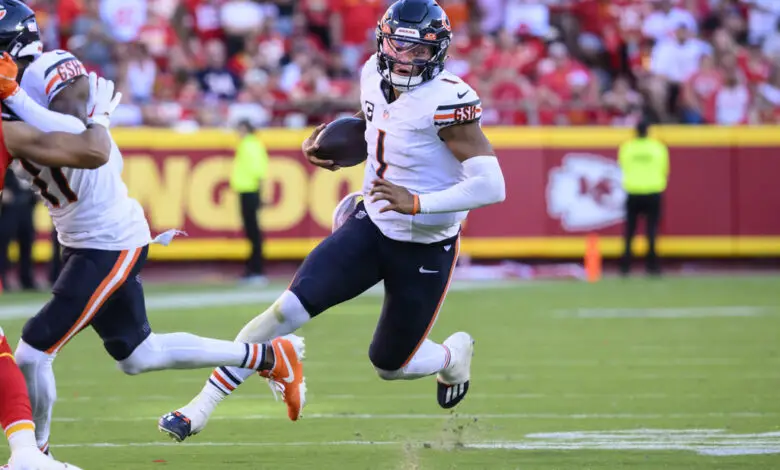 First & Long: Seeking Positives in Disastrous Bears' Start, Eberflus Believes Team is 'Close,' Fields Looking to Improve
The Bears are a disaster, frankly speaking.
But I thought we'd stop talking about the 13-game losing streak, the front office and coaches, Alan Williams' issues, the poor play by Justin Fields, or Travis Kelce and Taylor Swift. Let's find some positives in the Bears' organization this morning and focus on those. Chicago may be 3-17 under Ryan Poles and Matt Eberflus, but some good things are happening over at Halas Hall.
Chicago's First & Second Year Players
Jaquan Brisker, Kyler Gordon, Darnell Wright, Roschon Johnson, Tyrique Stevenson, and Tyler Scott are bona fide building blocks. Braxton Jones deserves to be included, but he's injured and could miss the rest of the season. The Bears also have a couple of comers in Terell Smith, Noah Sewell, Ja'Tyre Carter, and Elijah Hicks. Rookies Gervon Dexter and Zacch Pickens could be good ones but need some polishing. Jack Sanborn is an impact player who could be a star as soon as next year.
That's a decent, young nucleus, at least on paper. We can't judge a draft class until those players have three years under their belts, however.
Matt Eberflus Believes in This Team
"I think we're real close," Coach Flus said Monday at Halas Hall. "I really do, and I know a lot of people say it's far way away, but I don't believe that. It's more about the details of the individual person. If we just keep doing that right, right things are going to happen."
Eberflus pointed to his previous experience in these types of situations.
"Because I've seen it before," he said. "Like I said, back when I was with the Colts when I was the DC at Missouri, the first two years we weren't very good and that was hard. It was hard business. At the Colts, we were losing to teams we probably shouldn't have lost to begin with. Same thing when I was back at Missouri. All of a sudden, if you just keep doing right, OK, and keep your head down and focus on what matters. Good things happen."
Fields Can't Get Any Worse
.@justnfields hits @idjmoore for 6

📺: #CHIvsKC on FOX pic.twitter.com/vWofnCSflV

— Chicago Bears (@ChicagoBears) September 24, 2023
Fields and offensive coordinator Luke Getsy seem to have differing opinions as to the type of offense the Bears have run. The starting QB pointed out the coaches for his failures this season but quickly walked it back. He may have a point, however. Chicago's offense looks nothing like the one that led the NFL in rushing in 2022 while also putting a few points on the board.
The third-year quarterback looks like he's regressing in this year's version of Getsy's offense. He's holding the ball longer, ignoring open receivers, and he's averaging just 6.0 yards per passing attempt. He's also averaging just 4.5 YPC, with only 109 rushing yards through three games.
For what it's worth, Poles still believes in Fields.
"I can't be more clear than this," Poles said. "No one in our entire building, none of our coaches, see Justin as a finger-pointer at all. That kid is always taking ownership of anything that has happened on the field. He takes it head-on. He works, he grinds, and he puts his head down. [Fields] works with his teammates, and he works with his coaches to find solutions.
"You got a young quarterback trying to figure it out. You have a guy who hasn't had the cleanest start to his career, who last year with the roster had to put the team on his back and do some unbelievable things athletically. Now, he gets talent around him and has to figure out and balance when to do those cool things athletically, and when to lean on others, and that is sometimes a gray place to live in. That takes time. That takes time on task for him to take that next step, and everyone is on board helping him get into that place for him to be successful."
Neither Can Getsy
Getsy is not playing to Fields' strengths, but then again, maybe he just doesn't believe in his QB1. The Bears should have traded Fields in the offseason if that was the case. His value was never higher, and though it's still too soon to give up on Fields, his time is running out. Poles could decline Fields' fifth-year option, making 2024 a prove-it-or-beat-it season for the young man.
The #Bears are running a 4-3 defense rooted in Tampa-2 without the necessary star 3-technique DT.

They're running a zone-heavy defense with two press-man CBs.

They're running a rigid offense with a QB who's better out of structure.

It's like the staff is trying to get fired.

— Jacob Infante (@jacobinfante24) September 25, 2023
That said, the Bears should be in the business of winning games while getting the most out of their players. If Fields is past the evaluation period, and the team is prepared to move forward without him, at least make him a tradeable asset. The Bears don't have the defense to stop anybody, so they can still put points on the board without winning too many games. That allows the team to protect their draft pick, and get the most out of Fields while improving his value.
2024 Draft Picks
The Bears have two in the first round, and they're on a pace to land in the top five with both picks. Carolina, who traded their top pick along with D.J. Moore to the Bears, is also 0-3 so far. Bears fans, particularly those opposed to Fields, will be happy to see Caleb Williams and Marvin Harrison in Chicago's sights.
Caveat Emptor: Fields and Williams, the consensus draft-eligible top quarterback, share the same weaknesses, so be careful what you wish for. You just might get it.
— Michael Canter of Cubs Insider ✨ (@MEdwardCanter) September 25, 2023
Bears News & Notes
There's a Flag…On the Play
The Chicago Sun-Times pulled no punches with their Bears coverage Monday morning.
The Chicago Sun-Times was not too kind to the Bears this morning 😬

(via @MicheleSteele) pic.twitter.com/kv6vRqlQDF

— Yahoo Sports NFL (@YahooSportsNFL) September 25, 2023
Scout Team
Film Room
It's difficult to see without doing a very deep dive, but Chicago's defense started to show some signs of life this week. They've got to find a way to generate more sacks, however.
.@JackSanborn79 gets the takeaway

📺: #CHIvsKC on FOX pic.twitter.com/HWfD0wymTr

— Chicago Bears (@ChicagoBears) September 24, 2023
Northern Exposure
Around the NFL
Former MVP Matt Ryan says he has no interest in playing for the Jets while Rodgers recovers.
Zach Wilson, who is currently replacing Rodgers, is on a path to become the NFL's worst passer for the third consecutive season.
Raiders star pass rusher Chandler Jones has claimed he was taken against his will to a mental health hospital by the Las Vegas fire department last week and "injected" with an unknown substance.
Eberflus isn't the only head coach drawing the ire of a fanbase. Chargers fans want their team to fire Brandon Staley because of a pattern of poor coaching decisions.
Three Yards and a Cloud of Dust
The Browns have allowed 491 total yards this season, the fewest allowed through three games by any NFL team this century.
The Bears-Broncos game will be the first contest in NFL history between two teams who combined to allow 110+ points and 1100+ yards the previous week.
Eagles QB Jalen Hurts has 12 touchdown passes of 25+ yards downfield since the start of last season, the most in the NFL.
From the Podium