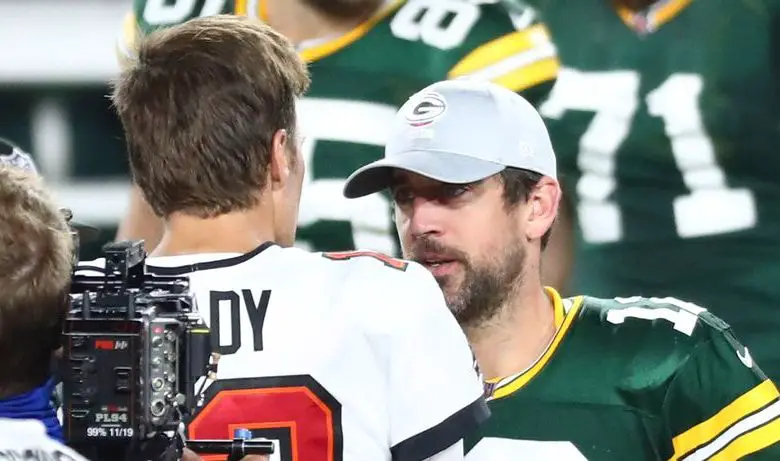 First & Long: Opposing QBs Trashing Bears, Nagy Tests Positive for COVID-19, Herbert Among League Leaders
When my father was alive he often used to say that "you can tell a man with three teeth he has a nice smile, but he knows better." The lesson here is that you shouldn't lie to others, especially those who are smart enough not to lie to themselves. Dad probably could be a big help to the Bears were he alive today.
Two Sundays ago, Packers quarterback Aaron Rodgers, a surefire Hall of Famer, took a swipe at the Bears and their fans after scoring a touchdown. Rodgers, who has a career mark of 21-5 against the Monsters of the Midway, spotted a fan in the stands giving him a pair of middle fingers, so he launched into his "I still own you!" rant.
Tom Brady, who should have his own wing in Canton, OH, throttled the Bears after his Buccaneers destroyed them 38-3 on Sunday, mentioning Rodgers in his comment.
"I wanted to say congrats to Rodgers," Brady said. "Obviously I know he's a great quarterback, but I guess he's now a shareholder of the Bears … I saw a clip of him really enthusiastically telling the crowd how happy he is to own Soldier Field. And that's really great stuff. He owns the Bucks now. Part owner of Soldier Field. So he's got a great career beyond football."
He also took to Instagram to troll Bears fans a little. It's fitting Brady played "Love Sosa" in the video since Chief Keef is a Chicago native.
Tom Brady has Love Sosa by Chief Keef playing in the background after a win against Chicago.

Chess not checkers.pic.twitter.com/ak5iG6gIRm

— Action Network NFL (@ActionNetNFL) October 25, 2021
You have to give Rodgers and Brady a little credit for not trying to blow smoke up the asses of Chicago's fans. The Bears are a pillar franchise of the league, or at least their owners believe that's the case, but the star signal-callers felt no need to respect the team's history nor its significance as a charter NFL team. And why should they? It's been 35 years since the Bears won a championship, and the heirs to founder George Halas have done as much as humanly possible to make the team a laughingstock since taking over after his death.
Though the Bears are 3-4 on the season, something seems incredibly off about the team. Shots of Justin Fields on the sidelines showed a rookie quarterback who didn't look happy, though five turnovers may have been the reason. Head coach Matt Nagy has become overly defensive and downright defiant when fielding questions about the team's path forward. Combining those two traits will usually reveal such character flaws as a dearth of confidence and even worse, lack of a concrete plan to turn things around.
Even worse, the ineptitude of Nagy's offense has frustrated what was a stellar defense through the first five games of the season. Nagy looks like he's playing out the string on his tenure with the Bears, and his team's play is a direct reflection of that. They're playing as if they know they're that guy with the three teeth, and their opponents sense it, too. Unfortunately, Fields will need to throw his rookie season out with the bathwater as he'll be coached by an entirely new staff next year.
Bears News & Notes
There's a Flag… On the Play
The hits just keep coming.
Aaron Rodgers has thrown more touchdown passes in his last 72 games (dating back to Oct. 30, 2016) than any Bears quarterback has thrown in their entire career in Chicago.

The Bears are a 101 year old franchise. pic.twitter.com/00JLS18unL

— PackersHistory.com (@PackersHistory1) October 25, 2021
NFL News & Notes
Giants safety and special teams captain Jabrill Peppers will miss the rest of the season after rupturing his ACL.
The Jets have acquired backup QB Joe Flacco in a trade with the Eagles. Flacco will replace Zach Wilson, who is out 2-4 weeks with a knee injury.
The Patriots reportedly tried to reacquire QB Jimmy Garappolo in a pre-draft trade with the 49ers, offering a 2nd round pick for their former signal-caller. San Francisco declined, holding out for a 1st round pick.
Commissioner Roger Goodell said the league doesn't have the necessary information to put Deshaun Watson on the exempt list. The Texans QB is facing 22 active civil lawsuits and 10 criminal complaints alleging sexual assault or sexual misconduct.
Bills Hall of Fame defensive end Bruce Smith boasts a graveyard of quarterbacks he's sacked during his NFL career as part of his terrifying Halloween decorations.
Northern Exposure
First-year head coach Dan Campbell of the Lions isn't fazed by his team's winless start to the 2021 NFL season.
The next three games should determine if the Vikings are a playoff contender or not.
The Packers could be missing their top two receivers when they meet the Cardinals on Thursday night. Allen Lazard has joined Davante Adams on the COVID-19 list.
Three Yards and a Cloud of Dust
Over the last three games,

rookie Khalil Herbert has 272 yards rushing, third in NFL behind the Titans' Derrick Henry (359) and the Colts' Jonathan Taylor (305).
Fields has been sacked on 14.4% of his dropbacks this season, the only NFL QB over 10%.
Since the rookie took over as the starter took over as the team's starter in Week 3, he has had a 20.9% chance of being pressured 3 seconds after the snap, the highest pressure probability in the league.
Backfield in Motion
It's impossible to evaluate Fields' body of work due to the circumstances beyond his control
"The evaluation of Justin Fields this year does not matter." @danorlovsky7 believes Fields' rookie struggles are not all his fault. pic.twitter.com/XssHxd1H3I

— NFL on ESPN (@ESPNNFL) October 26, 2021
From the Podium
"That's something that [Fields and I] are continuing to build on, continuing to get reps in practice. There weren't any snaps that we kind of took in training camp. A lot of these things, we're trying to build on." – Robinson
"We have to do it and we have to perform and put the points on the board so we can win games. That's our No. 1 focus right now is being able to understand, OK, we talk about identity and trying to do certain things and run certain plays. We need to score a lot more points, and however we do that, whatever it is, we have to score more points so we can win. If we all have that same mindset to fixing it, we all have to do it." – Nagy