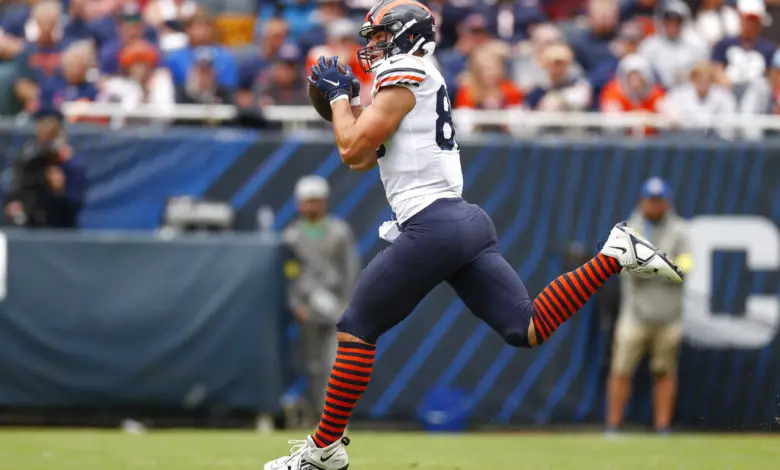 First & Long: Kmet Resurgence Matches Bears Offense, NFL Admits Blown Pass Interference Calls, Packers 'Done'
Cole Kmet has become a big part of Chicago's offense, and it's nice to see. Kmet hadn't caught a touchdown pass since 2020 when the Bears met the Cowboys in Week 8, a span of 28 games. He caught a scoring pass from Justin Fields in that game, and two more in last week's 35-32 loss to the Dolphins. All of the sudden, his three scores rank fifth in the NFL behind Travis Kelce (seven), Mark Andrews (five), Zach Ertz (four), and Mike Gesicki (four).
Kmet was expected to be a focal point of Chicago's offense entering this season. The Shanahan offense is known for its wide-zone rushing attack and its ability to use that to create open opportunities in the passing game, especially for tight ends. The former Notre Dame star had a very inauspicious start to the season, exacerbated by a bad miss in a Week 2 loss to the Packers.
Three of the most important jobs as an NFL TE? Block in space, block in line, and catch the ball. #Bears TE Cole Kmet hasn't shown the ability to do any of those things on a consistent basis, and it's hurting this team pic.twitter.com/1pqe6eGRcw

— DBNB (@DaBadNewsBears) September 20, 2022
Kmet enjoyed a breakout game against the Dolphins. The 6-foot-6 tight end caught five passes for 41 yards and two scores. He's also caught 19 of 24 targets since Week 3. But if you ask Kmet, he feels he's played well all season.
"I still think that if I look at myself last year, and I know people don't love talking about the run-game stuff, but my… blocking has been great this year and I've been really proud of what I have been doing on film in that regard," Kmet said. "My separation on routes has been great. Not all the time has it really worked out where we have been able to hit it for whatever reason, but that has been going well for me. I think at the end of the day, as we've been getting more comfortable in this offense, you can see guys starting to execute better in the red zone and things like that."
Kmet's resurgence mirrors that of Fields and the entire Bears' offense. The success of Chicago's running game has also yielded more opportunities for the big tight end, particularly in the red zone. With the addition of Chase Claypool and the return of N'Keal Harry, Fields has three big-bodied receivers to choose from when the Bears need a score. The second-year quarterback is the headliner, but the Bears have suddenly packed the offense with a number of quality playmakers.
Bears News & Notes
There's a Flag…On the Play
Social media posts tend to get a little sketchy when you can't post about Aaron Rodgers 30-40 times per day. Also, the picture below looks like an ayahuasca hallucination.
Leapin' into Week 10!

Customize your photo in the Packers Photo Lab ➡️ https://t.co/4uH1lzBNNX@fleet_farm | #GoPackGo pic.twitter.com/A5KnRHcwjJ

— Green Bay Packers (@packers) November 10, 2022
Scout Team
Film Room
That's an incredible fake by Fields on this TD to Kmet.
Justin Fields sold the play fake well and it created an opening for Cole Kmet. Excellent design and execution for the Bears touchdown. pic.twitter.com/G5Sm7wQyYF

— Chris Emma (@CEmma670) November 6, 2022
Northern Exposure
Minnesota: The Vikings take their 7-1 record to Buffalo this weekend to face the 6-2 Bills in the only matchup of Week 10 between two clubs with winning records.
Green Bay: The Packers will have a difficult time moving on from Rodgers after this season if they desire to do so. The four-time MVP has a $58.3 million option bonus in 2023 that is fully guaranteed. Jordan Love could be a free agent before Rodgers is done in Green Bay.
Detroit: Rodgers refused to credit the Lions for a great defensive performance against the Packers. Detroit intercepted Rodgers three times inside the red zone in their 15-9 win.
NFL News & Notes
Rams QB Matthew Stafford has been placed in concussion protocol. Head coach Sean McVay said Stafford entered the protocol Tuesday after the team's medical staff did their "clean up after the game" and "determined that they felt like that was the best thing for him."
Stafford's wife Kelly is angry and called out the NFL on her podcast and on Instagram. "I think it's time y'all take some of the money y'all make off us and invest in grass fields for every team around the league. The turf is literally like concrete. It has no give when you plant @NFL."
The Packers claimed former first-round pick Johnathan Abram off waivers. The Raiders released the defensive back earlier this week.
Pete Prisco of CBS Sports said the Packers era is over.
Broncos QB Russell Wilson thinks Seahawks head coach Pete Carroll went a little overboard in his praise for current Seattle signal-caller Geno Smith.
Tom Brady could return to New England in 2023 for a reunion with Patriots coach Bill Belichick. Just retire, Tom, please, and thank you.
Cardinals head coach Kliff Kingsbury could be the next to lose his job.
The Cowboys and Bills are the sportsbook favorites to sign WR Odell Beckham Jr.
Three of four NFC North teams would have top 10 draft picks if the season ended today.
The 2023 draft class could revitalize the NFL's quarterback position.
Three Yards and a Cloud of Dust
 Fields is on pace to rush for 1,137 yards, which would break the team's 50-year single-season franchise record for rushing yards by a quarterback (968). Bobby Douglass is the current record holder. Lamar Jackson holds the NFL record with 1,206.
The Bears' defense has allowed 10 touchdowns over its previous two games.
Darnell Mooney has 17 catches for 329 yards in four games against the Lions.
From the Podium
"I think at the end of the day, as we've been getting more comfortable in this offense, you can see guys starting to execute better in the red zone and things like that. It takes all 11 on offense. I'm not a defensive end going one-on-one against a tackle, you don't get those just a win-your-matchup type deal. Everything has got to click around you. Yeah, I think when I look at those two things in the [passing] game and run game, I've seen a lot of growth [in] myself now from last year." – Kmet
"It's really a joy to see [Fields] mature and get better, and him wanting to improve each week. And this week will be no different." – Eberflus
Running Out the Clock
A little Motown this morning ahead of Sunday's tilt.
https://www.youtube.com/watch?v=yEcd1E8S_b8