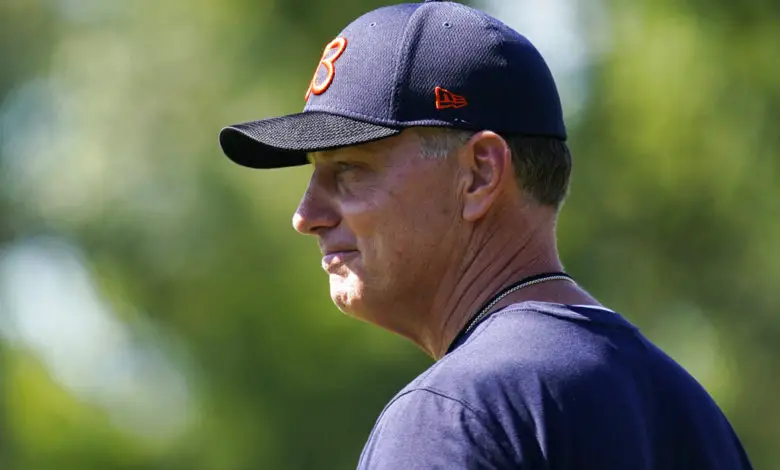 First & Long: Eberflus Praises Practice Progress, Montgomery Questionable, NFLPA Wants Immediate Changes to Concussion Protocol
We are only four weeks into the season, and head coach Matt Eberflus is already doing damage control. Luke Getsy has also come to the defense of his offense, and particularly quarterback Justin Fields. The Bears are not a good team, nor were they expected to be any good, yet the team's fan base is growing more impatient with each game. We were promised progress, but the organization has yet to deliver.
That's if we are to truly believe what we are seeing. Apparently, the Bears are improving during practice each week. It's important but allegedly less critical that the success has yet to translate to game days.
"[This league] is about scoring. [It's] about scoring touchdowns and defensively we're doing OK right now. But offensively, we need to improve that percentage. But again, the practices just have to translate. It's been good red-zone practices. We've got good schemes down there. It just has to translate to the game now."
Wins and losses don't matter at this stage of the Bears' rebuild and they shouldn't. The offense and defense will get better, but most fans just want to see some progress by Fields. He seems to regress with each game. Getsy disagrees with that notion.
"I don't think [Justin's] had a rough month," the offensive coordinator said earlier this week. "I think he's gotten better each week [and]I think he's growing tremendously. And you know, it's not easy. We're playing good football teams, and it's not easy to become the level of quarterback that he wants to become, and I know that he can. The important thing is that we stay focused, keep our eyes on that progress or on that process and we make sure we get better each and every week and I believe that we're in that phase."
You can write that quote off as Getsy indirectly speaking to an audience of one, namely Fields. Nobody in their right mind can agree with that assessment. In fact, it seems almost delusional if you've watched the first four games. However, Fields did throw for more than 100 yards against the Giants, so I guess that does count as progress. He even hit Darnell Mooney four times for 94 yards. But, Chicago didn't score a single touchdown and was 0-for-3 in the red zone.
If the Bears intend to beat the Vikings on Sunday, that has to change. Improved practices won't sell very well to the average fan if Chicago keeps getting their asses handed to them. We'll see what Getsy has planned for Minnesota.
Bears News & Notes
There's a Flag…On the Play
After watching last week's 20-12 loss, it's entirely possible to believe Chicago's Thursday night tilt against the Commanders on October 13 could be yet another field goal game,  much to the disappointment of Al Michaels.
This will be my all-time favorite line from Al Michaels "Sometimes you've just got to beat the traffic." #TNF pic.twitter.com/tGzILuttdS

— Nick Jacobs (@Jacobs71) October 7, 2022
Scout Team
Film Room
It's disappointing that it took an injury to Cody Whitehair to get Teven Jenkins full-time reps at guard.
Teven Jenkins (76) has not allowed a sack or QB pressure in the past two games for the Chicago Bears, according to PFF. #OKState

(🎥 via @CFCBears)pic.twitter.com/hU8S5obaaW

— Cody Nagel (@CodyNagel247) October 5, 2022
Northern Exposure
NFL News & Notes
The NFLPA wants immediate action with regard to the league's concussion protocol starting with this weekend's games. The call for changes comes after questions were raised about Dolphins QB Tua Tagovailoa, who was allowed to return to a game on September 25 and was injured once again four days later.
Commissioner Roger Goodell said the league is "willing to make a change or two" to the rules.
On a separate topic, Goodell said he foresees a future where the NFL will have a four-team European division.
NFL parity has resulted in a lot of very bad football through four weeks.
Three Yards and a Cloud of Dust
Russell Wilson has four touchdown passes this year. That's his lowest through the first four weeks of a season since his rookie year in 2012.
The NFL's last three 12-9 games were decided in overtime.
On Sunday, Bucs QB Tom Brady will try to avoid losing three straight games for the first time since 2002.
Alternative Programming
If the Bears game becomes too difficult to watch, there's always the MLB playoffs. You can follow all the postseason action over at Cubs Insider.
From the Podium
Running Out the Clock
Don't believe everything you see or hear.