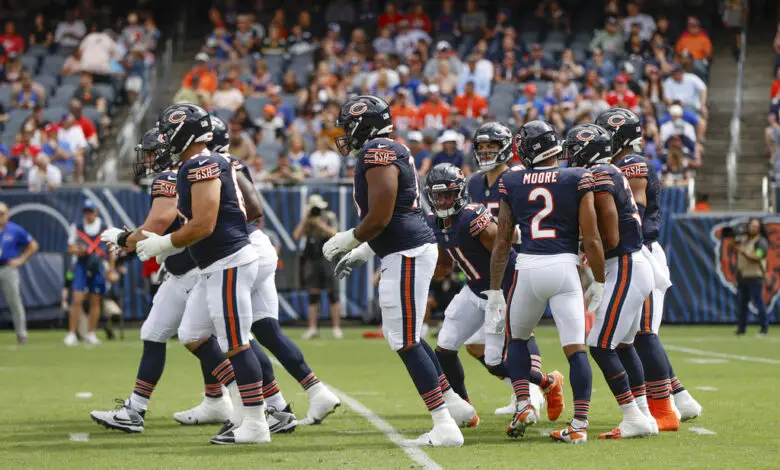 First & Long: Bears Will Be Improved This Year But Still a Work in Progress, Pepsi Drops Hilarious Unretirement Ad
I've decided I am not going to attempt to predict how many games the Bears will win this year, nor where they will finish. The team is just too unpredictable to try to make an educated guess. That said, I do believe the Bears will get better as the season goes on. That bodes well for 2024, which seems to be the plan among the team's executives.
Chicago's roster construction proves the front office is still building for the future. Only one of the team's 21 draft picks over two years isn't on the 53-man roster or practice squad: offensive lineman Zachary Thomas, who was signed off the practice squad last November by the Rams. Running back Trestan Ebner cleared waivers and returned to IR for the Bears.
Seven first or second-year players are listed as Chicago's starters, including punter Trenton Gill and kick returner Velus Jones. Justin Fields and Khalil Herbert are third-year players, though Herbert will share snaps with D'Onta Foreman and rookie Roschon Johnson. Poles added several veterans in free agency to help Chicago win more games this year, and the Bears will surprise a few opponents, but this team is built to be a contender in 2024.
The Bears are going to be fun to watch, nonetheless. They'll score plenty of points, and their defense will manage a lot more stops than the '23 squad. Fields has weapons and a better line, and Chicago might have the best linebackers in the NFC. If the passing game improves, and it should, and the front four can get to opposing quarterbacks, the Bears will win more games than they lose.
I do have one prediction, however, and it pertains to Week 1. Head coach Matt Eberflus is excellent when he has more than one week to prepare for an opponent. With that in mind, I'm taking the Bears in a 37-14 win over the Packers on Opening Day.
Bears News & Notes
The Bears are hoping the addition of D.J. Moore and a stronger offensive line will help Fields become an elite quarterback this season.
The Bears will surge or plunge this season based on the progress of Fields.
Fields and Josh Allen of the Bills are the best bets to lead the NFL in interceptions according to FOX Sports.
Moore looks like the receiver for whom the Bears have prayed since Alshon Jeffery left in 2016.
The Bears haven't committed to Tyson Bagent as QB2, but there is no reason to believe he won't be ready if called upon.
GM Ryan Poles isn't shying away from higher expectations this year ($) according to Adam Jahns of The Athletic.
The Bears are an unpredictable team in an unpredictable division, but they're certainly talented enough to compete for the NFC North title.
Seventeen key players missed practice during camp, and all but guard Teven Jenkins and safety Jaquan Brisker are expected to be ready for the Packers game.
Eberflus noted Brisker is facing a critical few days of rehab while the rest of the team breaks for Labor Day.
Brisker is still a ''wait-and-see'' possibility to play against the Packers.
DT Khalid Kareem had no idea the Bears were scouting him during joint practices with the Colts.
Connor Orr, who predicts the outcome of every single NFL game every year, projects the Bears will finish 7-10, including a Week 1 loss to the Packers.
Kyle Brandt, the Chicago superfan of Good Morning Football, predicts the Monsters of the Midway will finish 13-4.
The Bears will be one of the most improved teams in the NFL regardless of their final record.
The Pro Football Network dropped a seven-round mock draft on Saturday and projects the Bears will take CB Kool-Aid McKinstry from Alabama at No. 6 and DT Kris Jenkins of Michigan at No. 14.
The Sporting News dropped a one-round mock and has Chicago taking S Javon Bullard of Georgia eighth overall, and LSU wide receiver Malik Nabers with the 12th pick. Most teams are off for Labor Day, so the news cycle is slow.
You can rely on Bears Insider to post video recaps of all Bears scores in real time this season, except the Week 1 game against Green Bay. I'll be at Soldier Field that day. Maybe I can find a fill-in.
There's a Flag…On the Play
I guess the mullet and 'stache are once again in vogue if Dan Feeney looks like Chicago.
Dan Feeney looks like Chicago. #Bears. pic.twitter.com/SK2CDPM0Ec

— Mark Grote (@markgrotesports) August 31, 2023
Scout Team
Film Room
Johnson will be RB1 by Week 8, mark my words. The rookie could make Herbert expendable at the trade deadline in November.
Bears rookie RB Roschon Johnson doing his thing. Count the missed tackles on this toss play. 👀 pic.twitter.com/RkQQ1egUcM

— CJ Vogel (@CJVogel_TFB) August 12, 2023
Northern Exposure
NFL News & Notes
Joe Montana named Dan Marino of the Dolphins ahead of Tom Brady as the best quarterback in NFL history.
Marino, Emmitt Smith, Randy Moss, and Jerry Rice contemplate resuming their NFL careers in a hilarious new ad for Pepsi.
Nick Bosa will become the league's highest-paid defensive player if he and the 49ers can come to terms on a contract extension.
Mahomes and Justin Herbert are the preseason favorites to win the league MVP award.
The Raiders, led by Davante Adams, Hunter Renfrow, and Jakobi Meyers, have the best wide receivers in football.
Rams receiver Cooper Kupp is dealing with a hamstring injury and will see a specialist.
Detroit's front office has a high degree of confidence that the Lions will win the NFC North.
Lumen Field in Seattle was named the NFL's best stadium.
In case you haven't heard, the NFL's Sunday Ticket is available on YouTube TV this year. It's not cheap, either.
It is still not known if Michael Irvin will return to Game Day on the NLF Network. Irvin, a Hall of Fame receiver, remains on ice for something he allegedly said to an employee of a Phoenix-area Marriott hotel during Super Bowl week. The league has suspended him, for months, based on these alleged comments to someone who was not a co-worker, at a time when Irvin was not working.
Must-See TV
Pepsi's 'Unretired' ad.
Three Yards & a Cloud of Dust
Johnson forced eight missed tackles and averaged 3.64 yards after the initial hit in 28 preseason carries.
The Chiefs are 5-1 against the Lions at Arrowhead Stadium.
The Bears allowed 2,764 rushing yards last season, second-most in the NFL.
Fantasy Projections (per ESPN) – D.J. Moore
Moore was traded to the Bears after spending his first five NFL seasons with the Panthers. The 26-year-old has handled a target share of at least 24% and has finished as a top-25 fantasy WR each of the last four seasons. Moore figures to maintain a generous target share in Chicago, but he's moving to an offense that ranked 31st in WR targets, 30th in snaps, and was second run-heaviest in the league last season. Those numbers figure to improve a bit, but perhaps not a ton with Fields (who ranked first in scrambles last season) under center. Moore, who has cleared four TDs once in his career, is best viewed as a WR3 (in fantasy play).
From the Podium
"I would say whoever was playing quarterback there, that was going to be the mindset. When it comes to the division, you want to win all those games. And I think I talked about it from the beginning. You want to take the division over and really put your flag in it because that's where it starts. And I feel like that's where you can really, again, move the needle to be a championship-caliber team." – Poles
"Trade rumors kind of cracked me up, the stuff that I hear. You know, we turned every stone. We investigate everything. Nothing really got serious. Never thought about or had any conversations about trading Mooney, which is interesting, and Trevis Gipson never came in my office and said that he wanted to be traded." – Poles