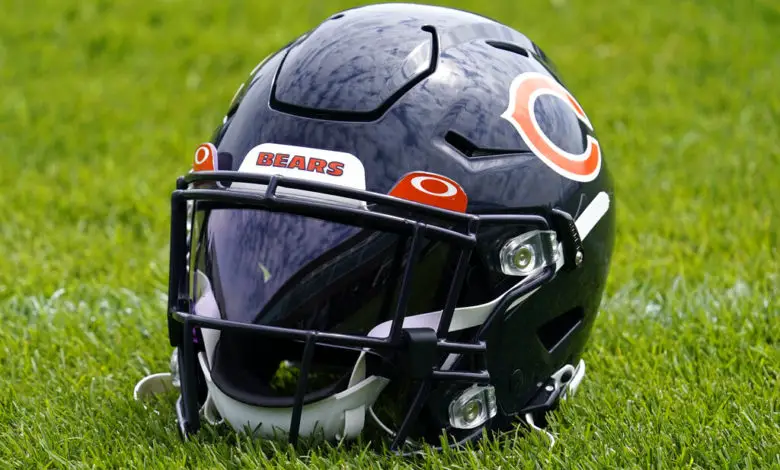 First & Long: Bears Will Be Fun to Watch in '22, Mooney Embraces WR1 Role, Rookie Tackle Replaces Jenkins With First Team
"The name on the front of that jersey is a helluva lot more important than the name on the back. We start becoming a team right now!"
Matt Eberflus getting busted by the league for allowing contact during OTAs is probably not the stuff of legends, but it is fun in much the same way that Hollywood glorified hockey coach Herb Brooks in the movie "Miracle." Maybe Eberflus can give his players "the speech" before the Bears take the field against the Packers on September 18.
"Great moments are born from great opportunity. And that's what you have here, tonight, boys. That's what you've earned here…tonight. One game. If we played 'em ten times, they might win nine. But not this game. Not tonight. Tonight, we play with them. Tonight, we stay with them. And we shut them down because we can! Tonight, we are the greatest football team in the world. You were born to be football players. Every one of you. And you were meant to be here tonight. This is your time. Their time is done. It's over. I'm sick and tired of hearing about what a great football team the Packers have. Screw 'em. This is your time. Now go out there and take it."
Do you feel pretty fired up after reading that? I know I do.
In all seriousness, I'm okay with the Bears going a little above and beyond during the (wink, wink) non-contact drills. Most often, infractions came from fringe rookies trying to impress the staff enough to get a leg up before training camp starts. Eberflus and offensive lineman Cody Whitehair acknowledged that some of the younger players carried a chip or two on their shoulders.
"It's intense," Whitehair said. "Don't get me wrong, but this team is young, and we kind of need that intense practice and expectation from the group. We do have a lot of young guys and the expectations are high, so you've got to expect an intense practice."
"Hustle can be there, and it is, and you can see that," Eberflus added. "You guys were at practice. The guys run. They run on offense. They run on defense. And, man, we run. But the intensity part. The focus part of intensity can be there but not the physical part until we get the pads [on]. Once we get the pads on in training camp, that's when we're going to focus on how we play the intensity piece. That cannot be done this time of year."
That's some serious word salad from both gentlemen, but you get the gist of it.
I stopped by #Bears Organized Team Activities today to shed some light on why their Tuesday OTA was prohibited by the league, plus, the trajectory Coach Matt Eberflus sees for his QB Justin Fields…@nflnetwork @NFLTotalAccess pic.twitter.com/xvrxdVbNX9

— StaceyDales (@StaceyDales) June 9, 2022
The lost OTA is significant but it's not a season killer. Don't forget, the Bears received one extra voluntary minicamp this year because they have a new coaching staff. The coaches and players can also make up some of that lost time during next week's mandatory minicamp.
"You think you can win on talent alone? Gentlemen, you don't have enough talent to win on talent alone." – Brooks
In the meantime, you have to admire that the team has a little bit of an edge heading into the 2022 season. It may not mean more wins, but the Bears sure will be fun to watch.
Bears News & Notes
There's a Flag…On the Play
Perhaps Cooper Kupp getting beyond Chicago's secondary – with or without the flag – is why Coach Eberflus has his Bears popping pads in OTAs.
The Bears should maybe guard Cooper Kupp. pic.twitter.com/Sn0eCIP0LI

— Jeff Eisenband (@JeffEisenband) September 13, 2021
Northern Exposure
Green Bay: I generally abstain from the foolishness that is Sports Mockery, but an article that claims the new girlfriend of Aaron Rodgers is "an actual honest-to-god witch" is just too rich to pass up.
Detroit: Some analysts, including one at ESPN, are picking the Lions to be a surprise playoff team this season. Are we saving receipts?
Minnesota: A social media post by the NFL on CBS named the Vikings as the only active NFL franchise to exist for 60-plus years without winning a championship. I would assume Bud Grant is plotting his rebuttal.
NFL News & Notes
A league mandate requiring the use of Guardian Caps for offensive and defensive linemen, linebackers, and tight ends goes into effect with the start of training camps, but a number of teams have started using them in minicamps and OTAs.
JaMarcus Russell explained what it's like to be known as one of the NFL's biggest busts in a poignant article for The Players' Tribune.
Drew Brees left NBC as part of a lifestyle choice. I wouldn't put any stock into rumors he may return to the NFL.
NFL veterans Kyler Murray, Deebo Samuel, and D.K. Metcalf are among nine NFL stars seeking a trade. Those wide receivers will be linked to the Bears by fans and bloggers in 3…2…
Commanders' defensive coordinator Jack Del Rio has apologized for calling the event commonly referred to as the Capitol insurrection a "dust-up."
Justine Lindsey of the Carolina Panthers Cheer Squad is the league's first transgender cheerleader.
The league has uncovered more allegations against Cleveland quarterback Deshaun Watson.
The Browns have stated they will not fine backup quarterback Baker Mayfield for missing the team's mandatory training camp in the wake of the new allegations against Watson.
Offensive lineman Laurent Duvernay-Tardif is pausing his NFL career in order to start his medical residency. The 31-year-old free agent indicated he has not formally retired.
The Rams have signed Kupp to a three-year $80 million contract extension.
The pairings of Patrick Mahomes to Travis Kelce and Matthew Stafford to Kupp are among the league's best offensive tandems.
The Broncos have been sold for $4.65 billion and it's worth wondering what the Bears might fetch in a sale once they have their own stadium.
Three Yards & a Cloud of Dust
Kupp, Sterling Sharpe, Steve Smith, and Jerry Rice are the only wide receivers to win the Triple Crown in the Super Bowl era.
Jay Cutler is the Bears' all-time leader in passing yards with 23,443.
Joe Flacco has passed for 41,269 yards in his career yet has never been selected for the Pro Bowl.
From the Podium
"The biggest thing was some guys on the ground, I believe, and when you're playing O-line, D-line, foot traffic happens. And with that being said, sometimes it just doesn't play in your favor, and that's kind of how we got [penalized by the league]. And like I said, that's OK. Chalk it up to the game. Nobody got hurt. Everybody had a good time and just leave it at that." – Justin Jones
"We're going 100 percent and you're being asked to go 100 percent and you want to show out for [the] new staff, and you've got young guys and guys like me who want to stick around here, so we're going. I think it's a balance, but I think as players — because I am a player so I'll take it on myself — we've got to learn as a group how to practice correctly and take care of each other and keep guys off the ground and practice in a way that's beneficial for everybody, where we're able to go 100 percent full effort, which you can do in these things, but still keep everybody safe and everybody off the ground." – Cole Kmet
Running Out the Clock
Wolf Like Me by TV On the Radio – "The legs feed the wolf, gentleman."