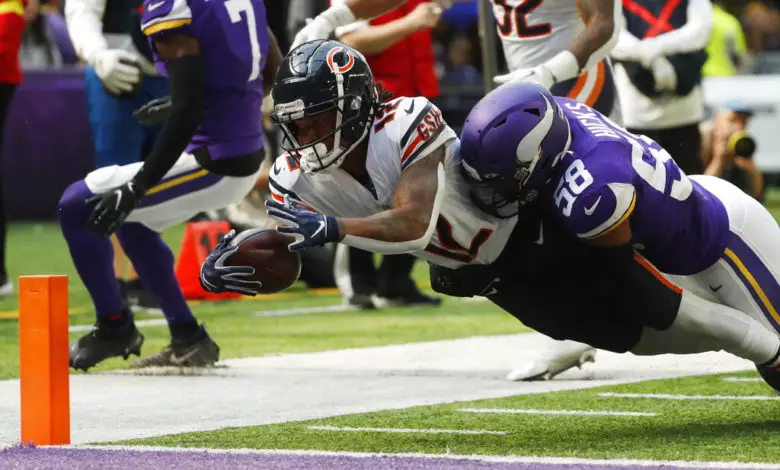 First & Long: Bears Suffer Tough Loss to Vikings, Cousins Uncontested on 41 Pass Attempts, Velus Keeps Promise
Chicago Came Out if its Shell With a Huge Second-Half Performance
The Bears lost 29-22 to the Vikings, but fans witnessed a striking metamorphosis starting in the second half. Head coach Matt Eberflus and his charges played like they wanted to win, rather than trying not to lose. It was exhilarating to watch, if not downright fun. Winning usually goes to the team that wants it the most, but the Bears will have to settle for a moral victory and nothing more.
But that's okay. We've been waiting since the final preseason game for the Bears to come out of their shell offensively, and it happened Sunday. The paradigm shift belongs to Darnell Mooney, whose acrobatic, one-handed catch seemed to awaken the entire team. After falling behind 21-3, Chicago reeled off 19 straight points and found themselves poised to pull off a magnificent upset. The Vikings scored a late touchdown and Cameron Dantzler stymied a late Bears rally to win the game.
Incredible via @ESPNStatsInfo:
"Kirk Cousins threw 41 passes Sunday and none were into a tight window (1 or fewer yards of separation). That's the most attempts without a tight-window throw since Next Gen Stats began tracking in 2016."

— Kevin Seifert (@SeifertESPN) October 9, 2022
That said, it was a poor defensive effort that cost Chicago on Sunday. Kirk Cousins started the game with 17 straight completions, most going to WR Justin Jefferson, and converted on 80% of their third-down attempts. The first-half numbers were ugly and familiar. Minnesota had 19 first downs and held the ball for and had the ball nearly 23 minutes. The Vikings racked up 305 net yards against a defense that looked overwhelmed with the first snap. It's no wonder Minnesota elected to receive when they won the coin toss. Jefferson had 10 catches for 138 yards as Chicago played a soft coverage scheme designed to prevent big plays.
Yet, the Bears almost won the game, and that's what's important. Eberflus will talk about resiliency and fortitude all week. But the real reason for the near-upset was that the head coach and his staff finally allowed their team to take some chances. It was fun, exciting, and though a little disappointing, gives fans something to look forward to when the Bears host the Commanders on Thursday night.
Bears News & Notes
There's a Flag…On the Play
A lot of Bears fans think there was some underhandedness involved with this game-clinching turnover, but WR Ihmir Smith-Marsette simply failed to get out of bounds. It was a dumb and selfish move by a player trying to earn PT, period.
For his part, Smith-Maresette admitted it was a critical mistake.
Cam Dantzler strips the ball for the win. Wow 🤯

— NFL Stats (@NFL_Stats) October 9, 2022
Scout Team
Film Room
I'll save you the time of using the Google Machine to find Mooney's ridiculous catch.
MOOOOONEY

📺: #CHIvsMIN on FOX pic.twitter.com/ATLcNNd8dZ

— Chicago Bears (@ChicagoBears) October 9, 2022
Northern Exposure
Green Bay: The Giants put the world on notice with a stunning win over the Packers on Sunday morning.
Minnesota: The Vikings didn't find the consistency they were hoping for and were fortunate to escape with a win on Sunday. After jumping to a 21-3 lead, Minnesota surrendered 19 straight points before pulling it out with just over a minute left in the game.
Detroit: The Patriots completely shut down one of the NFL's highest-scoring offenses with a 29-0 win over the Lions. Detroit was 0-for-6 on fourth down attempts and suffered two traditional turnovers in the shutout loss.
NFL News & Notes
The Packers look like they're on the verge of an epic freefall. That's going to be one long flight back from London.
The Giants earned an A+ for their victory over Green Bay, and the Bears actually earned a B- despite their loss to the Vikings.
New York head coach Brian Daboll is already being mentioned as the potential Coach of the Year.
The NFL changed its concussion protocol before Sunday's games, and the new policy forced the exit of Dolphins backup QB Teddy Bridgewater against the Jets.
Tom Brady benefitted from a controversial roughing the passer call in the Buccaneers' win over the Falcons, and football fans are crying foul.
According to Mike Florio of Pro Football Talk, the Panthers will fire head coach Matt Rhule on Monday morning.
The Falcons are reportedly trading Pro Bowl LB Deion Jones to the Browns.
Odell Beckham Jr. is targeting a mid-November return once he decides which team he will play for.
Two-Minute Warning
Thank you, Ryan Pace. If you're wondering why the Bears have so few playmakers, it's because they're still paying players to play elsewhere. Khalil Mack gets a $24 million paycheck from Chicago this season, as does Nick Foles ($7 million), Andy Dalton ($5 million), and Danny Trevathan ($2.4 million). Tight end Jimmy Graham, who retired after last season, collected a cool $4 million when he walked away.
Poles has a chance to redeem himself with draft picks, free-agent signings, and a whole lot of cap space next year.
Three Yards and a Cloud of Dust
The Eagles are 5-0 for the first time since 2004 when they went to the Super Bowl.
The NFC East, usually one of the league's more mediocre divisions, has three teams with at least four wins (Eagles, Giants, and Cowboys).
Baker Mayfield has a 16.8 ESPN QBR, the second-worst by any quarterback to start in each of his team's first five games of the season since tracking began in 2006.
From the Podium
"We needed a spark. It was pretty dry out there for us. I was telling Justin [Fields] if you've got to use your feet to give us a spark, use it. We need something. We have to get something on this drive before we go out for halftime. I feel like my job is to be a playmaker at all times. So whenever I get the ball, I've got to do everything I can to create a spark. He just threw the ball up in my vicinity. I  feel like if it's in my vicinity, whether it's two hands or one hand, I gotta catch that ball." – Mooney
"We tell the players when they're on the numbers or wider, to get out of bounds. And that's just a simple function of two-minute mechanics. So we have to do that better." – Eberflus
"I tried to do too much on my end, but I've just got to be smarter." – Smith-Marsette
"Just continuing to come out here coming up short, bro, it sucks." – Eddie Jackson
"There's going to be ups and downs through a season when you have a new staff, new scheme, and a lot of young players. … We're going to keep fighting to get better." – Ryan Poles
Running Out the Clock
I don't usually applaud moral victories, but Sunday's game has me feeling a lot better about Eberflus, Getsy, Fields, and Mooney.