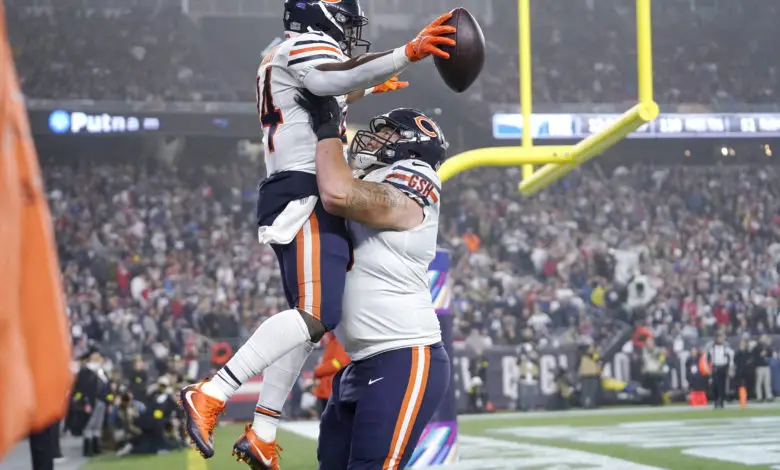 First & Long: Bears Quietly Improving O-Line, Fields Named Top-5 QB, Foreman Wants to Be 'The Guy' in Chicago
Ryan Poles has a lot of holes to fill, and as the  saying goes, "Rome wasn't built in a day." Still, you have to give the executive credit for quickly improving his roster while managing his money with the expertise of the best accountants. The Bears still have approximately $41.4 million in cap space, and Chicago has 10 picks in the upcoming draft. By the way, the draft is about 40 days away and approaching fast.
Some fans are upset that the Bears haven't added much to the offensive line, and rightfully so. Nate Davis is the only free agent to ink a deal with, and he's tentatively slated to start at right guard. That's where Teven Jenkins played last season, and he was by far the team's best offensive lineman. But Davis isn't replacing Jenkins. If you look at the Bears' most recent depth chart, Jenkins has been moved to right tackle, a position occupied by Larry Borom and Riley Reiff last season. That's not the only change over at Halas Hall.
Cody Whitehair will shift over to center and that's pretty significant. Whitehair began his career at center, including a Pro Bowl season in 2018. His PFF grade at that position that season was 75.2 and though he's four years older now, the move could resurrect his career. The 30-year-old was considered a potential cap casualty. The move also allows Chicago to draft a center and give him ample time to learn the offensive scheme. Chicago also has Doug Kramer, who spent all of 2022 on the injury list.
It's important to remember that the Bears are always mixing up their line. Poles prefers linemen who can play multiple positions. That said, things look to be much improved this year if you use Whitehair's older grades as a guide.
LT Braxton Jones (75.4)
LG Borom (64.7)
C Whitehair (75.2 – 2018)
RG Davis (70.6)
RT Jenkins (80.7)
Borom is the obvious weak link, but Patrick could start there, too. He played guard for the Packers before joining the Bears as a center and earned mid-60 grades with Green Bay. Isaac Seumalo would have been a great fit, but he signed a three-year deal with the Steelers on Sunday.
Another thing you'll notice is that Sam Mustipher is no longer part of the mix. The Bears cut Musipher last week. That's addition by subtraction at the very least. There's still work to do, but the offensive line looks better on paper right now, and Chicago's tackles are elite.
Bears News & Notes
There's a Flag…On the Play
I believe pulling the trigger with Carolina was the correct move. There is no need to be an armchair GM if you are speculating on the details.
Well this will certainly get talked about tomorrow.

Ryan Poles thought there was a scenario in which he could trade back to 2 and then to 9. But that would have meant waiting, and once the Panthers offered DJ Moore, he pulled the trigger. 👇 https://t.co/dSpywFayak

— Adam Hoge (@AdamHoge) March 20, 2023
Scout Team
The Bears still have over $40 million in cap space that can be used in free agency, for June 1 cuts, or if Poles wants to trade for a veteran. Here are the best remaining free agents and their expected contracts per PFF.
LB Bobby Wagner
Clowney
CB Rock Ya-Sin
Film Room
Foreman is a lot better than you think once you remove your David Montgomery blinders. Bears fans are going to love Chicago's new running back.
Don't think it is being discussed enough how impressive D'Onta Foreman was last year.

-Top-15 in YAC/ATT

-4th most runs vs stacked boxes (60)

-4.5 YPC vs stacked boxes

-Five 100-yard games after CMC trade. pic.twitter.com/d26d01upEd

— Adam Pfeifer (@APfeifer24) March 16, 2023
Northern Exposure
Green Bay: The standoff between the Jets and Packers over Rodgers is like a car deal gone bad. Former Packer great LeRoy Butler said Jets fans are expecting far too much from the four-time MVP. Butler told Jets fans, through TMZ, "Ya'll ain't going to no Super Bowl."
Detroit: The Lions and CB C.J. Gardner-Johnson have agreed to terms on a one-year deal.
Minnesota: The Vikings are considered a "wildcard" in the Lamar Johnson sweepstakes, with the Titans named as the favorites to acquire the veteran QB.
NFL News & Notes
The Texans are extending OT Laremy Tunsil to a 3-year, $75M deal with $60M guaranteed.
WR Adam Thielen, who always has big games against the Bears, has signed a three-year contract to play for the Panthers.
Bengals tackle Jonah Williams has asked to be traded after Cincinnati signed Orlando Brown Jr.
The last few seasons have shown that trades are the dominating force in NFL player movement.
This year's draft will be held in Kansas City.
The league has proposed 15 new rule changes, including five that would change replay reviews.
Three Yards and a Cloud of Dust
Moore's 364 receptions over the last five seasons would make him third on the Bears' all-time receptions leaderboard, trailing only Walter Payton and Matt Forte. His 5,202 receiving yards would be the most in franchise history. And he's only 25 years old arriving in Chicago. The Bears are celebrating their 104th anniversary as a franchise this season.
WR Brandin Cooks has now been traded four times in his career. He'll be playing for the Cowboys this season. Eric Dickerson was the last NFL player to be traded four times.
Rodgers holds the NFL record for most consecutive passes without an interception (402).
Two-Point Conversion
Does this process look familiar? Poles is doing the same thing.
The Lions have played the "long game" so well since 2020.
Extra picks
Bite the bullet in 2021
Oh so close in 2022
Supplement (not build) the roster with key FA signings.
With a slew of high picks still unselected.
This is how real NFL franchises do business.

— Sean Baligian (@SeanPBali) March 20, 2023
They Said It
"I'll stick to this, we're going to put the best front five up there but I also think there's some flexibility and some conversations where Cody could work some center,. He's got almost 4,000 snaps there. Had some good seasons there. So we're going to move it around a little bit and see if we can get the best like front three possible." – Poles
"You always have to be on your toes to adapt and adjust. But at the end of the day, I'll make it simple: [The goal] is to improve our football team and get as many guys on our roster who can help us do what we are trying to do — which is win a lot of games. We can't fix everything [right now]." – Poles
"I was talking to [Darnell] Mooney and was talking about being together with Chase [Claypool] and me and him, how we're just going to elevate the offense and just elevate Justin [Fields] at the same time. Because I'm not just here to be like, 'I'm here,' just like a bright light. I'm here to make everyone around me better and we just want to try to get some wins."– Moore