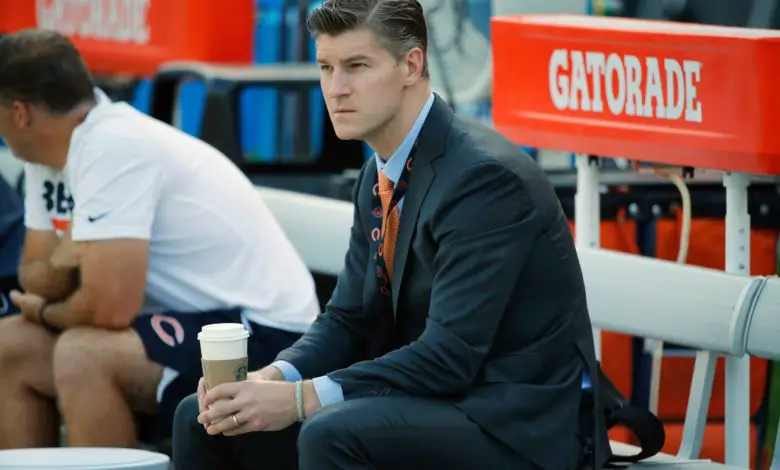 First & Long: Bears Problems Go Way Beyond Firing Nagy, Playoff Odds Fall Below 1%, Lions Earn First Win of Season
The Bears have been Chicago's most popular sports franchise for decades, but fan apathy hovering over Soldier Field near the end of Sunday's 33-22 loss to the Cardinals threatens what amounts to about an 80-year run as the city's top dog. The Bears are now 4-8, two of those wins have come against the Lions, and the team's problems go way beyond firing head coach Matt Nagy.
A confluence of events drove fans away long before the final gun sounded to end the game. Quarterback Andy Dalton, subbing for injured starter Justin Fields, threw four interceptions. The team was also without several of its best players, including Fields, linebacker Khalil Mack, and wide receivers Allen Robinson and Marquise Goodwin. As if that wasn't enough, high winds and freezing rain made for unpleasant conditions, minimally, for the fans who gutted it out to the very end.
The rest of the afternoon was a portrait of a once-proud franchise that's completely lost its way. The receivers and tight ends dropped passes. Headsets didn't work, which seems to be an ongoing issue at Soldier Field. Confusion reigned on the sidelines and on the field, also a game-to-game problem. The defense was mediocre, and the offense imploded too many times.
The Cardinals scored 24 points off of Chicago turnovers, negating the home team's edge in first downs (26-14), total yards (329-257), and time of possession (34:45-25:15). Chicago was also 4-of-4  on 4th down attempts, including a touchdown on a nifty pass from Dalton to Jakeem Grant, Sr. Though the Bears never looked like they had a chance to win, they actually should have beat the NFC's current No. 1 seed.
There's also the matter of Nagy, Chicago's dead-man-walking head coach who has been hung out to dry by his bosses and the focal point of said fan apathy with a great deal of ire to boot. The Bears' problems go much deeper than their lame-duck head coach, and realistically, the McCaskeys need to clean house, starting with president Ted Phillips and GM Ryan Pace, in order to successfully re-engage their fanbase.
The #Bears have some big injuries, yes. But the talent gap between the #Bears and the top teams in the league is a problem. That falls on Ryan Pace and his personnel moves.

— Zack Pearson (@Zack_Pearson) December 5, 2021
Nobody knows what changes will be made and when, but the Bears will enter Sunday night's game at Lambeau Field against the first-place Packers with about a 0.9% chance of making the playoffs. A Green Bay win would eliminate any mathematical chance Chicago has of winning the NFL Central, and though they're still just two games behind the 49ers for a Wild Card berth, Chicago would have to leapfrog six teams and finish with a better record than San Francisco since the lost the tiebreaker thanks to a Week 8 loss to the 49ers.
It's laughable that anybody thinks the Bears have a legitimate shot at backing into the postseason. In fact, Chicago may not win another game all season. Their best shot at a win is probably Week 17 matchup against the Giants. In the meantime, the head coach will bear the brunt of the wrath of Bears' fans, as the "Fire Nagy" chants in the Soldier Field parking lot before yesterday's game indicated. If Nagy is dismissed but Phillips and Pace are retained, the Bears will be no better off next season than they are today.
Bears News & Notes
According to CBS Sports NFL insider Jonathan Jones, it sounds like Pace will be out as GM at the end of this season.
Yesterday's effort revealed the negligence of Pace to field a competitive team. Even when fully healthy, the Bears have lost to the Packers, Buccaneers, Rams, and Ravens, all playoff-caliber teams. Their wins have come against the Lions (1-10-1), Raiders (6-6), and Bengals (7-5).
Chicago's lone bright spots in yesterday's loss were David Montgomery and Roquan Smith.
Montgomery rushed for 91 yards and a TD and led the Bears with eight receptions.
Nagy likened the headset issues and ensuing confusion to a high school game, which is really a poor reflection on him and his staff.
Firing Nagy would feel more like a reflex action than a real solution and only begins to attack the broader problem. Chicago is now 46-62 with Pace as GM.
Bears players feel obligated to continue to keep fighting for wins this season even if they have the slimmest of chances to reach the playoffs.
Despite his poor play, Dalton kept his sense of humor after the loss.
Some fans admitted they are open to a new domed stadium in Arlington Heights after yesterday's poor weather conditions. Let's be honest, if the Bears won the game nobody would have had an issue with the freezing rain and dropping temperatures.
There's a Flag…On the Play
Shame on this poor guy's friends for not helping him. It was a light moment in an otherwise dreadful game.
There's a reason they call Chicago the windy city! 😅 pic.twitter.com/0AAnWugNQ2

— NFL UK (@NFLUK) December 5, 2021
Northern Exposure
In an almost stealth-like fashion, Aaron Rodgers is now near the lop of the MVP leader board. He could become just the second player to win the prestigious award at least four times. Peyton Manning was named MVP five times during his career.
The Lions won, and in doing so, severely hurt Minnesota's chances to grab the NFC's last Wild Card spot. Vikings fans are calling the game the "Disaster in Detroit."
Quarterback Jared Goff finally earned his first win as a member of the Lions, and it was the team's first win since December 6, 2020.
Pick Six
NFL News & Notes
Trailing 20-19 after scoring a touchdown with 12 seconds left in the 4th quarter, Ravens head coach John Harbaugh opted to go for a two-point conversion and the win in Pittsburgh and failed.
Steelers OLB T.J. Watt became the second player in NFL history to record at least 13 sacks in four consecutive seasons, joining Hall of Famer Reggie White.
After the game, Pittsburgh QB Ben Roethlisberger made fun of a report that suggested he will retire after this season.
Detroit head coach Dan Campbell gave a stirring locker room speech after the Lions' win, dedicating the game ball to the victims of Tuesday's shooting tragedy at an Oxford, MI high school as well as all members of the Oxford community.
The Washington Football team has won four straight and head coach Ron Rivera is fired up about it.
NFL fans are peeved at the perceived dirty play of the Raiders this season.
Broncos QB Teddy Bridgewater led his team on a 20-play drive and came away with nothing to show for it.
Three Yards and a Cloud of Dust
Cowboys CB Trevon Diggs now has 9 interceptions in 12 games this season.
The Lions had scored 20 or fewer points in 10 consecutive games before beating the Vikings 29-27 Sunday.
The Cardinals are 7-0 on the road this season with all wins coming by double digits.
From the Podium
"I had two tackles today, unfortunately." – Dalton
"The entire season has kind of been frustrating with the losses we've been taking. But I'm a fighter. … I'm going to give it everything I've got." – Montgomery
"Big picture when you look at this game, stating the obvious is the turnovers. Having the four interceptions, the short fields, they came away with three touchdowns and a field goal. That's what it comes down to is those turnovers. The momentum and the short fields for them against that offense and that team, it's hard to overcome. The only thing that we can do is keep fighting and sticking together. … We're always going to give it everything we've got." – Nagy