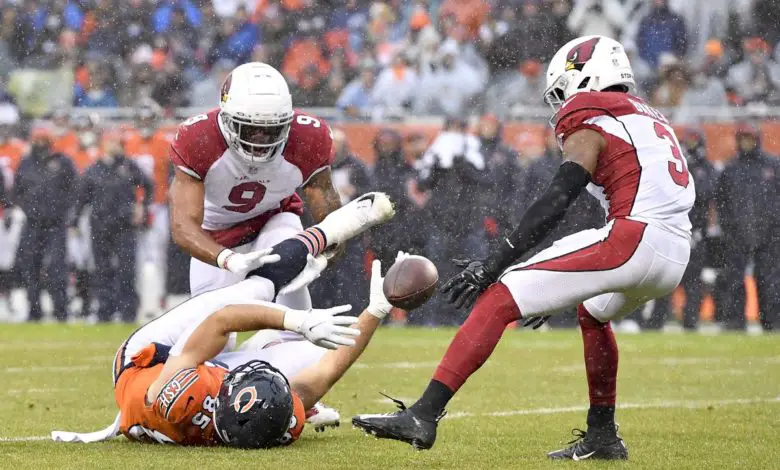 Chicago Bears Score and Recap (Week 13): Cardinals 33, Bears 22 – Dalton Rains Interceptions on Cardinals in Bears Loss
The weather was nasty at Soldier Field on Sunday afternoon as the Bears took on the Cardinals. The only thing sloppier than the rain-soaked field was Chicago's offense, which turned the ball over four times in a lopsided defeat.
Andy Dalton threw an interception on the opening series of the game to put the Cardinals into prime scoring range. Kyler Murray was available to play and hooked up with DeAndre Hopkins for a touchdown reception. The Bears second intercepted pass was returned to the red zone where Murray scrambled for another score and a 14-0 lead.
The home team finally cracked the scoreboard on a 1-yard touchdown run from David Montgomery in the second quarter. Arizona wasted no time answering right back with another long drive ending on a James Conner screen pass TD.
The Bears defense actually did a decent job keeping the Cardinals in check. Dalton even hit Jimmy Graham for a short TD and cut the deficit to 24-14. Unfortunately, two more interceptions followed from the backup QB and Arizona pulled away for a relatively stress-free 33-22 win. (Box score)
Why the Bears Lost
The Bears had to play a pretty much perfect game to beat the favored Cardinals. Four interceptions are a long way short of perfection. Arizona made it hurt, turning the miscues into 24 points.
Key Moment
Chicago faced a 3rd and 6 at the Cardinals 20 yard line late in the first quarter trailing 7-0. Dalton threw to an open Cole Kmet, but the big tight end had the easy pass bounce off his hands. If that wasn't bad enough, the deflection was intercepted by DB Budda Baker who returned it 77 yards.
Stats That Matter
It was a rough day for Dalton who did end up throwing another garbage time touchdown late.
Montgomery was almost the whole offense on Sunday putting up 140 total yards from scrimmage.
Jakeem Grant had the final touchdown and had 64 yards receiving to lead the team.
Bottom Line
This loss ends any hope of the Bears reaching the postseason. The rest of the year can hopefully be committed to developing Justin Fields if he's healthy. Matt Nagy will probably coach out the string before moving on after the season, but his fate was sealed long ago.
Next Up
For some reason, the Bears get the national spotlight again in Week 14. Chicago heads to Green Bay to battle the Packers on NBC's Sunday Night Football at 7:20pm CT.