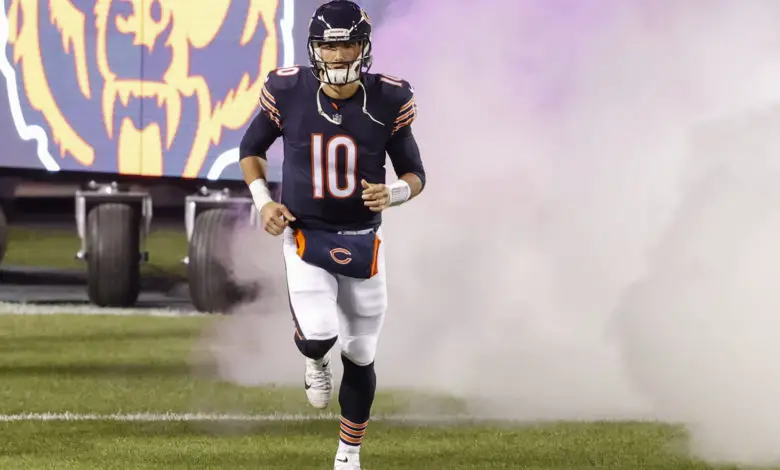 Growing Belief That Mitchell Trubisky Will Start Sunday Against Packers
The Bears still have a few days to figure things out, but it's looking more and more likely that Mitchell Trubisky will be starting at quarterback when they face the Packers Sunday night. He hurt his shoulder when he was needlessly called upon to be like Taysom Hill in his only snap since being replaced by Nick Foles, but he avoided significant structural damage and has been throwing this week in practice.
Foles, on the other hand, has remained very limited and may not be ready to go after leaving the loss to the Vikings in the 4th quarter with injuries to his hip and glute. Even if he was cleared to play, his lack of mobility behind the Bears' porous offensive line is a recipe for disaster. Trubisky at least offers the hope of escaping the pocket, which will come in handy if the Packers borrow from the Vikings' strategy and send heavy pressure on obvious passing downs.
Chicago Tribune Bears beat writer Brad Biggs told 670 The Score's Mully and Haugh Show he believes Trubisky will be under center Sunday, a sentiment echoed by the hosts and other guests.
"I believe @Mtrubisky10 will be #Bears QB Sunday night against #Packers" says @BradBiggs

Listen https://t.co/QNqhdQR7By pic.twitter.com/etCoeCEoKI

— Mully And Haugh (@mullyhaugh) November 25, 2020
It won't matter who's running the offense if the line continues to perform as poorly as it has throughout the rest of the season, but maybe the defense can score a couple of times or at least keep the field position battle from becoming too pitched. The Packers are coming off of a loss to the Colts in which they jumped out to an early lead and then soiled the bed in the second half, so they're going to be playing with a chip on their shoulder.
Maybe it's time for the Bears to figure out what the hell they're doing and take advantage of a team that might be overzealous in an effort to prove something.