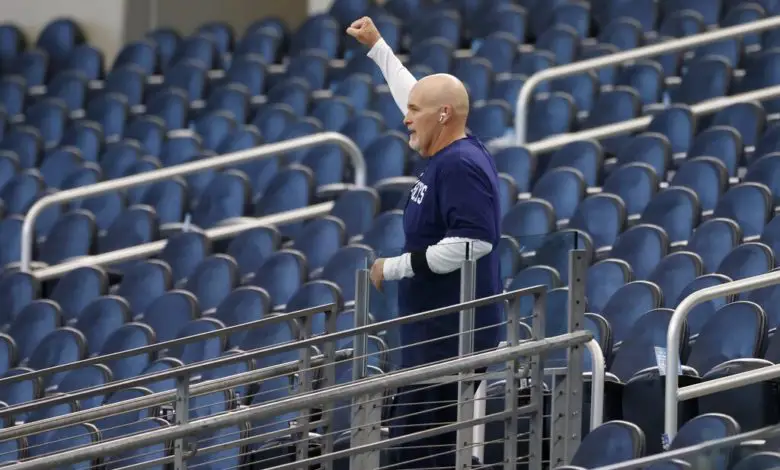 Dan Quinn Could Be Named Chicago Bears Head Coach as Early as Today
Cowboys' defensive coordinator Dan Quinn is scheduled to meet with new Bears' GM Ryan Poles today, and there is growing speculation he could be announced as Chicago's new head coach sometime this afternoon. Here's a brief update.
Jahns is on this. My understanding is Eberflus and Dan Quinn are still serious candidates. So is Jim Caldwell, but don't read too much into the fact that he happens to be in the building today. Poles will talk to all of them. https://t.co/7SCnh1eiuX

— Adam Hoge (@AdamHoge) January 25, 2022
Quinn has interviewed with every team that has a head coach opening and is considered a finalist with at least two, and possibly a third. His interview this afternoon will be his second with the Bears and first with Poles, who was named GM yesterday. The Dallas assistant is also considered a favorite in Denver. The Broncos have requested a second interview though one has not been scheduled. Quinn is also considered a top candidate with the Vikings, but that may have been tied to their pursuit of Poles.
Keep in mind that Matt Ebeflus will interview in the morning while Quinn is scheduled to meet with Poles in the afternoon. Don't read too much into that, but it would seem that gives Quinn a slight advantage. Chicago's newly-minted GM is not likely to name a head coach before he's met with both, but it could be that the interviews were scheduled that way with a clear favorite in mind.
In Denver, it appears that Nathaniel Hackett is the new frontrunner. The Packers' offensive coordinator met with the Broncos yesterday, and though no deal was announced, the conversation lasted well past nine hours. The speculation is that the Broncos may have moved past Quinn, either because they love Hackett that much, or because they're conceding the 51-year-old Dallas assistant is a lock to join the Bears.
Adding more fuel to the Hackett fire is the current situation in Green Bay with quarterback Aaron Rodgers and free-agent wide receiver Davante Adams. NFL insider Jordan Schultz believes Rodgers and Adams would likely follow the 42-year-old Hackett to Denver. If those stars align that's a grand slam for the Bears with Rodgers, Adams, and Hackett all leaving the NFC North and Quinn potentially coming to Chicago.
Because Quinn is a defensive-minded coach, who he chooses as his offensive coordinator will be a big factor in whether or not he is offered the gig in Chicago. Some names to keep an eye on include quarterback coaches Luke Getsy of Green Bay and Mike Kafka of Kansas City and Bills' passing game coordinator Ken Dorsey. There is a caveat with each, however. Dorsey could end up with the Giants if Brian Daboll is named their head coach. If Hackett goes to the Broncos, Packers head coach Matt LaFleur will probably make Getsy his OC. A similar situation could occur with the Chiefs because offensive coordinator Eric Bieniemy is also a candidate for several NFL openings.
It's difficult to get a read on Bieniemy. He's been one of the hotter candidates for the last three coaching cycles but has yet to get hired. It could be that he interviews poorly or does not instill any confidence that he can build a good staff. It may also just be that he's happy in Kansas City and is simply being groomed to one day take over for Andy Reid. The Chiefs' coaches are reportedly a very close-knit group. Each year a couple of their assistants are mentioned as potential head coaches, yet they usually end up staying home.
"They call it 'The Brain Drain'. When you win like the Chiefs have, other teams want to pluck their best talent."@PSchrags on why @Chiefs coaches Eric Bieniemy and Mike Kafka, as well as other front office lieutenants, are all very hot names for big jobs this month. pic.twitter.com/X9FwvMk47g

— Good Morning Football (@gmfb) January 5, 2021
Additionally, Reid has previously prevented Kafka from taking a coordinator position with another organization. The Eagles requested to interview the 34-year-old assistant last year and were blocked when Kafka was promoted. Reid is reportedly open to allowing Kafka to interview for any of the head coaching positions, however, which could make him a dark horse candidate in Chicago. It's at least something to keep an eye on if Poles does not announce Quinn,  Eberflus, or Jim Caldwell as his coach today.
Kafka leads one of the more elite quarterback rooms in the NFL. Under his tutelage, Patrick Mahomes continues to break NFL and franchise records, and recently became just the seventh player in NFL history to throw for 4,500+ passing yards and 35+ passing touchdowns multiple times in his career. The young assistant was drafted by Reid in Philadelphia and has served on Kansas City's coaching staff since 2017.
Kafka also has ties to the city of Chicago. The St. Rita High School product was a starting quarterback at Northwestern University,  appearing in 30 games for the Wildcats. He completed 408 of 637 passes (64.1 pct.) for 4,265 yards with 19 touchdowns as a starter. Kafka also set single-game records in both passing yards (532 vs. Auburn, 2010) and rushing yards by a quarterback (217 vs. Minnesota, 2008). Additionally, his 3,725 yards of total offense as a senior in 2009 still stands as the No. 2 season in program history.
That kind of background would be appealing for a team that has Justin Fields as its starting quarterback. Imagine what Kafka could do with Fields, Darnell Mooney, and Cole Kmet.