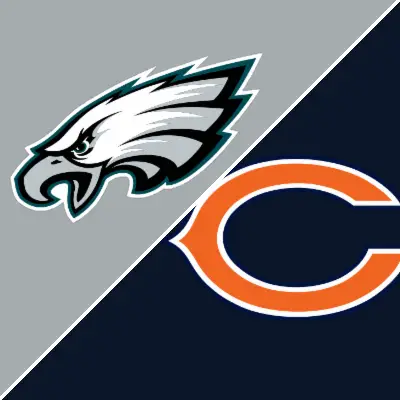 Chicago Bears vs Philadelphia Eagles – Week 15 Game Preview: Overview, Keys to Game, Insights
After a bye week, the Chicago Bears (3-10) are back to play out the string in a lost 2022. The final four games of the season are a brutal stretch that features matchups against three first place opponents. At this point, Bears losses are a good thing helping them to receive a higher draft pick.
The first game in that stretch is probably the most difficult, featuring the one-loss Eagles (12-1). Philadelphia has a top 5 defense and a top 5 offense in 2022 and might be the best team in the NFL. Their 29.7 point per game average is the highest in the league.
Eagles quarterback Jalen Hurts is having an MVP season so far with the same skillset as Justin Fields. The Oklahoma alum has over 3100 yards passing with 22 touchdowns and 680 more on the ground with an additional 10 TD's. It will be a very difficult test for an undermanned Bears defense.
Philadelphia's defense creates more turnovers than any team in football with a whopping +14 turnover margin. C.J. Gardner-Johnson has six interceptions so far to lead the NFL. Haason Reddick, Brandon Graham, Fletcher Cox, Josh Sweat and Javon Hargrave have been part of a ferocious pass rush that has a league-leading 49 sacks.
Fields sounds like he will play despite Chicago's well-publicized attempt at tanking. The wisdom of exposing their franchise quarterback against a frightening defensive line with very little protection is certainly open for debate. No matter who is under center, though, it figures to be a very long day for the Bears on Sunday.
Where to Watch/Listen
Sunday, December 18 at 12:00pm CT on FOX, WBBM Radio (English), and WRTO Radio (Spanish)
Keys to Victory
Here are my keys to Sunday's game. If these things happen, the Bears should have a shot to win.
Try to force some turnovers. To be honest, the main chance the Bears have to win is if the Eagles mess up. Hurts has been very responsible with the football this season only throwing three interceptions and losing no fumbles so it won't be easy.
Try to run the ball and control the clock. Philadelphia is just in the middle of the pack when it comes to run defense so if Chicago can get a running game going they may be able to shorten the game.
Do not fall behind early. Eagles have the best secondary in the game and a terrific pass rush so falling behind will lead to disaster. The Bears do not want to find themselves in a must throw situation.
Don't Tell Me the Odds
Chicago is a nine point underdog at home against the Eagles. The over/under of 48.5 indicates the oddsmakers think Philadelphia may run up the score.
It's Football Weather
Sunday's forecast at Soldier Field is 27 degrees with sunny skies and 14 mile an hour wind from the west.
My Prediction
The Eagles are looking to secure home-field advantage throughout the playoffs so are unlikely to take this game off. They will pull away early against the beat up Bears defense and coast to a 31-14 victory that will be mutually beneficial to both sides.
Official Bears Preview
Here are Bears analysts Jeff Joniak and Tom Thayer with their preview of the Bears' upcoming Week 15 matchup.