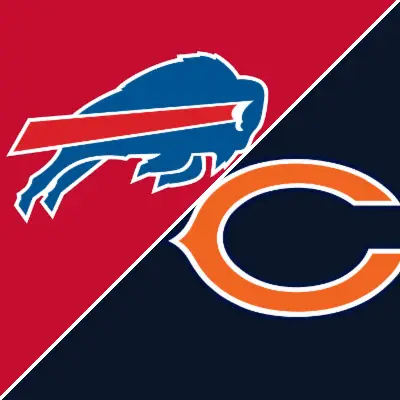 Chicago Bears vs Buffalo Bills – Week 16 Game Preview: Overview, Keys to Game, Insights
Just six days after playing a surprisingly competitive game against the one-loss Philadelphia Eagles, the Bears (3-11), face another difficult opponent on Christmas Eve. This time, it's the AFC-leading Buffalo Bills that come to an icy Soldier Field.
The Bills (11-3) have a terrific offense led by quarterback Josh Allen which averages 400 yards per game, second only to the Kansas City Chiefs. Allen is every bit the dual threat QB that Justin Fields is for Chicago, he is his team's leading rusher (705 yards) as well as its leading passer (3857 yards) and has combined for 36 total touchdowns in 2022.
The best weapon for the former Wyoming quarterback is WR Stefon Diggs who has 1299 yards and 10 touchdowns on the season. Gabriel Davis has also emerged as a deep threat and Isaiah McKenzie is a frightening slot receiver.
Buffalo's defense is a top-10 unit that gives up just 17.9 points a game, second best in the NFL. The loss of All-Pro pass rusher Von Miller to a knee injury certainly hurts but players like LB Matt Milano and S Jordan Poyer continue to be huge pieces of the unit.
The potential for high winds and freezing cold temperatures will definitely have an impact on this game. If any team is ready to compete in harsh winter conditions it is definitely a team from Buffalo, New York. The odds will be long for the Bears yet again -not to mention the fact they currently own the number two pick in the draft means they probably shouldn't try to win anyway – but hopefully they can put forward another strong effort like they did against the Eagles.
Where to Watch/Listen
Saturday, December 24 at 12:00pm CT on FOX, WBBM Radio (English), and WRTO Radio (Spanish)
Keys to Victory
Here are my keys to Saturday's game. If these things happen, the Bears should have a shot to win.
Justin Fields must make several special plays. The Bears were able to stay in the game because their quarterback made two outstanding plays, an unbelievable scramble followed by a long completion that led to two touchdowns.
Win the turnover battle again. Chicago created three turnovers against the normally reliable Philadelphia quarterback Jalen Hurts. Josh Allen is significantly sloppier with 11 interceptions this season including several in the red zone. So a repeat performance would be huge.
Try not to do too much in the cold and wind. Weather conditions are going to be a big influence on the game and the Bears can't try to be too daring with conditions being as dicey as expected. Turnovers will be costly against a team as good as Buffalo.
Don't Tell Me the Odds
The Bears once again are big underdogs at home with the Bills favored by 8 points. The over/under is set at 40.5 with Vegas expecting the cold conditions to limit scoring.
It's Football Weather
The current forecast for Saturday afternoon is 12 degrees with sunny skies and wind gusting up to 40 miles an hour. Wind chills are expected to be well below zero.
My Prediction
The bitter cold will limit scoring and the game will be pretty close throughout. Josh Allen creates one more play than Justin Fields and Buffalo will take home a 17-10 victory.
Official Bears Preview
Here are Bears analysts Jeff Joniak and Tom Thayer with their preview of the Bears' upcoming Week 16 matchup.