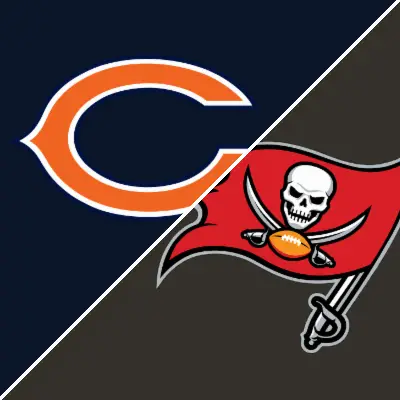 Chicago Bears @ Tampa Bay Buccaneers – Week 7 Game Preview: Overview, Keys to Game, Insights
The Bears (3-3) roller coaster season continued last week with a loss to the first-place Green Bay Packers. While the defense played well, inconsistent offense once again was Chicago's downfall. Rookie quarterback Justin Fields has been showing flashes of his immense skill, still, it's clear he has a long way to go reach that potential.
The schedule does not lighten up as the Bears head to Florida for a game with the Tampa Bay Buccaneers (5-1). Tampa is of course led by the ageless wonder and seven-time Super Bowl champion Tom Brady. The offense is a juggernaut especially in the passing game, which is the best in the NFL. Brady's numbers are terrific: 2064 yards, 17 touchdowns, and just three interceptions in six games.
The weapons in the receiving corps are also very formidable. Antonio Brown, Mike Evans, and Chris Godwin are all capable of dominating a game. Things aren't perfect for the Bucs however, Rob Gronkowski remains out with a rib jury and the running game is in the bottom third of the league.
Tampa's secondary is a potential weak spot as injuries have sapped the position. The same cannot be said for the defensive line which is excellent and allows the fewest rush yards per game in all of football.
It's the second consecutive week the Bears are battling a first-place team. It's not going to be an easy game and they will have to play mistake free. That said, stranger things have happened and Chicago did beat this team last year before they went on to win the Super Bowl. So let's see if lightning can strike twice.
Where to Watch/Listen
Sunday, October 24 at 3:25pm CT on FOX, WBBM Radio (English), and WRTO Radio (Spanish)
Keys to Victory 
Here are my keys to Sunday's game. If these things happen, the Bears should have a shot to win.
They've got to be able to pass against Tampa's secondary. The Bucs are not good in the back end and it behooves the Bears and Justin Fields to put up some deep passes to pressure them. This could be a game for Allen Robinson to break out.
Try to get pressure on Tom Brady. It's not gonna be easy to get to Brady who is adept at throwing short passes which can mitigate pass rush. Head coach Bruce Arians likes to take deep shots, so that will be a moment where pressure can actually have a big impact.
Turnover margin must be in the Bears favor. A big way to get an upset victory is to win the turnover battle. A Khalil Mack or Robert Quinn strip sack would be huge. Obviously, they have to play almost a perfect game, if they commit turnovers it could get very ugly very fast.
Take chances. This may seem counterintuitive after just saying the Bears have to limit turnovers. Still, it's important to take risks as an underdog: go for fourth downs, try a trick play, or maybe run a fake punt, something unexpected.
Don't Tell Me the Odds
Las Vegas is of the opinion the Buccaneers are going to run away with the game installing them as 11.5 point favorites. They expect a low-scoring game with an over-under of 47.
My Prediction
The odds are definitely against the Bears in this game. I think the defense hangs in for a while, but in the end, the Bucs pass attack will be too much. Chicago will score a late touchdown to cover the spread in a 31-24 defeat.
Official Bears Preview
Here are Bears analysts Jeff Joniak and Tom Thayer with their preview of the Bears' upcoming Week 7 matchup.