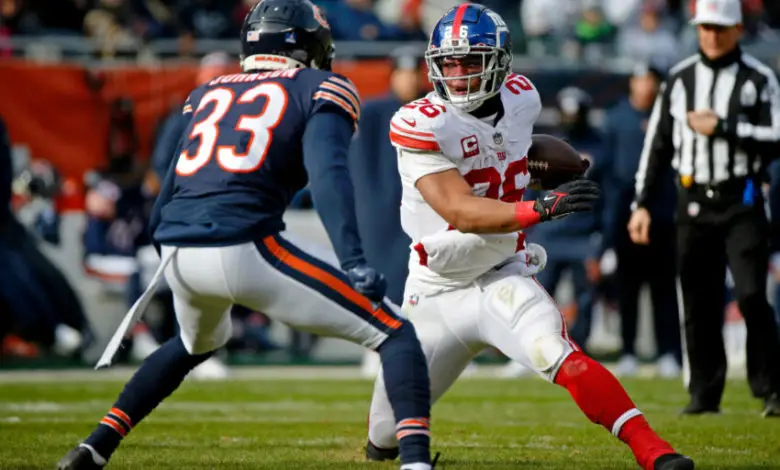 Chicago Bears @ New York Giants – Week 3 Game Preview: Overview, Keys to Game, Insights
The Bears (2-1) pulled out another hard-fought 23-20 victory over the Houston Texans last Sunday. Justin Fields struggled mightily in the passing game yet running back Khalil Herbert, filling in for an injured David Montgomery, rumbled for 157 yards and two touchdowns. A late interception by linebacker Roquan Smith set the stage for a game-winning Cairo Santos field goal.
Chicago now heads to New Jersey for a matchup with the Giants at MetLife Stadium on Sunday. New York (2-1) is off to a surprising start to the season featuring ugly wins very similar to the Bears. A touchdown and a two-point conversion late in the game against Tennessee provided their first win of the season and a 56-yard field goal took down Carolina. The Cowboys and backup quarterback Cooper Rush handed them their first loss on Monday night.
The Giants offense has not been good, averaging just 18.7 points a game this season. Pretty much the only threat on the offensive side of the ball is RB Saquon Barkley who has 347 rushing yards and two touchdowns. Quarterback Daniel Jones has not been very effective early in the year averaging only 186 passing yards per game and may be more efficient on the ground scrambling for over 40 yards per game.
New York's defense has been pretty solid allowing just 19.6 points a contest, although their opponents have not been the most talented scoring units. The pass rush has not been very good with just three total sacks through three games. Turnovers have been hard to come by for the G-men with just three recovered fumbles and no interceptions.
These are two evenly matched teams and both may have benefited from some good luck to pick up a couple early wins. If the Bears can put together another win they could be 3-1 and in surprisingly good shape to have a successful season. If they want to do that it would behoove them to play a lot better on offense especially their young quarterback.
Where to Watch/Listen
Sunday, October 2 at 12:00pm CT on FOX, WBBM Radio (English), and WRTO Radio (Spanish).
Keys to Victory
Here are my keys to Sunday's game. If these things happen, the Bears should have a shot to win.
Make Khalil Herbert the primary focal point of the offense on Sunday Last week I said get the ball to David Montgomery early and despite him likely missing the game with his ankle injury the idea remains the same. The Giants have struggled to stop the run much like the Texans.
Keep all the defensive focus on Barkley. New York's top wide receiver Sterling Shepherd tore his ACL at the end of the Giants loss to the Cowboys. They are going to have to lean even more heavily on their dynamic running back.
Get some kind of progress from Justin Fields. The Bears second-year quarterback has been terrible so far this season holding the ball too long and throwing wildly inaccurate passes. They have been able to win a pair of games in spite of his issues but they will not be able to sustain success without improvement from the Ohio State product.
Try to take an early lead. With two offensively challenged teams comebacks will not be easy for either side. So it will be a big boost to whatever team jumps ahead early.
Don't Tell Me the Odds
The Giants are 3-point favorites according to the Vegas oddsmakers, which indicates they believe the teams would be evenly matched at a neutral site. The over/under for the game is 39 for the second consecutive week which is not surprising considering the quarterback issues in this game.
It's Football Weather
AccuWeather forecasts 59 degrees with light showers in East Rutherford, New Jersey for Sunday's kick off.
My Prediction
These two teams are so evenly matched it's hard to know who will prevail. I think in the end, the lack of a pass rush by the Giants will allow Fields to have more time to throw. Hopefully, Justin will take advantage of that and make some big plays in a 21 -17 Bears win.
Official Bears Preview
Here are Bears analysts Jeff Joniak and Tom Thayer with their preview of the Bears' upcoming Week 4 matchup.