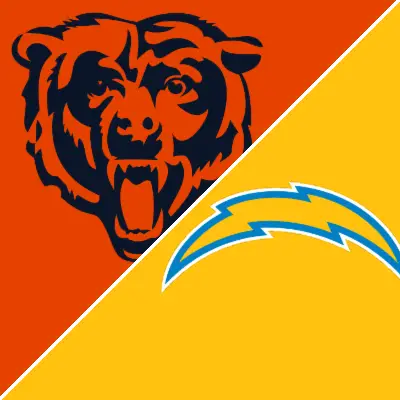 Chicago Bears @ Los Angeles Chargers – Week 8 Game Preview: Overview, Keys to Game, Insights
The Bears (2-5) put together their strongest performance of the season to beat the Raiders at Soldier Field last weekend. They were able to win despite starting quarterback Justin Fields missing the game with a dislocated thumb and rookie Tyson Bagent being pressed into duty. Chicago and Bagent now head  west to face another AFC opponent, the Chargers (2-4), in a primetime matchup Sunday.
Los Angeles' strong suit is on offense led by star quarterback Justin Herbert, who has thrown for 1592 yards and 10 touchdowns this season. Keenan Allen is having a throwback year at wide receiver with 562 yards and four touchdowns. It all adds up to a unit that averages 24.6 points a game and 364.2 yards of offense per game, which is 8th best in the NFL.
The Chargers defense is a much different story and is a major factor in their losing record in 2023. Brandon Staley's unit gives up a whopping 406.8 yards per game on defense only ahead of the horrendous Denver Broncos. They are somewhat better in the red zone as evidenced by their 25.8 points allowed per game, which is only the 8th worst in the league.
Staley has also been strongly criticized for many questionable coaching decisions especially on 4th downs and late in games. It's starting to look like another disappointing year in Los Angeles and this is probably a must win game if they want any chance to make the playoffs this season.
This is a contest the Bears have a shot to win, especially if the running game and defense play as well as they did against Las Vegas. With the Chargers involved, it will probably have a very exciting finish no matter what happens.
Where to Watch/Listen
Sunday, October 29 at 7:20pm CT on NBC, WBBM Radio (English), and WRTO Radio (Spanish).
Keys to Victory
Here are my keys to Sunday's game. If these things happen, the Bears should have a shot to win
Build an early lead. The Bears will probably have a hard time mounting a comeback with Bagent under center so building a quick advantage will be big.
Contain Austin Ekeler. The Chargers have had a very tough time running the ball so far in 2023. If Chicago can contain the talented Ekeler all the pressure will be on Herbert.
Keep giving the ball to D'Onta Foreman. Foreman gave Matt Eberflus his first effective running attack of the season against the Raiders. They desperately need a balanced attack.
Focus on old friend Khalil Mack. The former Bears linebacker had a six sack performance in a win over the Raiders earlier in the season. With Chicago's blocking issues it could be a big problem if they don't give him extra attention.
Don't Tell Me the Odds
Los Angeles is favored by 8.5 points Sunday night and the over/under is set at 46.5, so Vegas expects he score in the low 20's.
It's Football Weather
Sofi Stadium in Los Angeles is a climate controlled dome so the weather is not a factor. Outside the stadium, the temperatures should be in the high 60's around game time.
My Prediction
The Chargers have to win this game if they want any chance to contend this season but I think the Bears will play them really tough. Los Angeles will kick a late field goal to pull out a 20-17 victory.
Official Bears Preview
Here are Bears analysts Jeff Joniak and Tom Thayer previewing the Bears' upcoming Week 8 matchup with Chargers Hall of Fame quarterback Dan Fouts on the Bears Etc. Podcast.