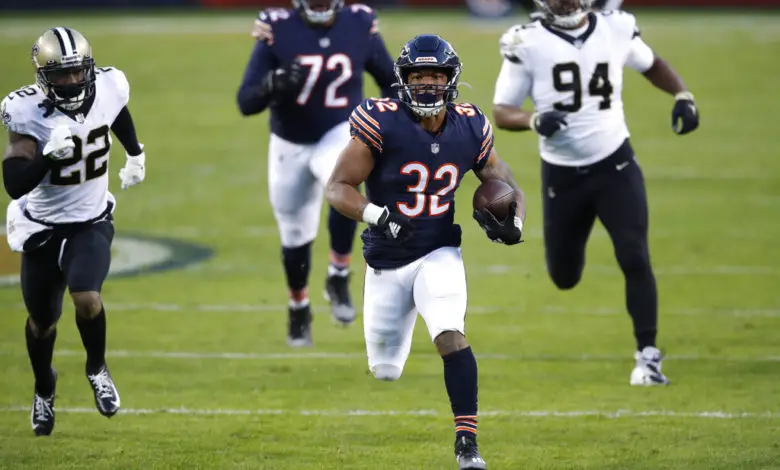 Chicago Bears Injury Report: David Montgomery in Concussion Protocol, DT Roy Robertson-Harris with Season-ending Shoulder Injury
David Montgomery was sidelined in the fourth quarter of Sunday's loss to the Tennessee Titans with an apparent concussion. We now have word that it was indeed a concussion and he is in the NFL's concussion protocol, which puts him at limited risk of missing Monday night's game against the Minnesota Vikings.
Bears' RB David Montgomery is now in the NFL's concussion protocol.

— Adam Schefter (@AdamSchefter) November 9, 2020
What is NFL Concussion Protocol?
Here are the steps needed to be followed in order for a player to return to the field once they're placed in concussion protocol:
Symptom Limited Activity

: The player is prescribed rest, limiting or, if necessary, avoiding activities (both physical and cognitive) which increase or aggravate symptoms. Under athletic training staff supervision, limited stretching and balance training can be introduced, progressing to light aerobic exercise, all as tolerated.

Aerobic Exercise

: Under direct oversight of the team's medical staff, the player should begin graduated cardiovascular exercise and may also engage in dynamic stretching and balance training. Neurocognitive and balance testing can be administered after completion of Phase Two and the results should be interpreted as back to baseline.

Football Specific Exercise

: The player continues with supervised cardiovascular exercises that are increased and may mimic sport-specific activities, and supervised strength training is introduced. The player is allowed to practice with the team in sport-specific exercise for 30 minutes or less with ongoing and careful monitoring.

Club-based Non-contact Training Drills

: The player continues cardiovascular, strength, and balance training, team-based sport-specific exercise, and participates in non-contact football activities (e.g. throwing, catching, running, and other position-specific activities). Neurocognitive and balance testing should be completed no later than the end of Phase Four with the results interpreted as back to baseline.

Full Football Activity/Clearance

: Upon clearance by the Club physician for full football activity involving contact, the player must be examined by the Independent Neurological Consultant (INC) assigned to his Club. If the INC concurs with the Club physician that the player's concussion has resolved, he may participate in his Club's next practice or game.
Roy Robertson-Harris Shoulder Injury
In other Bears injury news, Roy Robertson-Harris sustained a shoulder injury in Sunday's game and is scheduled to have season-ending shoulder surgery, according to Ian Rapoport.
#Bears disruptive DT Roy Robertson-Harris is having season-ending shoulder surgery this week, sources say. A blow to the Chicago defense, but Robertson-Harris will be healthy by March to have a nice payday in free agency.

— Ian Rapoport (@RapSheet) November 9, 2020
Robertson-Harris isn't as disruptive a presence as other players on the Bears defense, with only 10 tackles and one tackle-for-loss this season. This hurts the Bears' defensive depth more than anything. The Bears' defense has been outstanding this season, unlike their offense, and a blow to their depth is not going to help things.
Mario Edwards, Jr., who's been a pleasant surprise this season after the Bears acquired him on September 8, 2020, will likely get more playing time with Robertson-Harris out. Edwards has seven tackles on the season, including two sacks and four tackles-for-loss.