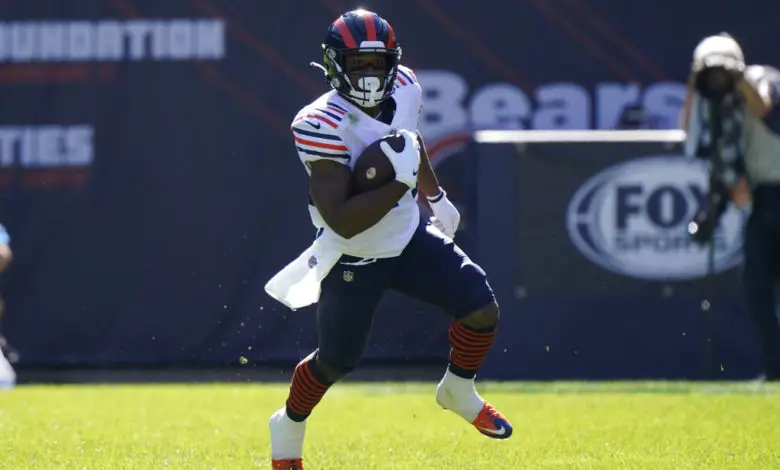 Breaking Down Bears Position Groups: Running Back
We are breaking down the Bears position groups this week as the team prepares for its Week 1 battle with the Packers at Soldier Field. In this edition, we'll focus on Chicago's running backs, led by starter Khalil Herbert, and backups D'Onta Foreman, Roschon Johnson, and Travis Homer.
We'll also take a look at fullback Khari Blasingame.
Khalil Herbert
Khalil Herbert to the house untouched! @JuiceHerbert

📺: #CHIvsNE on ESPN
📱: Stream on NFL+ https://t.co/2HQeNdaFPc pic.twitter.com/QKKpTgYarK

— NFL (@NFL) October 25, 2022
Most Bears fans would love to see Johnson start, but Herbert is a damn good running back. Last year he averaged 5.67 YPC. He ranked fifth overall in true YPC and No. 7 in Juke Rate. He started five games in his career when David Montgomery was injured, and he averaged 84.2 yards per game on 19 carries in those contests. The Bears are a run-first team, and though Justin Fields will probably surpass 1,000 yards again, Herbert should have a strong season provided he stays healthy.
Herbert was, in fact, better than Montgomery last year in every single rushing metric. He rushed for 70 yards less than Montgomery but he also carried the ball 72 fewer times. Had Herbert not gotten hurt in a Week 10 tilt with the Lions, there was a non-zero chance he would have completely usurped Montgomery as the team's lead back. Johnson's going to be good, but Bears fans, including me, need to stop overlooking Herbert.
That said, Chicago's coaching staff envisions a three-back rotation, so Herbert will not get the carries that most full-time starters get. His legs will stay fresh, but his counting stats will suffer. Herbert's not going to be a three-down back, and he'll come out in most passing situations, but he will be dominant when he's on the field.
I know Fields hopes to throw for 4,000 yards this season, but the Bears will have one of the NFL's top ground games, so that's not happening.
Predictions: 949 yards on 175 rushing attempts (5.42 YPC) with five TDs, and 25 catches for 140 yards and one score.
D'Onta Foreman
D'Onta Foreman is loose! @D33_foreman@Titans extend their lead, 17-3.

📺: #MIAvsTEN on CBS
📱: NFL app pic.twitter.com/fEfrt0bcbl

— NFL (@NFL) January 2, 2022
Foreman inked a one-year deal worth $3 million to replace Montgomery in Chicago's backfield alongside Herbert, Homer, and Johnson. The five-year veteran also had interest from the Bills, Panthers, and Giants but chose to sign with the Bears. The interest doesn't come as a surprise given Foreman's breakout play in 2022. From Week 7 on he was fourth in the NFL with 852 rushing yards.
Foreman is a beast who punishes tacklers and piles on yardage after initial contact. That's the style of running back they prefer at the University of Texas, where he graduated, and that's how he's played in the NFL. He averaged the same YPC (5.67) last season as Herbert when starting. His overall mark was 4.50/YPC.
Herbert is the starter, but Chicago's coaching staff shows little allegiance to any players other than Fields and D.J. Moore. If Herbert falters or gets injured, Foreman can step right in and the team's running game won't miss a beat.
Predictions: 611 yards on 121 rushing attempts (5.05 YPC) with three TDs, and 10 receptions for 69 yards and one score.
Roschon Johnson
I don't know about you, but I'm drafting Roschon Johnson in as many fantasy leagues as I can.

I think he quickly becomes the #Bears RB2. In a run-heavy scheme, he has legit fantasy upside if Khalil Herbert misses time or loses the starting job. pic.twitter.com/d7Jn8lZDDe

— Jacob Infante (@jacobinfante24) August 25, 2023
I love Johnson, but let's pump the brakes on moving him up the depth chart, at least for now. Remember, he only started five of 47 games at Texas where he played RB2 to Bijan Robinson. He's Chicago's running back of the future, but Johnson is probably going to have to wait until next season. That said, he's perfectly capable of forcing his way to the top and could make Herbert or Foreman expendable at this year's trade deadline.
Johnson's efficient rushing style, bell-cow size, and pass-protection skills figure to complicate the Bears backfield. He jumped 122 inches in the broad jump (78th percentile) at the NFL Scouting Combine and was targeted by the Bears immediately after. Simply put, he might have been the top running back taken if he was a starter at another school.
He'll get his touches, he's an effective receiver, and he'll play on special teams, too. Like Foreman, he punishes tacklers and excels at picking up yards after contact. Johnson posted an absurd 49% missed tackle rate at Texas last year. He's a good one and might end up being Chicago's best running back since Matt Forte.
Predictions: 90 carries for 377 yards (4.19 YPC) with two TDs and 22 receptions for 196 yards and another two scores.
Travis Homer
Homer is entering his first season in Chicago after spending the first four years of his career with the Seahawks. The 25-year-old inked a two-year deal with the Bears in the offseason, but is likely to serve as RB4, though he will play a big role on special teams.
Khari Blasingame
Blasingame excelled as a blocker in Chicago's run-heavy scheme last year, helping Fields, Montgomery, and Herbert to strong seasons. He'll do the same for Herbert, Foreman, and Johnson this year. Blasingame is also a good receiver who can break a tackle or two in short-yardage situations. The Bears love his tools and value his leadership, and signed Blasingame to an extension earlier this year. The extension shows a commitment to keep Chicago's identity as a run-heavy team.