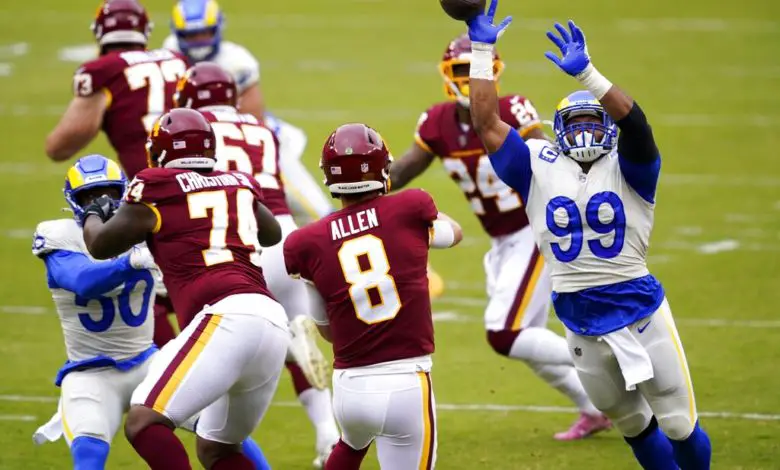 Limiting Aaron Donald Key to Bears Beating Rams
Aaron Donald is a menace to NFL offenses. He's the type of player that offensive coordinators must specifically plan for because if he's not at least slowed down he will completely disrupt the game for the opposing team.
Matt Nagy and Bill Lazor will have their hands full tonight scheming against Donald and you can bet they've spent ample time breaking down last week's game when the San Francisco 49ers absolutely dismantled the Los Angeles Rams. Of course, the Bears have played the Rams each of the past two seasons and may need to look no further than their own game film to uncover how to contain Donald.
Both games were low-scoring defensive battles, with Donald having a much stronger game in last year's Rams win than he did in 2018 when the Bears won.
2019: Bears 7, Rams 17 (Donald: 2 sacks, 4 tackles, 4 QB hits)
2018: Bears 15, Rams 6 (Donald: 0 sacks, 2 tackles, 1 QB hit)
More than just the threat of an elite pass-rusher, the Bears have a glaring problem this year. Third-year lineman Rashaad Coward will be lining up at left guard again in place of the injured James Daniels and you can bet Donald is licking his chops at this matchup tonight. So what do the Bears do to counter?
Nick Foles has shown he is very good at making quick reads and getting rid of the ball. That's a big reason Foles' yards per pass attempt (5.8) is actually lower than Mitchell Trubisky's (6.5). It's also why Foles has been sacked only one time per game compared to Trubisky's 2.53 sacks per game.
The Bears will also need to establish some semblance of a running game tonight. In 2018's win over the Rams, they rushed for 194 yards on 35 attempts. Last year saw them gain only 74 yards on 24 attempts in a loss. The Rams have allowed all but one opponent this season to rush for over 100 yards, so it would behoove Matt Nagy to remain committed to the ground game.
The Bears defense will also have a lot to say about the outcome tonight. If they can give Foles and the offense good field position, they can limit Donald's impact. Look for Akiem Hicks, Kahlil Mack, Roquan Smith, and Company to be flying around tonight and getting after Jared Goff.
Though it's probably impossible to shut Donald down completely, doing a few little things to limit his impact will be key to the Bears moving to 6-1.