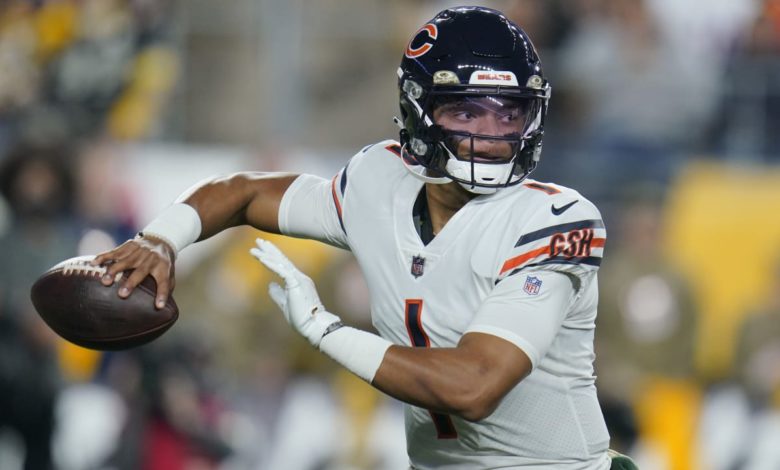 Bears Prime-Time Performances Garner Recognition From All-Pro Peers
A couple of Bears players were recognized for prime-time performances by All-Pro peers after Chicago's 45-30 loss to the Packers. Notably, Green Bay quarterback Aaron Rodgers praised Justin Fields during his weekly appearance on the Pat McAfee Show.
"I think he's a really talented kid. He has a good arm on him. He can really move around and extend the plays and make plays outside the pocket. The most important thing for young players is to continue to work on the little things, the little details," Rodgers said to McAfee.
"He has a lot of star qualities in his presence and his ability."
THIS GAME IS WILD. 🤯#DaBears waste no time and respond with a TD.

(Via: @NFL) pic.twitter.com/eZwwdDIaUj

— Sunday Night Football on NBC (@SNFonNBC) December 13, 2021
That's high praise coming from a three-time MVP who has outplayed 16 Chicago quarterbacks since 2008. When it comes to playing against the Bears, Rodgers is always at his best. Including Sunday night, Rodgers has thrown for 6,549 yards with 61 touchdowns and 10 interceptions against the Bears. His 22 wins in 27 starts represent the most he has against any team he's faced, including the Lions.
Fields had an up-and-down game, finishing 18-of-33 for 224 yards and two touchdowns. He also carried the ball nine times for 74 yards.  On the flip side, he turned the ball over three times, twice on interceptions. One of the picks was returned 55 yards by Rasul Douglas for a touchdown.
Rogers also spoke highly of OLB Robert Quinn, who had two sacks and two QB hits in the game. After his second sack, Quinn teased Rodgers by mimicking his signature "discount double-check" move. That is apparently not a taunting penalty, by the way. Rodgers did mention that move always comes back to haunt opponents.
"It has been pretty one-sided when somebody does the belt [move]. I do like Quinn and he has had a phenomenal season."
Quinn has 14 sacks on the season and will likely be voted to this year's Pro Bowl. For Rodgers, he seemed almost too cordial after previously claiming he owned the Bears.
Jakeem Grant Sr. had a couple of big plays on Sunday night, too. In addition to scoring on a 46-yard jet sweep to give the Bears a 10-0 lead in the 1st quarter, Grant also had a 97-yard punt return for a TD, the longest in team history and the first in the NFL this season.
JAKEEM DID IT AGAIN. 97-yard punt return TD! #DaBears

📺: #CHIvsGB on NBC
📱: https://t.co/ptqAMuLpIh pic.twitter.com/0q3SNJNZwf

— NFL (@NFL) December 13, 2021
While many Bears fans would have guessed that Devin Hester was the previous record holder, the actual answer is Johnny Bailey, who scored on a 95-yard return in a 1990 game against Kansas City. Hester's longest return of 89 yards is actually third on the team's all-time list behind Bailey and Glyn Milburn (93 yards).
Grant's return caught the attention of everybody, including Chiefs' starting QB Patrick Mahomes.
A former 2016 sixth-round draft pick by the Dolphins, Grant was acquired by the Bears in October. He's caught  9-of-15 targets with Chicago for 139 yards and two TDs in nine games since the trade. Additionally, Grant has returned 20 kicks for 487 yards and 15 punts for 244 yards, including that score on Sunday evening.
All in all, it was another disappointing week for Matt Nagy and his charges, but at least some of the players stood out enough to be recognized by their NFL peers.