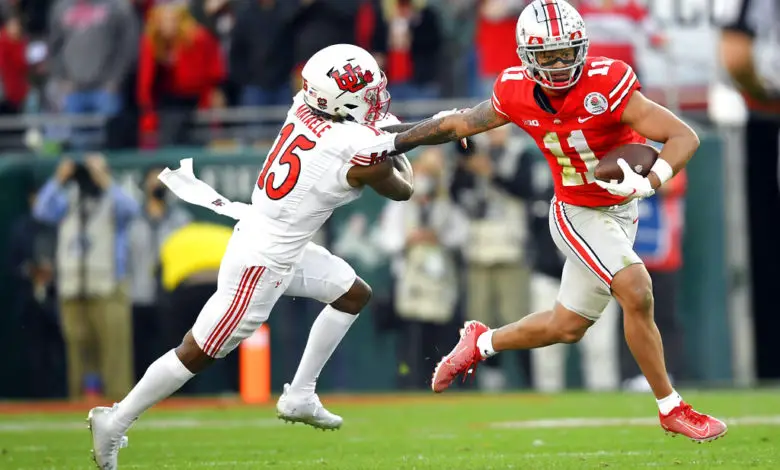 Bears Insider 2023 Draft Preview: Wide Receivers
We all want the Bears to improve the wide receiver room, but it just isn't a priority this year. Ryan Poles acquired D.J. Moore from the Panthers to give Chicago its first legitimate WR1 in a few years. Everybody else slides down, and because of that, the current group looks pretty tight. Darnell Mooney is the No. 2 receiver, Chase Claypool replaces Byron Pringle, and Equanimeous St. Brown stays at WR4. Velus Jones and the recently re-signed Dante Pettis are the fifth and sixth options.
However, Bears fans want a Davante Adams or Justin Jefferson type, though it seems doubtful Poles would sacrifice other needs to get one of the top pass-catchers. And by the way, none compare to the two All-Pros. The class is deep as heck but lacks true top-end talent.
This just isn't the year to throw caution to the wind. Poles wants playmakers, but he'll likely look to the end of the draft and undrafted free agency to find competition for the current receiver rotation.
What does the Date Pettis signing mean for last years 3rd rd pick Velus Jones?

Can the Bears still draft Jaxon Smith-Njigba? Check it out. #DaBears #Bears #ChicagoBears pic.twitter.com/mhIbQmR9qx

— Clay Harbor (@clayharbs82) April 18, 2023
First Round Prospects
Second and Third Round Prospects
Bears Needs
The Bears could use a slot receiver, and there isn't a better one available in this draft than Smith-Njigba. He's probably not an option for Chicago unless Poles trades down and can pick up an extra second-round pick. Flowers is underrated but could potentially go higher than JSN. Mingo is my favorite, by the way. However, the Bears have too many needs to draft a wide receiver in rounds 1 or 2. They could probably get Scott or Reed in the third or fourth round.
If they're looking for a WR5 or WR6 just to finish the room, the draft is plenty deep with those types of players.
Best Fits for the Bears
I don't expect the Bears to address wide receiver until Day 3 unless Ryan Poles does Justin Fields a solid and selects Smith-Njigba. Puka Nacua of Brigham Young is a very intriguing late-round/UDFA option. Still, I'd love to see them get Mingo. His stock is rising too quickly, however.