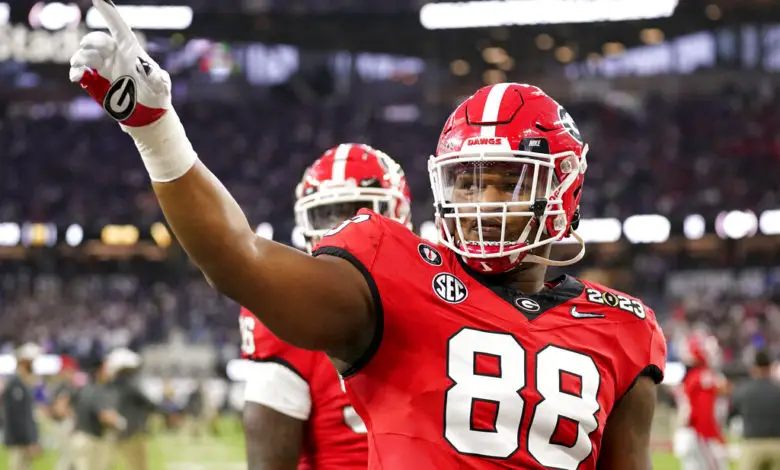 Bears Insider 2023 Draft Preview: Defensive Tackles
The Bears desperately need a three-technique and as I see it, their options are few.
Hope Jalen Carter falls to No. 9 and then select him.
Trade down and hope they can get Calijah Kancey or Bryan Bresee.
Wait until the second round or third rounds, where they may find a suitable starter who needs a little seasoning.
Find a developmental option on Day 3.
If it were up to head coach Matt Eberflus, the decision is an easy one to make. Take Carter if he's there, or slide down a few spots and take one of Kancey or Bresee.
From NFL Now: Teams are meeting to make their decisions on when they would take #Georgia DT Jalen Carter, with no question on talent but plenty of questions otherwise. pic.twitter.com/5LMsGKYjeo

— Ian Rapoport (@RapSheet) April 19, 2023
"We call [the three-technique] the engine that makes everything go because in the running game, you can't run at the three and you can't run away from him, so it's hard to really dictate where you're going to run the ball, number one, and it creates a lot of free lanes for your linebackers to run through in the run game," Eberflus explained back in December.
"But in the passing game, a lot of times when you have two of them, you have a three-technique and you also have a defensive end opposite of him, it's hard to move your line that way. He creates a lot of one-on-ones, and he's typically overmatched on a guard. Typically your best offensive linemen are on the outside and if you have your best player on the inside, that's certainly an advantage for you."
A lot of Bears fans are counting on Carter being available. It's not an impossible thought, though a lot of things would have to go right for Chicago. Don't forget, some teams are already willing to trade up to select the Georgia DL3T despite his legal issues and poor Pro Day performances.
The Bears have two first-round picks in 2024 and the Texans are open to moving the No. 2 pick. It's more than a bit of a stretch, but a savvy GM could grab that pick without overpaying. Houston has a lot of selections this year. But before you get your hopes up, a blockbuster to move back to the top of the draft is highly, highly unlikely. A team that wants a quarterback or Will Anderson Jr. will probably overpay anyway.
First Round Prospects
Jalen Carter – Imagine Ryan Poles getting the player he probably would have selected at 1.1 after trading that pick to the Panthers for the Nos. 9 and 61 picks, a first-round selection next year, a second-round in '25, and wide receiver D.J. Moore. That's like hitting a $25,000 scratcher the first time you play the lottery. If the Lions, Seahawks, and Falcons pass on Carter, he's there for the taking. If he isn't available, I wouldn't be afraid to bet that the Bears will trade down. Carter is a top-three player and arguably the best prospect in the 2023 class.
Calijah Kancey – The NFL Network gives Kancey a 6.39 grade, and by their definition, that means he will eventually be a plus starter. By comparison, Carter is seen as a Pro Bowl talent with a 7.05 grade. Kancey is not a top-10 pick but he could be on Ryan Poles' board. Nonetheless, if Poles likes Kancey, he could swing that rumored trade with the Steelers and get the defensive tackle at No. 17. Kancey is a disruptive run defender and explosive pass-rusher with a skill set to succeed in the NFL, even though he is light for his position. He has a high-motored violent streak, so he fits the profile Chicago prefers.
Bryan Bresee – The 6-foot-6, 298-pound athletic freak is starting to fall on a lot of boards because of past injuries to his knee and shoulder. Bresee insists he's fine, but some mocks now have him falling into Round 2. His grade is nearly identical to Kancey's but he's never been a full-time starter at Clemson due to health and injury restrictions. There are some red flags here, but if you can see through the negatives, you could be looking at a future All-Pro. Are the Bears in a position to take a chance on Bresee? Only Poles knows for sure.
Second and Third Round Prospects
Rounds Four through Seven Prospects
Keondre Coburn – Coburn is a massive, durable tackle with a great size-to-speed ratio. He'll be replaced in obvious passing situations.
Colby Wooden – He has an intriguing tool set with good physical traits but is extremely raw. Wooden too often fails to close when rushing the passer.
Scott Matlock – He was a versatile piece on the Boise State defensive line, playing 5-tech all the way down the line to nose tackle.
Cameron Young – Much better against the run because of his long arms. Young is unfortunately more of a placeholder in pass rush situations.
Byron Young – Young is a physical run defender who takes on double teams with relative ease. The Alabama senior is slightly undersized but quick, though he isn't as strong at getting to the quarterback.
Jerrod Clark – A  scheme-versatile nose tackle with the size, strength, and quickness to overpower blockers one-on-one and occupy double teams when he keeps his pads down. effort. Clark flashes the ability to overwhelm blockers as a pass-rusher but stalls out too much. His upside is limited by a lack of closing speed.
Jalen Redmond – He's versatile, played better as a tackle, and just turned 24. Redmond excels at getting penetration but is described as an underachiever.
Bears Needs
Chicago needs to add a difference-making defender who can pressure opposing passers. Ideally, a DL3T who can create openings for linebackers Tremaine Edmunds, T.J. Edwards, and Jack Sanborn should be at or near the top of the team's wishlist. If said player is a legitimate pass rusher who is adept at stopping the run, all the better. Justin Jones and Andrew Billings currently head the depth chart.
Chicago fielded the worst defensive line unit in the NFL last season. The Bears recorded the fewest number of sacks of any team in the league. They also allowed the second most rushing yards per contest, just above the Texans.
Best Fits for the Bears
It's basically Carter vs. the field. The difference isn't very subtle, either. Kancey and Bresee are more than serviceable and Smith isn't a bad option either. All four could be starters for the Bears in 2023. Pickings get frightfully slim after that.