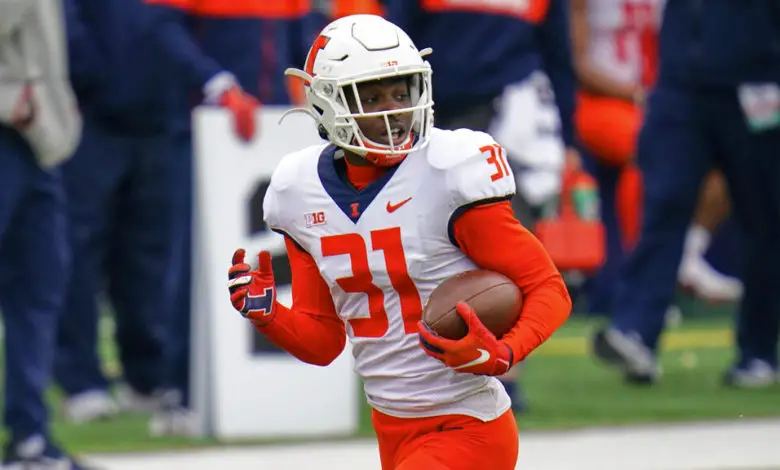 Bears Insider 2023 Draft Preview: Defensive Backs
Two weeks ago when we published our Big Board, I mentioned some buzz surrounding Christian Gonzalez and the Bears. I took a couple of hits to my credibility on Facebook, and then lo and behold, for about a week, Gonzalez was the hottest name among draftniks. I said it then and believe today that Chicago will not select the Oregon cornerback. He doesn't have that violent streak the front office looks for in their defensive players.
That doesn't mean Gonzalez is not a fine player. He's ranked No. 8 overall for a good reason, and in fact, it's entirely possible he'll be selected before Chicago is on the clock. I do expect Ryan Poles to address the secondary on Day 2 or 3, but I'd be highly surprised if they take a cornerback or safety in the first round. There are a couple of good prospects that will be available in rounds two through five. This is arguably the deepest position group in this year's draft, especially for cornerbacks. I've got five corners going in the first round.
Devon Witherspoon was a two-time All-Big Ten cornerback & consensus All-American last season.

Could he be a future Bear? https://t.co/v9gUgS0VfMpic.twitter.com/tqoD9267EE

— Marquee Sky (@SkyMarquee) April 22, 2023
First Round Prospects
Devon Witherspoon (CB) – A ball-hawking playmaker with good eyes and great balance, Witherspoon would pair nicely with Kyler Gordon. In fact, if the Bears were going to go DB in the first round, I believe Witherspoon would be the pick.  He's also a physical and tenacious corner who plays with an edge and never backs down.
Christian Gonzalez (CB) – An explosive outside cornerback possessing a rare blend of physical and athletic traits. Gonzalez is a talented press corner with the length to get his hands on the receiver. He has quick feet to mirror the release, speed to stay in phase, and enough burst to recover when necessary. He's not the hitter that Witherspoon is, but he's a future Pro Bowl defensive back.
Joey Porter Jr. (CB) – An ascending cornerback who combines traits and above-average play strength that create a clear definition of who he is as a player. He can reroute the release and also has the frame to close catch windows against bigger receivers in press-man or Cover 2 looks. Porter has CB1 potential with more work if he's utilized properly.
Deonte Banks (CB) – Perimeter corner with the desired blend of size, strength, and athleticism. He also has the fluidity and top-end speed to turn and run with any receiver. Like Porter, Banks has impressive traits and could become a CB1.
Tyrique Stevenson (CB) – I might be the only one among my peers to have the confidence to place Stevenson in the first round. He's a tall and lean press corner with the length to get his hands on receivers and the speed to run with them. He also plays through receivers' hands and recovers well when caught out of phase. Additionally, Stevenson has great stopping power and the ability to blow up plays.
Second and Third Round Prospects
Rounds Four through Seven Prospects
Terell Smith (CB) – Smith has experience playing multiple positions and coverages, but he's at his best as a press-man corner.
Cory Trice Jr. (CB) – While he has legitimate strong safety size, Trice's game is better suited to play cornerback. He is physical in coverage but lacks the same temperament in run support.
Daniel Scott (S) – Scott matches up well with tight ends and bigger slot receivers. He also tracks the ball well and flashes the ability to pluck it out of the air.
Jakorian Bennett (CB) – High-cut cornerback who is more of a catch-challenger than an instinctive ballhawk.  He has good size but is inconsistent in coverage.
Tre'Vius Hodges-Tomlinson (CB) – Hodges-Tomlinson will face occasional size mismatches, but he's more than capable of holding his own. He's the nephew of Pro Football Hall of Fame running back LaDainian Tomlinson.
JL Skinner (S) – Skinner is an instinctive run defender who slips blocks and wraps up ball carriers.
Christopher Smith II (S) – He's effective breaking on the ball in off-coverage over the slot and providing help over the top. Smith is also aggressive running the alley. He is small, however, and is an inconsistent tackler.
Garrett Williams (CB) – Williams is a wrap-up tackler who is also willing to step up in run support.
Jay Ward (S) – Ward is a versatile defensive back who thrived playing close to the line of scrimmage.
Darrell Luter Jr. (CB) – He's fast enough to turn and run with most receivers. Luter also has big hands and a knack for the ball.
Carrington Valentine (CB) – A press cornerback with good length who is at his best rerouting receivers at the line.
Chamarri Conner (S) – Conner flashes excellent stopping power as a run defender but misses too many tackles.
Rezjohn Wright (CB) – A  tall, lean corner with the length to jam receivers at the line.
Kei'Trel Clark (CB) – Clark is a smaller corner with the toughness to blanket receivers underneath.
Anthony Johnson Jr. (S) – Johnson is at his best matching up with tight ends and driving on underneath routes.
Eli Ricks (CB) – Ricks is a physical and aggressive corner who is at his best in press-man coverage.
Bears Needs
Jaquan Brisker was a revelation last year and Gordon improved as the season wore on. The Bears love defensive backs who excel in Cover-2. Jaylon Johnson and Eddie Jackson are starters but should no longer be considered long-term options. Nobody believed Poles would go secondary with his first two picks last year, so don't discount this position group this year.
Best Fits
Adding Witherspoon and Brown would give the Bears the best secondary in the NFC North, if not the entire conference. The Bears would have a tough time passing on Witherspoon if he's available at No. 9 overall.