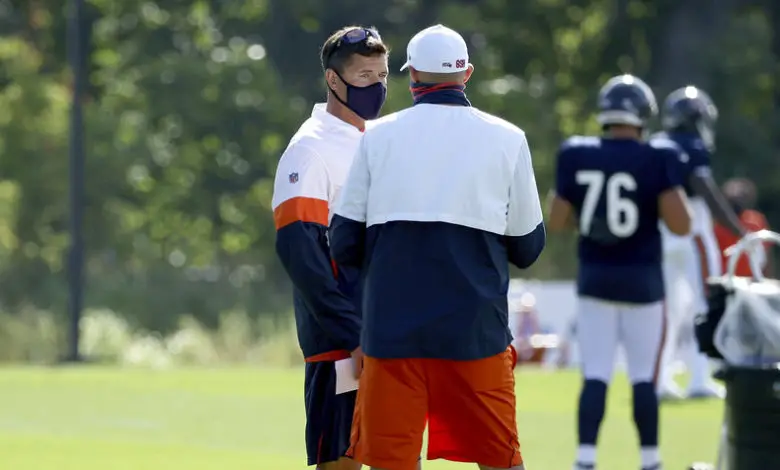 Bears Have Nowhere Left to Turn if They Fall Flat With Bill Lazor Calling Plays
Options are a funny thing. There are obvious choices that on the surface make a lot of sense, the ones that have the potential for instant improvement. Then there are difficult options that aren't nearly as easy to pull off and feel less like upgrades and more like complete restarts.
When Matt Nagy chose to make a change at quarterback in the third game of the season, benching Mitchell Trubisky in favor of veteran QB Nick Foles, it felt like the obvious choice. No one really questioned it and most fans openly applauded what they saw as a long overdue move.
Likewise, when Nagy announced that he'd be handing over play-calling duties to offensive coordinator Bill Lazor, most people embraced the change. With an offense that ranks 29th in the NFL with 19.8 points per game, it was clear that something needed to change. And even if the actual playbook itself remains the same, maybe the cadence of the play-calling and the situational awareness will be enough to make this offense look at least mediocre.
Lazor has called plays for four seasons over his career in the NFL, two each with the Miami Dolphins and Cincinnati Bengals. So the good news is that he has experience. The bad news is that neither of those teams was viewed as an offensive juggernaut and Lazor was fired from both positions.
By making this move at this point, Nagy and the Bears may be at something of a crossroads. If nothing changes in the offensive performance, the head coach may get a little slack as the issues can be blamed on player personnel. Or maybe it's actually a matter of the overall play design being flawed, which would put the onus on Nagy.
Oddly enough, the best-case scenario for the Bears is actually most damning for Nagy's competence as a play-caller. Those duties were removed from him by head coach Andy Reid when Nagy was Kansas City's OC and look what has ended up happening there. The talent is obviously paramount, but the Chiefs are just so much more imaginative in every phase. If Lazor's guidance revs up the offense, Nagy's reputation as an offensive guru takes a massive hit.
Of course, it didn't feel like he had many other choices, short of simply hoping things changed on their own. But after three straight losses, it was pretty clear nothing was just miraculously going to get better. That's where the Bears are now. Their head coach has nowhere left to hide if handing the playbook to Lazor doesn't lead to a significant improvement to their offense.