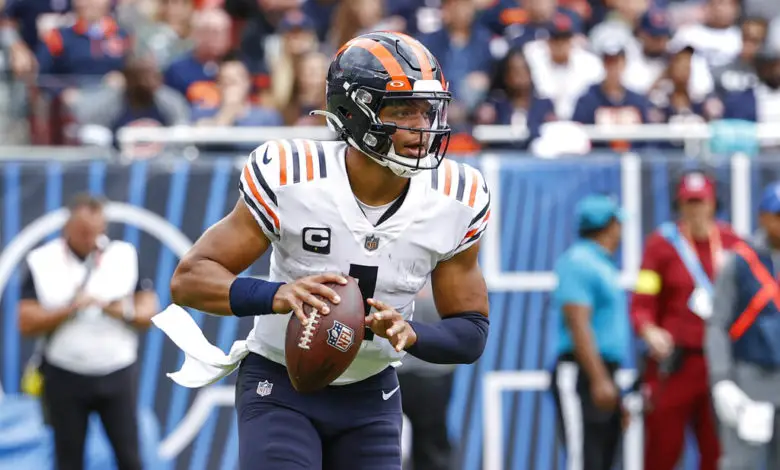 Bears Game Day: Start Each Game With a Clean Slate
Justin Fields must love Game Day more than any other. For three hours each week, he gets to escape the same questions from the same reporters regarding his performance and progress. It's equally alarming to witness as a fan. Practice reps are necessary, just as the preseason games were, but neither tells us much until Fields can translate that to the field.
Despite the young quarterback's struggles, the Bears enter today's game with a 2-1 record and the NFL's second-best rushing attack. Chicago's defense is improving with each game, too. Give Ryan Poles and Matt Eberflus credit for their ability to thread the needle of competitiveness while the team is being rebuilt. The Cubs have struggled to do that very same thing for five years. Still, Fields gets to start each Sunday with a clean slate.
The Giants are also a surprising 2-1 team as they suffered their first loss in Week 3 against the Dallas Cowboys.  Like the Bears, and the Texans last week, New York gets off the bus running. Saquon Barkley has rushed for 408 yards this season. Khalil Herbert and David Montgomery have combined for 399 yards rushing, and minus the team's 10 sacks, Chicago is averaging 7.0 YPC.
The Bears are +125 on the money line and are getting 2.5 points as the visiting team this afternoon. The over/under is 39.5, so expect a low-scoring game. If Fields has the breakout game we've all been waiting for, that changes the dynamics significantly.
Field Conditions
Thanks to the remnants of Hurricane Ian, a gale warning remains in effect for today's game. The teams will face Northeast winds of 25-30 MPH with gusts up to 40 MPH. That will affect both teams' passing attacks and special teams. It's unlikely that either team will try to air it out downfield. That means the team with the stronger ground game will emerge as the victor. Ball possession and turnovers will play a big factor, too.
Trends
Both teams are 2-1, could be 3-0, and either team could also be 0-3 just as easily. The Bears have a -5 point differential while the Giants have scored three fewer points than they've given up. Both teams' lone losses have come to division rivals. New York is 2-1-0 against the spread and Chicago is 1-1-1.
The Giants are allowing 5.3 yards on every rushing attempt, and with Montgomery out, Herbert will get the bulk of the carries and should have a big game. Trestan Ebner will serve as Herbert's backup. The Bears have to be better at stopping the run to win this game. Their front seven is allowing 4.8 YPC through three games. Chicago has a -1 turnover ratio, while New York is +1, though the Giants have zero interceptions. Eddie Jackson leads the Bears with two picks.
Khalil Herbert bulldozed his way to a TD 😤

(via @NFL)pic.twitter.com/lbZBdyzK9e

— NFL on ESPN (@ESPNNFL) September 25, 2022
Fields has completed just 23 passes this season and is coming off of his worst game as a starter. He's connected with wide receivers for 11 of those completions on 24 targets, two for touchdowns. The second-year signal-caller is ranked dead last among all starting quarterbacks and is averaging less than 100 yards passing per game with four interceptions. Daniel Jones, on the other hand, is 59-of-92 for 560 yards, three scores, and two picks. Jones has been sacked 13 times this season.
Sterling Shepard is New York's WR1, but he's out for the season after tearing his ACL last week. Richie James will get the bulk of the targets unless Giants' head coach Brian Daboll can get Kenny Golladay more active in their passing attack. Equanimeous St. Brown is Chicago's leading receiver, though he has just four catches for 77 yards. Darnell Mooney needs to show up today. The Bears can't afford any dropped balls until Fields is more consistent at hitting his targets.
Why The Giants Will Win
They're the home team, but otherwise, these two teams are very similar and evenly matched. Daboll said he is still evaluating his roster and does so after each game.
"I think you learn a lot about yourself when you play, when you coach, and like I said, we're a work in progress," Daboll said. "We're still working to improve in a lot of different areas. I think we've done some things well, we've done some things we can improve on, all of us."
The Giants need to control the clock and keep Herbert off the field to have a chance this afternoon. That's been the driving force behind their two wins. The fact that New York has been able to eke out two wins despite poor play is a testament to Daboll. Their third-down efficiency (28.1%) ranks among the worst in the NFL, but because they are a run-heavy team, they are able to burn through the clock and keep their defense off the field. That's their key to winning today's game.
If New York gets an early lead and forces Chicago to pass more often, that could spell trouble for Fields. The former Ohio State star ranks last among qualifiers in attempts (45), completions (23), completion percentage (51.1), yards (297), and rating (50.0). He has twice as many interceptions (four) as touchdowns (two).
Why the Bears Will Win
Herbert looks virtually unstoppable, and the Bears still have room to improve their run-blocking. Last week, the second-year halfback rushed for a career-high 157 yards on 20 carries, and if he has another monster game today Chicago will improve to 3-1. Eberflus has praised his team for playing competitive, winning football while they are still learning the nuances of the new offensive and defensive game plans.
"Really it's a function of guys being mindful of their practice," Eberflus said. "That's what we talked about in the team meeting today. You have to be mindful of the techniques and fundamentals you're working on during the individual period and during the team periods."
Dallas Cowboys Micah Parsons steamrolls New York Giants Mark Glowinski. 😱😤 pic.twitter.com/JV4ZppoFq6

— Sideline the Agenda (@SidelineAgenda) September 27, 2022
The Bears have to get to Jones whenever he drops back to pass. That means stopping Barkley, too. Jones was sacked five times, hit 12 times, and was pressured 24 times in Monday's loss to the Cowboys.  It doesn't help that the Giants are coming off of a short week of practice. That said, Fields has to be better. Sooner or later, opposing defenses are going to flood the box to stop Chicago's running game.
Injury Reports
Predictions
Our own Sean Holland previewed today's game on Friday and called for a 21-17 Chicago win. The Bears have the stronger running game, and like the Texans, New York tends to miss a lot of tackles. Missed tackles and confusion cost the Giants a shot at a 3-0 start. Dallas' Ezekiel Elliott scored untouched on a 1-yard run because New York had 10 defenders on the field.
The team that jumps out to an early lead should win, and that's trouble for New York, too. The Giants have not scored a first-half touchdown in their three games, and the streak is at seven dating to last season. They've scored nine first-half points this season. That said, if it comes down to the kicking teams, New York has a substantial edge with Santos out.
Look for Luke Getsy to lean on that 1977 playbook for at least one more week, and if Fields can avoid turnovers, the Bears will win by at least a touchdown. Because of the windy playing conditions, and New York's ability to keep games close, I'm predicting a much more narrow margin of victory. Look for Justin Jones, Kyler Gordon, and Jaquan Brisker to have big games on defense. Give the Bears a 20-19 win at MetLife Stadium today.