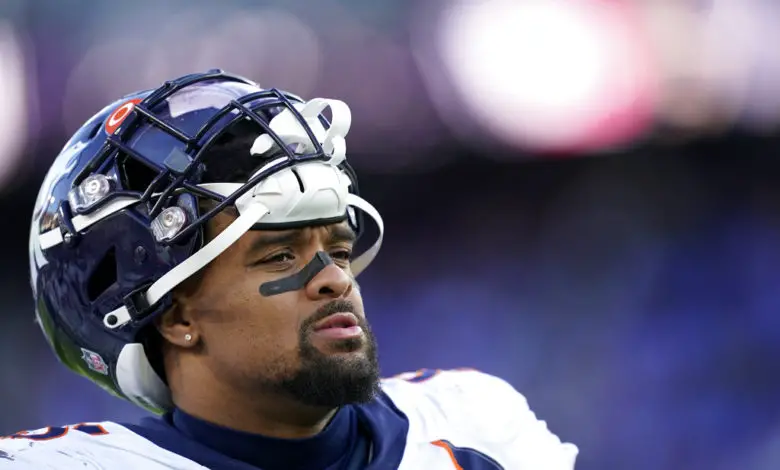 Bears Free Agent Profile: Dre'Mont Jones
Free agency starts on Wednesday, and we're going to spend the time between now and then evaluating potential Bears acquisitions. Today we'll look at a possible fit for Broncos DE Tremaine Dre'Mont Jones.
Teams can start negotiating on Monday, and though deals can be agreed to, nothing is official until March 15. The three-day negotiation window opens at 11 AM CT tomorrow, and some contracts will be announced almost immediately. I call that the NFL's "no look, no foul" policy. Front offices obviously know the demands of the game's best free agents, and trust me, they're not getting that information from Sportrac or Pro Football Focus.
Remember when the Bears tried to sign Larry Ogunjobi last year? The two sides reached an agreement a day prior to the start of the 2022 year, and then Ogunjobi failed his physical a few days later. There's nothing wrong with that kind of aggressiveness, but it bit Ryan Poles in the ass last year. By the time the offer was rescinded, the best Poles could do was Justin Jones and Al-Quadin Muhammad. The latter was a cap casualty a few weeks ago.
Still, that shouldn't prevent Poles from trying to jump the market tomorrow, though he doesn't necessarily have to. He's minted with $76.5 million in cap space, so agents will be bringing their best and final offers from other teams to Chicago. Why wouldn't they?
The Bears desperately need help on the defensive line and the most obvious answers are Javon Hargrave and Jones. Hargrave gets the press, but Jones could be a better fit. Since entering the league in 2019, Jones has 138 quarterback pressures, tied for 19th among interior defenders. He's 26, his career is still trending upward, and he's coming off his best season as a pro. He also has the versatility to play on the edge, if necessary. He'll demand a premium, but Jones is the type of player that Poles and head coach Matt Eberflus covet.
Dre'Mont Jones can win with quickness, bull rush. He can two-gap and disrupt upfield.

He's just scratching the surface of his potential, which could be a scary word in free agency. Sounds like he'll get a massive deal though. pic.twitter.com/PrXW9CByeb

— Ted Nguyen (@FB_FilmAnalysis) March 12, 2023
According to PFF, Jones should get a four-year deal worth $68 million, including $42.5 million in guaranteed money.
The three-technique is the spark to Eberflus' ignition. He explained that during a Halas Hall presser near the end of the season.
"We call it the engine that makes everything go," Eberflus said at the time. "Because in the running game, you can't run at the three and you can't run away from him. So it's hard to really dictate where you're going to run the ball, number one. [And] it creates a lot of free lanes for your linebackers.
"But in the passing game, a lot of times when you have two of them — you have a three-technique and you have a defensive end opposite of him — it's hard to move your line that way. He creates a lot of one-on-one. And he's typically overmatched on a guard. [An opponent's] best offensive linemen typically are on the outside and if you have your best player on the inside, that's certainly an advantage."
Jones fits what the Bears want athletically and financially. He's an emerging player who has yet to hit his peak. Hargrave is 30 years old and wants a four or five-year deal. All things being equal, or at least similar, Poles prefers to pay for expected results rather than past accomplishments.
Ironically, Chicago may face competition for Jones from the Panthers, who cleared some cap space when they traded D.J. Moore to the Bears. Jones will meet with the Browns, too, as they are his hometown team. Zach Allen of the Cardinals is an option of Poles whiffs on Jones or Hargrave. Allen is more of a traditional nose tackle, however.
Scheme Fit: Perfect. Jones is a true three-technique. He is young and hasn't reached his full potential.
Fills a Need: Yes. The Bears need to overhaul their entire defensive line. Chicago has 20 sacks as a team last year, and couldn't stop the run.
Priority Level: High. Poles must land an impact three technique through free agency or the draft.
Affordability: Somewhat expensive. Because Jones is only 26, he might end up with a better deal than Hargrave.
Odds Jones Signs With Chicago: High. The Bears won't lose Jones because they can't afford him. If he signs elsewhere, it's either because his price gets uncomfortably high or because Jones feels more comfortable with another team.