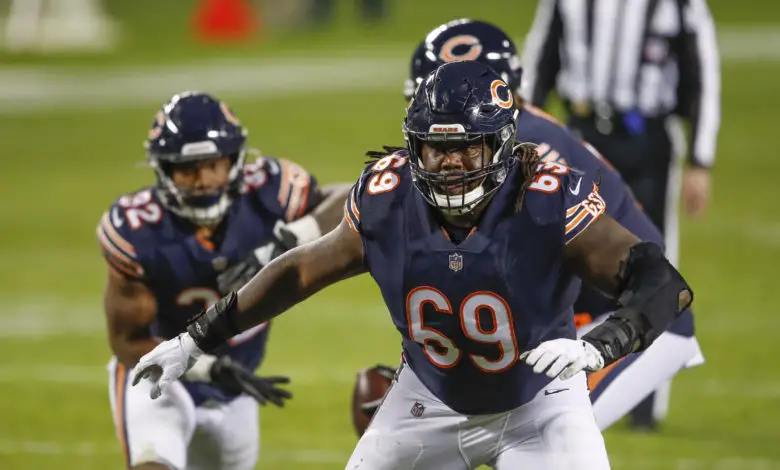 Bears Can't Be Scared to Replace Rashaad Coward at Left Guard, Among Other Things
Even with the Bears officially entering beggars-can't-be-choosers territory following the loss of Bobby Massie for the next month due to a knee injury, they can't keep choosing to put Rashaad Coward out there at left guard. He may have gotten a little grace earlier on because he was replacing James Daniels, who was lost for the season due to a torn pectoral muscle suffered midway through the Bears' Week 5 win over Tampa, but the benefit of the doubt has long since run out.
As Lorin Cox of The Bears Wire pointed out, no other guard in the NFL has given up more pressures than Coward over the last three weeks. Per Pro Football Focus, Coward has allowed 12 pressures in that time and is ranked 76th out of 77 qualified guards when it comes to pass blocking. He's actually all the way up at 65th in run blocking, but his overall rating leaves him just one spot from the bottom.
That was clearly on display this past Sunday as the Saints went marchin' into the backfield all afternoon, sacking Nick Foles five times and frequently forcing him to throw off of his back foot like Jay Cutler with a lot less arm talent. Okay, so a lot of those awful throws were very much on Foles alone, but the moral of the story is that the Bears have a very serious problem on the left side of the line.
No guard has given up more pressures than Rashaad Coward over the last three weeks, per @PFF

It's time for the #Bears to make a change at left guardpic.twitter.com/O88h66lpnH

— Lorin Cox (@CoxSports1) November 3, 2020
Maybe they can't make a move because drinking establishments aren't all the way open yet and Alex Bars can't set up inside. That's obviously a joke, and a bad one, but Coward has shown nothing to indicate he's the best option at guard. Unless, that is, Bars has looked so bad in practice that the coaching staff really has no choice.
Speaking of which, it's interesting that we're still seeing all sorts of dysfunction on the offensive side of the ball even after widespread changes to the staff after last season. The Bears fired offensive coordinator Mark Helfrich, offensive line coach Harry Hiestand, and tight ends coach Kevin Gilbride, yet all of the issues from 2019 appear to be at least as prevalent through the first eight games of 2020.
That's not meant to be an indictment of the jobs being done by new OC Bill Lazor, O-line coach Juan Castillo, or tight ends coach Clancy Barone, nor is it an endorsement. Those men can only work within the parameters of their job description and with the talent on the roster.
It's almost as though, I don't know, having the same general manager in place and leaving play-calling duties in the hands of the head coach render less significant changes largely moot. What felt at the time like little more than scapegoating feels even more so now, though we can't ignore how injuries have diminished an offensive line that was never expected to be great even when fully healthy.
But that again may be providing too much of an out to team leadership that seems either unwilling or unable to look in either the mirror or the game tape and divine necessary changes. While Nagy's often been accused of cowardice when it comes to his overly conservative play calls, continuing to hold the responsibility for said calls or sticking with players who aren't getting it done feels more like hubris. Or maybe it's just resignation that the Bears have gone too far down the road to turn back now.
Yikes, sorry for ranting, that's the last thing anyone needs on Election Day.