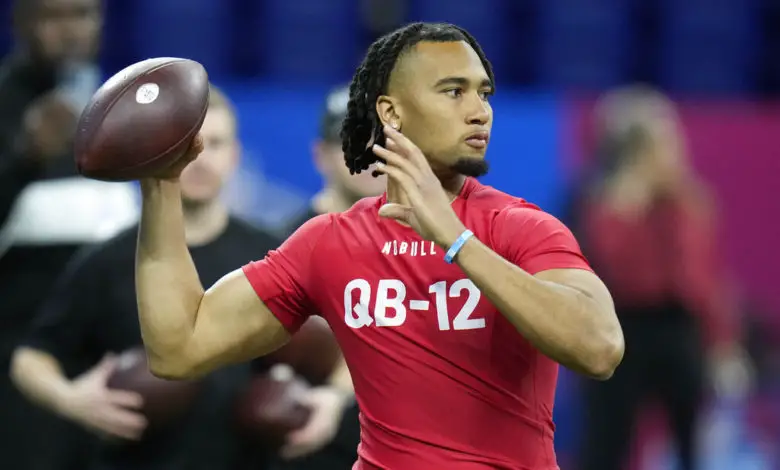 A Flurry of QB News & What It Means to the Bears
Before I get into the topic of the morning, let's look at GM Ryan Poles for a second. There have been a number of rumors suggesting Poles may trade the No. 1 pick before free agency starts. The second-year GM told NBC's Peter King that the pick is likely for sale and that he believes the Bears can get three first-rounders for the no. 1 pick—one this year, one in 2024, and one in 2025.
Does that mean Poles knows this because he's had offers, or is he talking about trading down twice within the top five? That would be an unprecedented move. It's never been done in the history of the draft. There are four very good quarterbacks at the top of the draft and the Bears don't need any of them. The Texans, Colts, Raiders, and Panthers are the teams most likely to move up. The top quarterbacks, listed in order of my mock draft, are C.J. Stroud, Bryant Youg, Anthony Richardson, and Will Levis.
Rich Eisen of the NFL Network heard at the Combine that a pre-free agency deal is in fact, in the works.
The Bears are already long down the road of trading the first overall pick [and] teams are have been identified, compensation is being hammered out, according to Rich Eisen and what he heard at the Combine.

🎥: @RichEisenShow pic.twitter.com/BT6et10zs1

— Edgar Salmingo, Jr. ✌️ (@PanthersAnalyst) March 6, 2023
Three of those top four QBs participated in the NFL's Scouting Combine, and all three were very impressive according to reports. Bryant was the only one who didn't participate, and Stroud leapfrogged him as a result. Richardson is right there, too, according to many reports. One would think that hurts the Bears' chances of trading down for a significant return. Poles doesn't agree.
"I can feel it. There's urgency out there. There's pressure," Poles told King.
A flurry of tag deadline quarterback news the last few days has actually helped Poles.
So the Texans, Colts, Raiders, and Panthers still need a quarterback. A lot of writers are linking Jimmy Garoppolo to Houston, which would really hurt the Bears from a value standpoint. That's especially true if Poles wants to trade down twice in the top five. He needs the Texans to bite because controlling No. 2 is almost as valuable as No. 1 if you're not selecting a quarterback.
If the Houston Texans were smart they would draft both CJ Stroud and Jaxon Smith-Njigba with their two first round picks. pic.twitter.com/3aPdCLNFI5

— CleBuckeye (@CleBuckeye23) March 6, 2023
The scenario is clear if Houston passes on Garoppolo. The Bears would theoretically deal the top pick to the Texans, who don't want to get leapfrogged for their top pick. Houston is armed with a dozen picks in this year's draft plus two firsts in next year's draft. Poles can extract sufficient compensation to give the Texans their preferred quarterback of the future.
The Bears would then be in an even better position to make a deal at No. 2. The Texans would have taken their top quarterback, and if teams feel there are two difference-makers at QB for the 2023 season, they'll want to get on the phone with Poles before someone else does. That team could be the Colts. They've wanted Bryant all along, so if Houston selects Stroud, Indianapolis may jump at the chance to take Bryant at No. 2, especially if Carolina and Las Vegas are interested.
"That is the right route to go," Panthers GM Scott Fitterer told reporters last week. "We'll see if we can get in a position where we get one of the guys we like. Is there a guy in the second round? Can we [trade] up in the first round? Those are all the things we're exploring right now."
The Raiders, Jets, and Titans are interested in Garoppolo, though reports indicate New York is talking to the Packers about Aaron Rodgers. Garoppolo is a better fit in Las Vegas, who would probably prefer to get a veteran to team with Davante Adams. Jimmy G. could end up with the Falcons, too. Atlanta might be bluffing on Jackson, however, and if so, that would likely narrow the suitors to three teams for the top two choices, assuming Las Vegas signs a veteran.
"The goal for us eventually is to have somebody who is going to be here for a long time," Raiders coach Josh McDaniels said at the NFL combine last week. "I think that you see the teams that are having success right now in our league, in our conference, and in our division, are young players who were drafted by their clubs and being developed there under the same continuity. So eventually, yes [we have to draft a quarterback]."
There's a chance that Poles is bluffing, too. He has previously suggested that Fields could be traded (he won't be) and that the Bears were going to heavily scout the incoming rookie QBs. That's nothing more than due diligence. No player is untouchable, but given the robust QB market, it would take a haul to get Fields.
Colts GM Chris Ballard is putting on his best poker face, too.
"To move up, there's gotta be a guy worthy of it," Ballard told reporters at the combine last week. "Everybody has just automatically stamped that you've gotta move up to one to get it right. I don't know if I agree with that. And that's going to be the narrative and that's OK. Y'all gotta write something, you got to keep the news flowing.
"I don't know if [trading up is] the right course of business. If, when we meet as a staff and we say, 'This is what we need to do, this is the guy for the next 10 to 15 years,' and we think he's the right guy, sure, we'll do it. But who's to say we won't get one at [pick number] 4?"
The Bears won't drop too far, however. If they could trade the No. 1 for the No. 2, and then flip that pick to the Colts or Panthers, that would be quite the coup. It's enough to make you rewatch Draft Day. I'm watching it right now.